It's hard to believe that, among its many historical landmarks, 2014 celebrated the 40th anniversary of the founding of Les Ballets Trockadero de Monte Carlo. In its infancy, the all-male ballet troupe sent shock waves through the dance world. For years, audiences flocked to the Trocks because its dancers and choreographers did such wonderful send-ups of the art form's most sacred "traditions."
Then something strange started to happen. In addition to mocking ballet's classics and contemporary dance pieces, audiences began to realize that a lot of hard work and discipline went into performing for the Trocks. In some cases, the pointe technique exhibited by some of the company's male dancers was stronger than that of many ballerinas!
Growing up in Havana, my friend Omar began his training at the Cuban National Ballet. He loves to recite the story of how one afternoon, after class was over, the boys in his class donned pointe shoes and were clowning around when one of their teachers came back into the room.
After winning first prize in the Varna International Ballet Competition when he was in his late teens, Omar received a scholarship to study at the Vaganova Academy of Russian Ballet and subsequently joined the Mariinsky Ballet. Later in his career, he performed as a guest soloist with many other companies. Another friend, who used to dance with the Smuin Ballet, recently posted this stunning studio portrait on his Facebook page.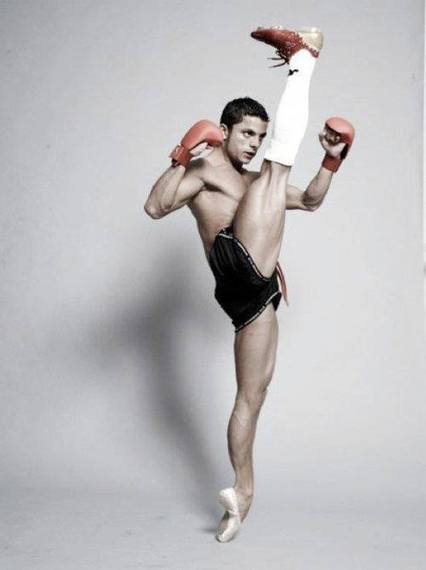 Studio portrait of Noe Serrano
Having always been fat, I've never failed to marvel at what dancers, acrobats, and contortionists can do with their bodies. Although I was amazed to hear strains of Tristan und Isolde and Die Meistersinger von Nurnberg in an act presented by Ringling Bros. and Barnum & Bailey Circus, I'm smart enough not to try these tricks at home.
In addition to attending hula shows presented by Na Lei Hulu I Ka Wekiu, the sinuous art of male belly dancing has also been a grand source of fascination.
If there is one dance genre that never fails to astound me, it's a glorious display of tap dancing. While Ann Miller brought a unique kind of personality to her dance routines, this famous clip from 1943's Stormy Weather demonstrates the sheer athleticism of the Nicholas Brothers (Harold and Fayard) at the top of their game.
Like many baby boomers, my first exposure to flamenco dancing came via television in the form of José Greco's appearances on the Ed Sullivan Show. While the emphasis was always on watching how fast Greco's feet moved, there was never any awareness of the music or dance vocabulary involved in flamenco (if I'm not mistaken, I may have once seen the José Greco Dance Company perform at the New York City Center).
A magnificent new film by Carlos Saura entitled Flamenco, Flamenco radically changes that vision. Anyone who has had the privilege of watching Saura's Iberia (2005) and Fados (2007) understands that this gifted filmmaker has found a way to harness the tricks contained in his cinematic toolbox in service of capturing and enhancing the dance vocabulary and musical soul of Portuguese and Spanish cultures.
Working closely with his Director of Photography (Vittorio Storaro) and Musical Director (Isidro Muñoz), Saura has crafted Flamenco, Flamenco into a cinematic experience that may seem like a concert but lets the viewer feel as if he is visiting a community of tribal musicians and dancers. As he explains:
"The first job was to look for artists who would star in the film. I obviously do not believe I am so much an expert (or a fool) as to take on this responsibility and important decision without the help of a magnificent adviser, Isidro Muñoz (Manolo Sanlúcar's brother). We both agree that there is a new and incredibly powerful style of flamenco by young talents who are trying to make it in our country and abroad. They have so much to offer, both in orthodox flamenco and in fusion flamenco with other music styles with which they are experimenting. We also believe that the reality of this art cannot be conveyed without some of the great masters we are so lucky to have in Spain. So our first mission was to start 'placing' the different artists we already know in the history of flamenco in the different areas (Paco de Lucía, Manolo Sanlúcar, José Mercé). We talked with each one of them personally, listened to their suggestions, and then suggested alternatives that they might not have decided to try yet, but which could prove interesting to them."
Unlike dance films which follow a fictional narrative (1977's The Turning Point, 2003's The Company, 2010's Black Swan, 2013's Five Dances); are inspired by a dancer's unique history (2007's Water Flowing Together, 2009's Mao's Last Dancer and Breath Made Visible, 2013's Afternoon of a Faun: Tanaquil Le Clercq); or document a particular dance phenomenon (2007's Planet B-Boy, 2008's Every Little Step, 2009's Dzi Croquettes, 2011's First Position), Flamenco, Flamenco has no narrative path. As the filmmaker explains:
"The problem is that if we include anything else but the beauty of this music and dancing in front of the cameras, we will betray the pureness of this art! I suggested to Isidro that we could maintain two narrative elements that were different from the usual ones, that would support the performances and enable us to communicate with the audience in a subliminal way while the show unfolds. The first one, a life journey, goes through the entire life cycle of a man through music. In order to achieve this, we used the different flamenco styles creatively. It begins with birth (flamenco lullaby), childhood (influences: Moorish-Andalusian, Pakistani music, blending and enriching), adolescence (the most solid and lively styles), adulthood (solemn singing), and 'death' (the deep area, pure sentiment). It finishes off with rebirth based on the proposals for the future by the young interpreters. The great masters (Paco de Lucía, Manolo Sanlúcar) accompany the new talents in this journey, presenting or 'giving an alternative' with ongoing creativity that keeps the fire of future alive."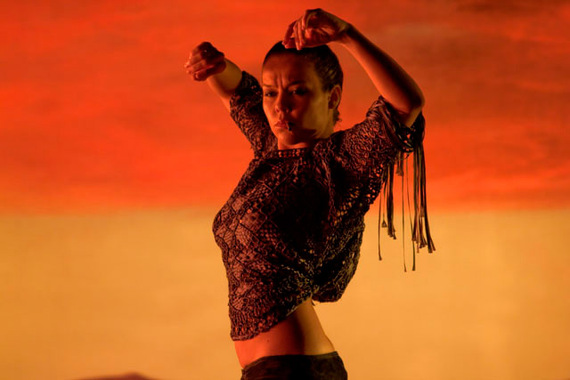 "The second element (light) supports the first element with a journey through the range of basic colors. Thus, birth is surrounded by white tones from the strong afternoon light; childhood is lit up with yellow tones of the low sun with long shadows and the moments of life out on the street. Adolescence brings us to the hours of sunset (soft orange and blue tones), lights and hours of life, of gatherings, in the patios. We gradually move to adulthood, where we find deep blue, indigo and violet. The 'death' area (understood not as the actual act of dying, but as a serious space of meditation which cannot be disturbed) is basically black and white, with touches of green which symbolize hope. This green takes us to rebirth, to the area of the spirit, splashed with emerald tones, pale blue, and the range of orange tones which almost turn red. We finish with a reddish-orange sunset."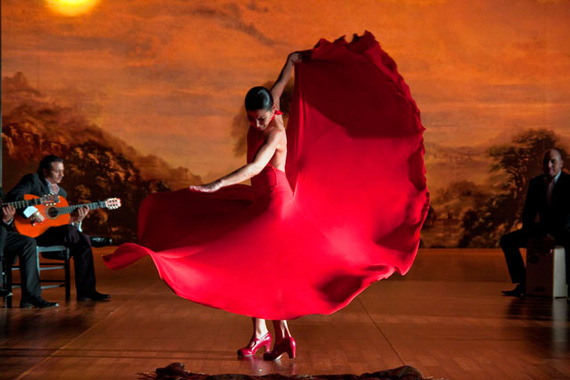 Flamenco, Flamenco is best enjoyed by sitting back and letting the camera take you to dream-like places as the music washes over you. An extremely rich musical and visual treat, this is the kind of documentary that demands to be savored rather than analyzed. Here's the trailer:
REAL LIFE. REAL NEWS. REAL VOICES.
Help us tell more of the stories that matter from voices that too often remain unheard.