A fancy appetizer for your fancy bougie friends.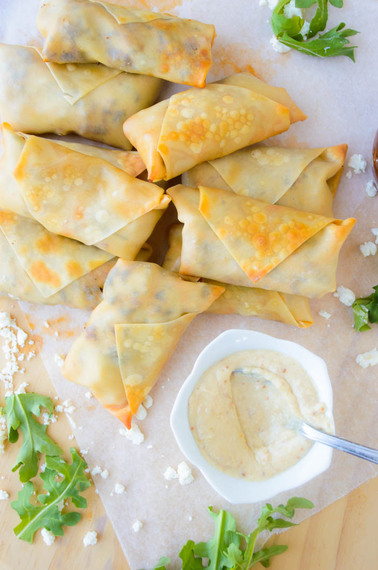 We all have them. Those people in our lives that take just a little extra effort to impress. That's okay though because as adults (or wannabe adults) we know what we like and what we don't and that should be respected... no matter how high or low the standards.
As for me? I can go both ways. I can appreciate dressing up for the Michelin star restaurants but I also spend most of my days in a Dodger baseball cap, loving every second of food truck style tacos. I will splurge on that expensive bottle of smooth cabernet but I have also roamed the streets of Spain, drinking $5 wine from a box.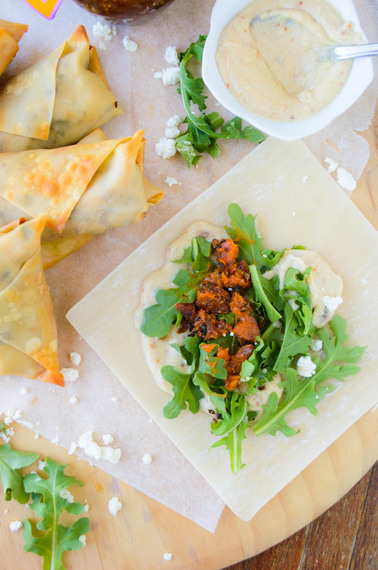 This recipe sort of combines the world of bougies and the world of dirt-on-your-boots' peeps.
When I think of egg rolls I think cuddling on rainy night + Chinese take out + action packed movie, preferably starring Matt Damon or Marky Mark. Yes, this is where my imagination goes just by the food word "egg rolls." Doesn't yours?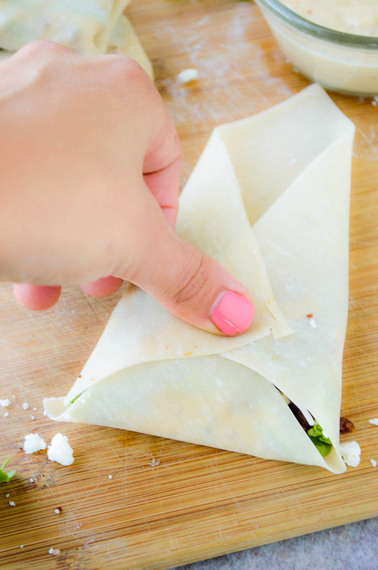 Anyways, crunchy egg rolls that you eat with your hands and dip in a drippy sauce, don't exactly scream high standards. BUT when you load them with a creamy goat cheese fig jam sauce + tangy arugula salad + crispy chorizo... the dynamic totally changes. Not to mention the thick balsamic drizzle that can honestly make any dish worth while.
The recipe is also painfully easy, meaning it's not going to take much effort to impress your guests. They aren't your typical egg rolls but no matter how fancy or un-fancy your friends are, they will go nuts for these guys and totally worship your hard work. Bougie egg rolls for the win!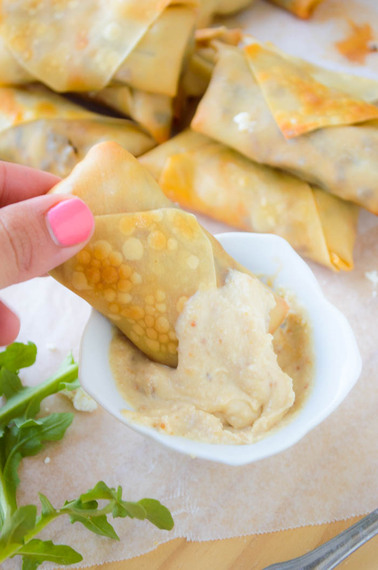 Ingredients
4 chorizo sausage links (traditional Mexican chorizo)
4 Tbsp fig jam
6-8 oz. chevre goat cheese
Handfuls of arugula (about 2 cups)
12 egg roll wraps (medium size)
Aged balsamic or Trader Joe's Balsamic Glaze for drizzling
Directions
Preheat oven to 400 degrees fahrenheit. Spray a large baking dish with cooking spray and set aside.
Crumble chorizo into small chunks and cook in a pan with a drizzle of oil and about 1/4 cup of water. Cook for 5-8 minutes on high heat until water has dispersed and chorizo is fully cooked and crisp.
Whisk fig butter and goat cheese together until fully incorporated. It helps to melt them together in the microwave for 15 seconds.
Lay out egg rolls onto a flat surface. Spread a spoonful of goat cheese sauce (tbsp) onto the bottom corner side of the roll up. Top with a little arugula, then a large spoonful of chorizo. Fold the roll up starting from the bottom cornier. Then fold in the side corners like you would an envelop and roll. Use a dash of water on the bottom corner to help seal. Place in your baking dish and repeat with remaining ingredients. You should have some sauce leftover for dipping!
Spray the rolls with cooking spray and bake in the oven for 15 minutes.
Drizzle with balsamic glaze and serve immediately with sauce.