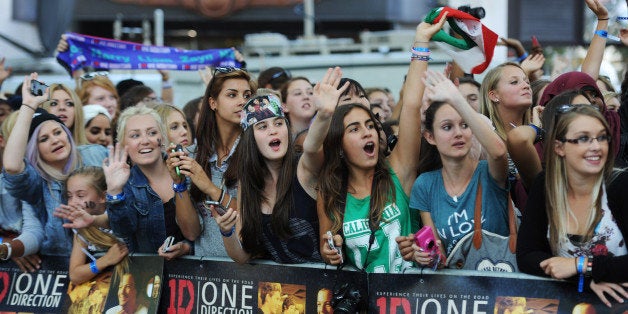 I am no stranger to the act of "fangirling." I will openly admit if I see the guys from One Direction on my computer or hear one of their songs, I will hardcore "fangirl." Fangirling is the act of having that wave of emotion come over you when you see, hear, and think (maybe even smell -- who knows) about that person you idolize. Fangirl feels (short for "feelings") can be expressed in many different ways including screaming, crying, fainting, or complete silence. Every fangirl or fanboy reacts differently. You can have the casual screamer or you can encounter the oh so common "asdfghjkkl" along your fangirl journey.
There are some tools every fangirl needs. These are essential to allow the feels to flow. You will need: some sort of electronic device that can access the Internet and some snacks. If you are near your bedroom you might want to get comfy on your bed or floor if they feels are just too much to even get on your bed (You might want to make sure you have tissues too so if you get emotional). Social networks are another very important tool in expressing the fangirling feels. You might want to follow update accounts on Twitter to get the latest news on the person(s) you happen to be interested in. You can also follow some Tumblr blogs or even create your own dedicated to that person. Social networking allows others to fangirl right along side of you when that new photo shoot of One Direction comes out or a new episode of Doctor Who is on. Fangirling in a sense creates a community.
Fangirling or Fanboying creates a world inside the world we already live in. It might sound crazy but "fandoms" (a group of people who admire the same thing; ex: Beliebers, Directioners or Nerdfighters) become support systems for one another. You create bonds with people all over the world and it allows you to become more open minded and think about how the rest of the world lives and functions. It takes you out of the little bubble most teens are in where we think mostly about ourselves and opens our minds. Fandoms and fangirling helps the people within the fandom but also the people the fandoms are supporting. Many awards that artists or actors (etc.) have won are fan voted and fandoms are the ones who push for them to win and encourage to people to vote. Fandoms have a lot of power and that's because within these fandoms are fangirls and fanboys who are truly dedicated to the person they support.
People sometimes look at fandoms from the outside and wonder why these teens spend so much time on these people they don't know personally, but once you step inside the world you can start to understand it. The world is a very different place than it was in the past. My generation, your generation, is changing the world in ways that will alter history. Fangirling and fandoms are just one of the many ways that we gain and spread ideas, information and wisdom from all over the world.
Related
Popular in the Community