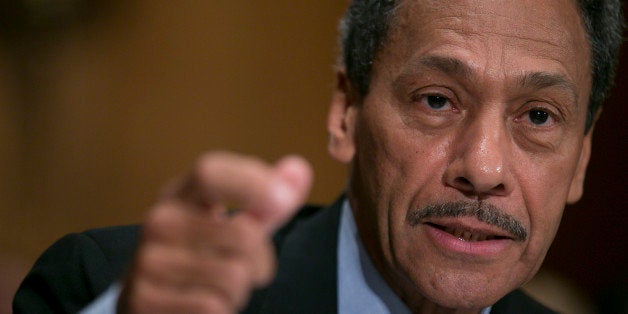 The U.S. government is about to make it easier for you to get a mortgage.
Mel Watt, the new head of the Federal Housing Finance Agency, the regulator for Fannie Mae and Freddie Mac, said on Tuesday that he had told the government mortgage giants to make more credit available to home-buyers, instead of retreating from the mortgage market as they have been doing since the financial crisis.
Watt made some changes to Fannie and Freddie policy that could get more housing credit flowing, at a time when many first-time buyers are still shut out of the market. Fannie and Freddie don't make loans, but they buy them from banks, giving them government backing. They guarantee about half of all the mortgages in the U.S.
In order to get banks to lend a little more, Watt ordered Fannie and Freddie to give banks more protection against the risk of being forced to buy back mortgages that go bad. That could make banks a little more willing to lend to riskier borrowers.
Watt also decided not to lower the size of the mortgages Fannie and Freddie can buy from banks, saying lower limits could hurt housing credit.
"[O]ur overriding objective is to ensure that there is broad liquidity in the housing finance market and to do so in a way that is safe and sound," Watt said.
The announcement is a big change from Watt's predecessor, Edward DeMarco, who had focused mainly on trying to shrink Fannie and Freddie.
This news should be a nightmare for Republican critics who have tried for years to kill Fannie and Freddie. Both companies have been in "conservatorship," a kind of temporary government control, since nearly collapsing in the crisis. President Barack Obama has joined Republicans and some Democrats in trying to pass laws that will end Fannie and Freddie and replace them with a private system. All such efforts have failed so far, and there's little chance of anything like them passing any time soon.
Republicans often claim that Fannie and Freddie caused the housing crisis by lowering their standards too much and taking on too much risk. But the agencies merely followed Wall Street and other major housing players in taking bigger risks, and were certainly not the worst actors ahead of the crisis. The agencies needed a $188 billion bailout, but have since returned $213 billion to the government.
In fact, they have played a major role in helping the housing market claw out of the pit of the crisis. A recent analysis by Credit Suisse found that ending Fannie and Freddie and forcing private lenders to take on more housing risk would raise mortgage rates and crimp housing credit, especially for first-time and low-income buyers.
Nobody wants to see a return to the dumb, old days when borrowers could get a mortgage just by fogging a mirror. But nobody wants to snuff out the housing recovery, either.
PHOTO GALLERY
10 Most Expensive Cities To Buy A Home
Calling all HuffPost superfans!
Sign up for membership to become a founding member and help shape HuffPost's next chapter