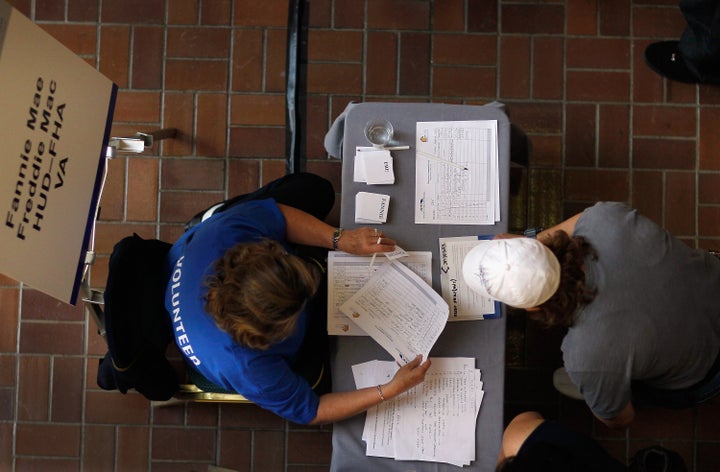 New Fannie Mae rules meant to lessen the cost of expensive bank-imposed home insurance would fail to curb some of the most abusive industry practices, say two experts who reviewed a copy of the new requirements obtained by The Huffington Post.
Practically everyone who has a mortgage must carry home insurance. If not, the company or bank that services the mortgage will buy a policy on the homeowner's behalf and send the bill to the homeowner. This is done to protect the "investor" -- often Fannie Mae -- that actually owns the loan.
In the current system, insurance companies pay commissions to banks in exchange for the right to provide one of these "forced-place" policies. The commissions, a percentage of the total cost of the policy, give the banks a financial incentive to choose the most expensive policy or to require unnecessary levels of coverage -- for instance, imposing hurricane and flood coverage on homeowners with existing policies that already offer that protection. The American Banker found that the cost of bank-imposed policies could reach 10 times the normal market rates and that many of the largest financial institutions, including Bank of America, own forced-place insurance subsidiaries.
The costly insurance, which is often imposed with little or no notice, can push struggling homeowners into default or foreclosure. The New York Department of Financial Services and the U.S. Consumer Financial Protection Bureau are currently investigating alleged abuses of forced-place insurance by the biggest banks, including JPMorgan Chase, Wells Fargo and Bank of America.
Fannie Mae, which controls about half of all home loans and often gets stuck paying the bill when a borrower defaults on a mortgage, seems to have recognized the inherent conflict of interest. The commissions "may encourage [mortgage] servicers to purchase lender placed insurance from providers that pay high commissions/fees to the servicers ... rather than those that offer the best pricing and terms to Fannie Mae," the agency said in a letter to banks and insurance companies.
The insurance company Assurant, for example, paid JPMorgan Chase a 20 percent commission on each policy sold between 2007 and 2009, according to a deposition in a class action lawsuit against the company. In 2010, the commission dropped to 10 percent.
The new rules wouldn't end commissions. But Fannie Mae, instead of the banks, would negotiate insurance premiums with a preselected group of insurers with the goal of saving taxpayers' and homeowners' money.
"I think this shows that we were not just making this stuff up," said Kai Richter, a Minneapolis plaintiffs lawyer who led the JPMorgan Chase case and has nine other forced-placed insurance lawsuits pending in other jurisdictions. "We welcome the Fannie Mae findings in this regard: that the current lender-placed insurance regime is bogus."
Nonetheless, Richter said, the new rules don't appear to go far enough to curb other types of abuses, such as the backdating of insurance premiums. One of his clients, a Fort Lauderdale, Fla., woman, contends in a lawsuit that GMAC Mortgage purchased a 12-month insurance policy on her behalf that cost her nearly $10,000 and was dated 17 months earlier. That meant the policy had been expired for five months when it was purchased.
"GMAC engaged in this conduct in bad faith, knowing that its actions were contrary to applicable law, reasonable commercial standards of fair dealing, and the reasonable expectations of borrowers upon entering into their mortgage agreements," argues the lawsuit, filed in the U.S. District Court in Miami.
A GMAC spokeswoman said the bank does not comment on pending litigation.
Brian Penny, a former operations manager at Balboa Insurance (which is now QBE First), a forced-place insurance company, expressed skepticism that the Fannie Mae rules will lead to any meaningful change in the industry.
Penny said many of the new rules are subject to interpretation and that the industry will surely interpret them in a way most favorable to its bottom line -- and most expensive for homeowners. For example, the new rules say that homeowners who present evidence of acceptable insurance coverage are due a refund if they were charged for a forced-place policy. But there is "rampant abuse" in what insurers will consider as acceptable coverage, Penny said.
To Penny, the details of the new policy seem designed to benefit Fannie Mae and the banks, not homeowners. One rule, which says that insurance payouts should be made "solely to Servicer where the property is vacant [or] the homeowner cannot be located," is ripe for abuse, he said, and would allow mortgage servicers to receive payments under the same insurance policy that they originally forced on a homeowner and received a commission for -- essentially, getting paid on both ends of the transaction. The new rules still require flood insurance for condo owners who live far above the first floor, which is one of the most common complaints that Penny said he used to hear from homeowners. And while Fannie Mae's new rules may lower the cost of imposed home insurance, Penny warned that the incentive structure still contains few safeguards for homeowners forced to buy the policies.
In a statement, Fannie Mae spokesman Andrew Wilson said, "Our goal is to lower costs for Fannie Mae, taxpayers and homeowners, and to help reduce a barrier that prevents struggling borrowers from becoming current on their mortgages. Our new guidelines are meant to bring greater competition and transparency to the lender placed insurance market while maintaining appropriate levels of insurance coverage."
CORRECTION: A previous version of this article mistakenly said that Bank of America owns QBE First. Bank of America sold Balboa Insurance to QBE First last year and does not own the company. QBE First does have a "long-term" distribution agreement with the bank.
Related
Popular in the Community