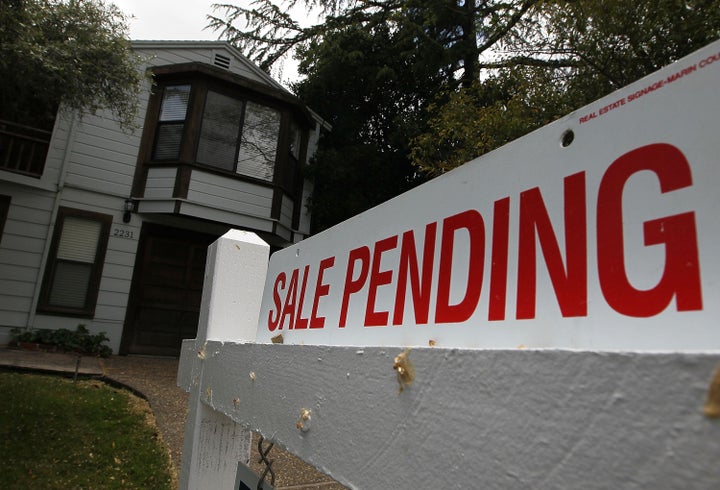 Home prices will decline into next year, Fannie Mae said Thursday, reversing earlier projections that the housing market would stabilize this year.
Former Federal Reserve Chairman Alan Greenspan said Sunday on NBC's "Meet the Press" that a so-called double-dip recession was possible "if home prices go down."
Fannie's forecast, disclosed in its latest quarterly report filed with the Securities and Exchange Commission, shows that the government-owned mortgage giant has turned bearish on the housing market. Fannie Mae, the federal mortgage association, along with its sister entity, Freddie Mac, own or guarantee about half of all U.S. mortgages.
"We expect that home prices on a national basis will decline slightly in 2010 and into 2011 before stabilizing, and that the peak-to-trough home price decline on a national basis will range between 18 percent and 25 percent," the bailed-out behemoth said in its filing.
Some housing market analysts, notably John Burns, Mark Hanson, and Dean Baker, have been expecting price declines for some time, but a review of Fannie's recent regulatory filings show that the firm's expectations at the start of the year were more positive but have grown grim as time has passed.
Put another way, Fannie Mae says the housing market is getting worse.
In February, the Washington-based firm said in its annual filing that it expected "home prices to stabilize in 2010."
In May, Fannie said it expected home prices "will decline slightly in 2010 before stabilizing."
The firm also forecast in May that it saw the peak-to-trough decline in home prices nationwide to be in the 18-23 percent range. Fannie changed that to 18-25 percent in its latest filing. The company uses its own formula, eschewing the popular S&P/Case-Shiller Home Price Index.
"They are basically going with consensus thinking all three times," John Burns, a housing industry consultant based in Irvine, Calif., said of Fannie's last three forecasts. Burns also expects home prices to drop.
"It's a good sign they're getting a little more in touch with reality," said Dean Baker, co-director of the Washington-based Center for Economic and Policy Research. Baker expects home prices to drop an additional 15 percent, arguing that the housing bubble has yet to fully deflate. He cautions, though, that part of that decline could be the market over-shooting its correction.
Baker is one of a few prominent economists that had been warning about the housing bubble during the boom and to have predicted the mortgage meltdown.
Mark Hanson, a housing industry analyst based in California, said in an interview last week that he expects home prices to continually decline in each of the next four years.
Greenspan, though, said the data "don't show" a nationwide decline.
"Home prices, as best we can judge, have really flattened out in the last year," he said Sunday. "And while it is true that most economists expect a small dip from here largely as a consequence of the ending of the [temporary homebuyer] tax credit, the data don't show that at this particular stage.
"If home prices stay stable, then I think we will skirt the worst of the housing problem," the former Fed chairman added.
While the Obama administration has talked up the stabilized housing market and the rise in home prices since the beginning of the year, it, too, has begun to note the possibility housing prices will drop.
In its annual Economic Report of the President sent to Congress in February, the White House's Council of Economic Advisers, referring to vacant homes that are intentionally being held off the market -- part of the so-called "shadow inventory" -- said that the "overhang may lead to some additional price declines, although prices are unlikely to fall at the same rate as they did during the crisis."
On Monday, Alan B. Krueger, the Treasury Department's assistant secretary for economic policy and its chief economist, also noted that the "large inventory of homes on the market relative to the sales pace, along with a significant number of homes in foreclosure also poses a downside risk to prices," he said in a statement.
In the spring, Krueger spoke of "stabilizing home prices" and said that "housing market futures point to flat housing prices through 2010," according to a May 3 statement.
The Federal Reserve's main policymaking body has also turned bearish, warning in June about the possibility of declines in home prices.
"With the expiration of [temporary tax credits for homebuyers], home sales and starts had stepped down noticeably and could remain weak in the near term," participants noted during the Federal Open Market Committee's June 22-23 meeting, according to minutes released last month. "With lower demand and a continuing supply of foreclosed houses coming to market, participants judged that house prices were likely to remain flat or decline somewhat further in the near term."
Borrowers are losing their homes at a record pace. Banks have repossessed about 1.4 million homes since Obama took office, according to data provider RealtyTrac.
And foreclosures, though down from their 2009 highs, still average well over 300,000 homes per month. While it takes a record 461 days to complete a foreclosure, an average according to Jacksonville, Fla.-based data provider Lender Processing Services, for the more than 2.8 million homes that were foreclosed on last year that day of reckoning has either passed, or is approaching soon.
Fannie said Thursday that it expects its inventory of repossessed homes "to continue to increase significantly throughout 2010."
Popular in the Community