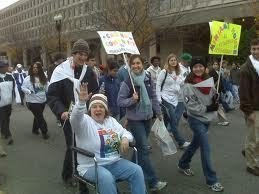 WASHINGTON -- Fannie Mae, the troubled mortgage giant at the center of the housing foreclosure crisis, is walking away from its annual Help the Homeless fundraiser on the National Mall, a move local nonprofit groups say couldn't come at a worse time.
Despite a nearly 10 percent increase in homelessness here due to the economic downturn, the Federal National Mortgage Association has quietly decided that, after 24 years, this year's national walkathon on Nov. 19 will be the last. Starting next year, it will only sponsor "mini-walks" and fundraisers in neighborhoods of Atlanta, Chicago, Philadelphia, Dallas and Los Angeles, as well as Washington.
"Fannie Mae is expanding its Help the Homeless program," said spokeswoman Amy Bonitatibus. "In 2012, the program will transition to a Community Walk model that has already demonstrated a higher return on public participation and raising funds."
The decision has mystified and saddened local groups that work with the homeless and have depended for years on the high-profile event to raise money and awareness, as well as recruit volunteers.
"It will be a great loss to end the National Mall experience," said Christopher Fay, executive director of Homestretch, a suburban organization in Falls Church, Va., that provides services to help homeless families become self-sufficient. He doesn't understand why Fannie Mae can't hold mini-walks in other cities and still continue the national event on the Mall, which last year brought in $80,000 for his nonprofit.
The Walkathon has become a tradition for many on the Saturday before Thanksgiving, a time when people are more conscience of the abundance in their own lives and more willing to do something for others who have nothing. Since it began, the 3.1-mile walk has raised more than $85 million for programs to help the homeless in Washington and nearby parts of Maryland and Virginia.
When contacted by The Huffington Post, Fannie Mae said it has been considering the change for some time. When asked if the decision was linked to the meltdown in the housing market and the 2008 takeover by the federal government that placed the mortgage lender in conservatorship, a spokesman refused to comment.
Corinne Russell, a spokeswoman for the Federal Housing Finance Agency, Fannie's government regulator, told HuffPost, "Although FHFA has not directed Fannie Mae to take this particular action, we do support it. The community mini-walks have caught on and are generating more dollars at a lower cost than scheduling an event on the National Mall."
But participants in the Walkathon are skeptical.
"In this town, as in most, it really takes a big thing to draw big attention. That's what's so magical with the Walkathon," said Burton White, a partner at Excella Consulting, an Arlington, Va., company that has sponsored the event for the last three years. "When you're on the Mall and its packed from side to side and you see banner after banner after banner from every nonprofit participating, you see the magnitude of the problem. You really get swept up in it, in an environment infused with a hopeful spirit. "
Last year, 14,000 walkers on the Mall helped raise $6.5 million before expenses for Washington area nonprofits. Included in that figure was $1.5 million brought in by more than 100,000 participants in 715 mini-walks put on by schools, churches and other community groups.
While the Mall event appears to have raised more money per participant than the smaller walks,
Fannie refuses to break down the source of donations or make public how much goes to overhead for the Walkathon. It said the mini-walks cost little to put on compared to the National Mall event, which requires security, portable toilets, staging, sound systems, liability insurance and other expenses.
Fannie officials say by involving more people in smaller events across the country it is doing more to raise awareness of homelessness than a single large event once a year.
That was the upbeat message Jennifer Farland, Fannie's director of community relations, delivered at a June 24 meeting as she broke the news to about 100 representatives of local homeless groups that this would be the last year for the Mall walk.
The response was "very negative," said Fay, who got an earful from a grants officer who attended the meeting. "There was an outcry. People were shocked and dismayed. There were a lot of questions, a lot of disappointment in the room."
An officer with a Washington transitional housing program who attended the meeting and spoke on the condition of anonymity in order to preserve his group's relationship with Fannie, said Farland tried to spin the change as good news even as she spoke of "funding constraints of a company in federal conservatorship." The officer interpreted the change as Fannie being "politically savvy enough to know that this has some level of financial cost [that] might make them a target of Congress." Republicans have previously called for closing the mortgage giant.
Earlier this year, Fannie conducted a phone survey of some walk participants. The company refused to offer details but two people who were polled told HuffPost that the questions appeared designed to gauge public sentiment. Specifically, it asked whether the Walkathon constituted a wise use of taxpayer dollars.
Mary Agee, president of Northern Virginia Family Service in Oakton, said many suburbanites prefer local mini-walks to trudging downtown to the Mall, but she worries that long-time corporate sponsors will find other causes without the centerpiece event. "I'm a little nervous how they're going to sell that concept when they are no longer focused on this very visible national walk," she said.
Excella plans to sponsor the Mall walk at the $25,000 level this November and White said his IT consulting company will continue to raise funds for its nonprofit partner, Homestretch. But, he added, "I have a feeling many companies will either divert that sponsorship to other events or perhaps they won't be inspired to give."
As for mini-walks, White said one put on by his church may have raised some money but it lacked "the multiplier effect" that a Mall event has in bringing out not only employees but also friends and families. "It's hard for me to see how the mini-walks will inspire the same kind of impact," he said.
Lori Kaplan, executive director of the Latin American Youth Center in Washington, agrees. She said she will miss the "spirit" and camaraderie" of the Walkathon.
"All the money is drying up, with less from the federal government and foundations. And now this, which can have a very detrimental effect on our work with homeless kids," she said. "We have loved this walk for many years, so to not have a big walk on the Mall will be a loss to our region."
Related
Popular in the Community