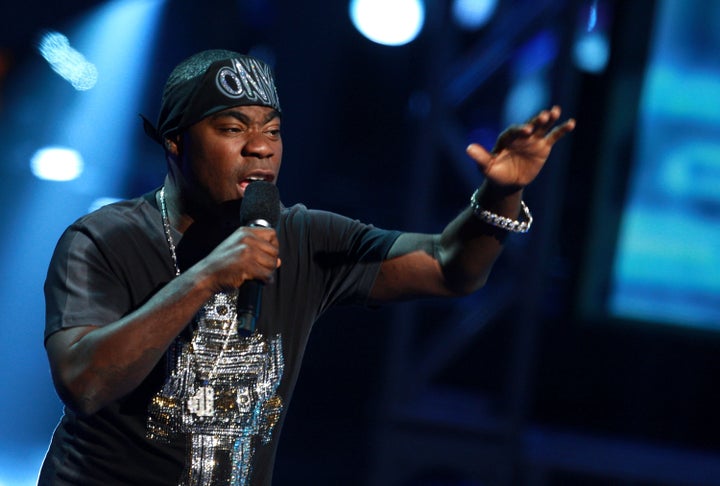 "Barack probably had Michelle in the window doggy-style. 'Yes, Mr. President, yes Mr. President,'" said Tracy Morgan Friday at Carnegie Hall, speculating on the first couple's sex life. The comedian and "30 Rock" star was performing as part of the New York Comedy Festival, but fans were not laughing as they walked out on Morgan's bawdy routine.
The Daily News, the first to report the story quotes a source saying: "There was a continuous flow of people getting up and leaving throughout the show." The paper said that middle-aged women were the most appalled, especially when Morgan started acting out sexual escapades on stage.
Those expecting the prime-time version of Morgan were shocked at his highly sexual humor: "You gotta stick your tongue in her f**king butthole...It's give and take. If she gagging, you got to toss the salad."
One of our readers who walked out wrote to us saying, "I'm an aspiring standup and I went to the show cause I love Tracy on SNL, 30 Rock, etc. To call it a disappointment would be THE understatement of the century...This was his joke, I kid you not, 'I bought my wife a glass coffee table so she could shit on it and I could watch from beneath it.' Um, is that funny? No. It was bad and kinda sad."
But not everyone was offended, not even close. "The audience members around me were mostly in their 20's and 30's and were enjoying the raunchiness," blogger Matt Wilstein told the Huffington Post. "It may have been because we expected it from Tracy Morgan after watching his semi-obscene, drunken morning show appearances on YouTube."
Were you at the show? Or know someone who was? Email us!


Calling all HuffPost superfans!
Sign up for membership to become a founding member and help shape HuffPost's next chapter