Fantasia Barrino and her husband, Kendell Taylor have issued a statement regarding the controversy surrounding her "Hear Me Now: All Lives Matter" concert in Charlotte, North Carolina.
The "American Idol" winner issued a video statement via Facebook on Sunday explaining why the show had been rescheduled for the weekend of Oct. 1.
"The city did call me, they were very nice, they're working with me and I thank God for that," she said. "They just decided to let me know that today there's a Panthers game going on and there's a lot of people out tailgating and we can't have any sounds, we can't have any musicians out there, so the people won't be able to hear me. They got word that a lot of people were going to come out and I thank God for that, because God laid that on my heart to do this."
While the concert ― which is scheduled to feature performances by Fantasia, Anthony Hamilton, John P. Kee and Dennis Reed ― is billed as "Music That Will Bring Change," many fans expressed their disapproval on social media over the event flyer's use of "All Lives Matter" in its title.
"It's real easy to critique somebody sitting behind your desk, or behind your smartphone… and you're talking about a word between 'all' and 'black'," Taylor said in the video clip of the now deleted tweet of the flyer. "Black lives matter because all lives matter."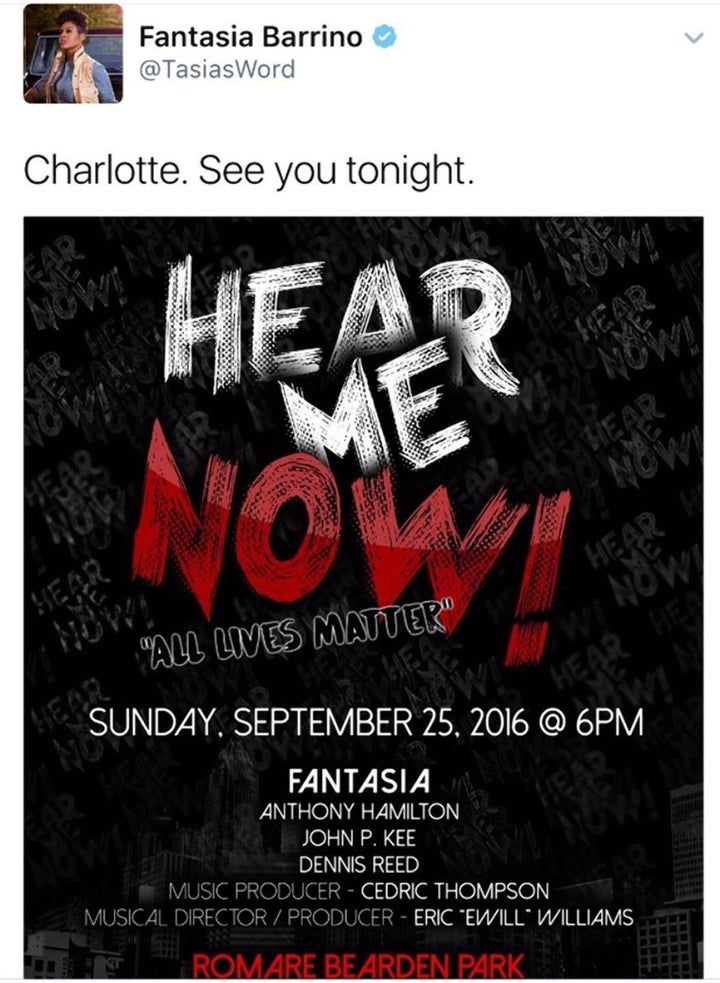 Taylor later went on in the video to further address critics of the flyer. 
"What kind of flyer do ya'll want?" he said. "We'll send out some individual flyers. You hit us up, you let us know what flyer is going to get you motivated to come into the street."
Despite the controversy, Barrino urged fans to unite and stand together.
"I understand that our people are still in poverty and we're not getting certain things that we deserve," she said. "But the only way we're going to get it is not through tearing up buildings.
"Two thousand years ago, Jesus ended the debate on which lives matter. He died for all of us... Martin Luther King stood for love and unity for all people. United we stand, divided we fall. Let's all stand together. So black lives matter ― yes, they do. All lives matter."
The new date for the "Hear Me Now: All Lives Matter" concert will take place during the weekend of Oct. 1.
Check out more Fantasia and Kendell Taylor's thoughts in the clip above.
REAL LIFE. REAL NEWS. REAL VOICES.
Help us tell more of the stories that matter from voices that too often remain unheard.
BEFORE YOU GO
PHOTO GALLERY
15 Ways Artists Fought For Larger Causes