Web Urbanist has
of fantastic and visionary designs for "green" living. Check out a sampling below. (Many more designs and images
.)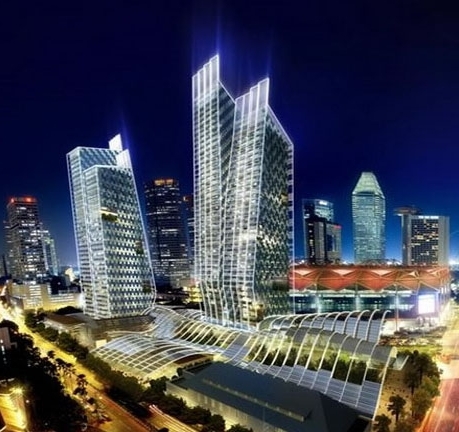 This sweeping sustainable set of structures is another example of integrating an engaging and unique appearance with essential environmental strategies. The curved surfaces are not only visually appealing but they also serve functions - taking advantage of winds and solar orientations to protect inhabitants but also to harness the energy of these elements.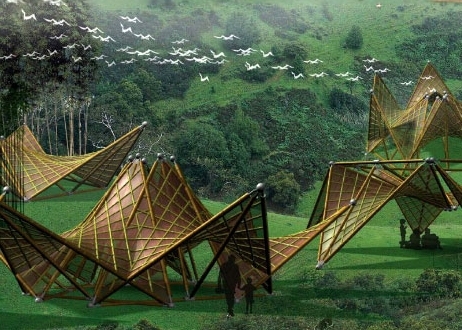 The beauty of these elegantly folded bamboo structures is far more than skin deep. Individual modules are configurable to accommodate different conditions and create a variety of spaces all without compromising their structural stability. Also, the structures are remarkably straightforward to transport in flat form and assemble on site and are simple to recycle as-needed because they are built out of easily grown organic material. With all of these sustainable and practical benefits one has to wonder if there aren't even more uses for origamic structures than just as emergency shelters.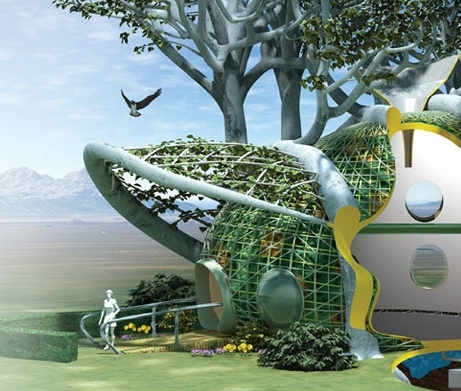 Why buy or build a house when you could simply grow your own? That is precisely the concept behind the Fab Tree Hab - architecture that grows over time. Heavy trees are slowly woven together as they develop to form the essential structure while lighter materials like vines are used to create more detailed connections and canopies. The result? A mixture of predictable and unpredictable, organic and constructed and certainly the end product is bound to be slightly different with each iteration.
Calling all HuffPost superfans!
Sign up for membership to become a founding member and help shape HuffPost's next chapter