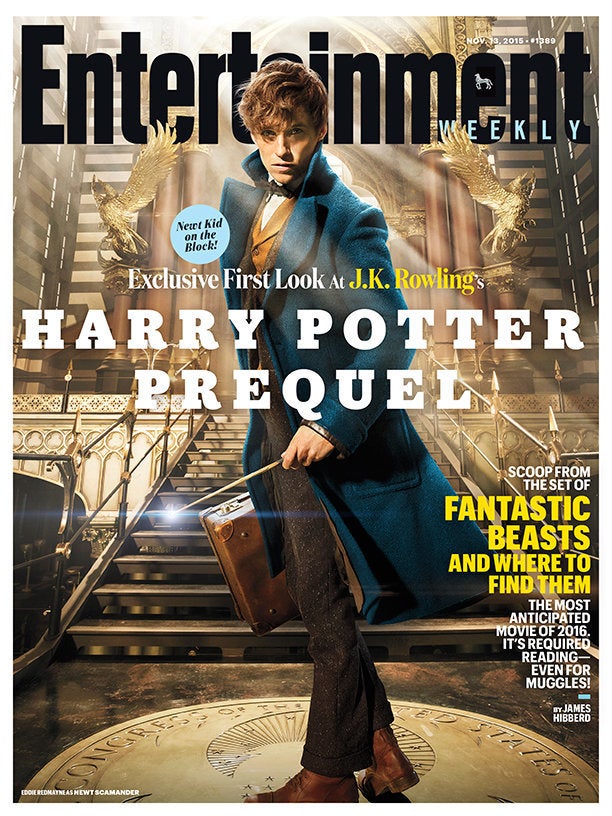 Entertainment Weekly's "Fantastic Beasts and Where to Find Them" issue is turning out to be a total goldmine. 
Eccentric magizoologist Newt Scamander (Oscar winner Eddie Redmayne) comes to New York (for a reason we won't disclose) with his trusty weathered case. This case is one of those way-way-way-bigger-on-the-inside magical devices, and within are expansive habitats for a collection of rare and endangered magical creatures from Newt's travels around globe. He discovers the American wizarding community is fearfully hiding from Muggles (who are called "No-Maj" in the States) ... and the threat of public exposure is an even graver concern than in the UK (remember the Salem witch trials?). "Fantastic Beasts" is the story of what happens when this uniquely skilled English wizard travels to wiz-phobic America and a variety of his creatures, some quite dangerous … get out of their case.  
Cast and character descriptions were also released on Thursday, which gives us a better picture of the creatures that will inhabit the "Fantastic Beasts" universe:
Newt Scamander (Eddie Redmayne): Our hero, a "magizoologist" who likes animals more than people, who journeys to America with a magical case full of extraordinary creatures.
Porpentina "Tina" Goldstein (Katherine Waterston): An ambitious employee of the Magical Congress of the United States of America who befriends Newt.
Queenie Goldstein (Alison Sudol): Tina's younger sister, who can read minds.
Jacob Kowalski (Dan Fogler): The first "Muggle" main character in the series who gets swept into the action by circumstances not yet explained.
Graves (Colin Farrell): An auror (aka wizard cop) and "right-hand man" to the President of the American Wizarding world.
Mary Lou (Samantha Morton): The villainous leader of "The Second Salemers," a group that certainly sounds like it has nasty plans in store for our heroes.
Credence (Ezra Miller): Mary Lou's mysterious adopted son.
Things we can't wait for: Colin Farrell holding a wand and Samantha Morton giving us the best "Harry Potter" villain since Voldemort. Wait, how do we pronounce that again?
PHOTO GALLERY
Fall Movie Preview 2015
REAL LIFE. REAL NEWS. REAL VOICES.
Help us tell more of the stories that matter from voices that too often remain unheard.