Welcome back to this investigative piece where we examine players who have seen some notable changes in their power profiles -- for better or for worse -- in 2017.
As usual, you don't need me to tell you that Miguel Sano or Aaron Judge are strong or that Jarrod Dyson and Billy Hamilton are toward the bottom in average exit velocity. We've passed the two-month mark and are now up to our eyeballs in the waters of the 2017 season.
Identifying top power risers and fallers for each week can help you spot the best pickups before your competition. We'll do the hard work for you, looking at the underlying metrics that influence a hitter's power: fly-ball, pull, hard-hit rates and exit velocity.  Consider buying these week 11 power risers and selling these week 10 power fallers.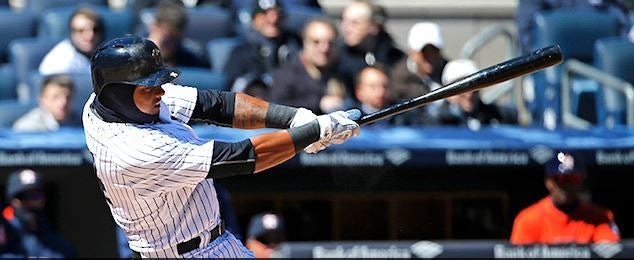 Power Risers
While Castro did well to hit .301 in May, the two homers were a bit disappointing after he had smacked five long balls in April (alongside a .352 average!). Well, halfway through June he's already clobbered five homers and is just being a beast in general. After seeing his fly ball and pull rates slip by roughly seven percent each in May, he's brought both metrics back to life with a 10 percent jump in flies and a 22 percent spike in his pull rate. Mix in a stellar 43.9 percent hard-hit rate on the month and again, the power showing makes sense. Given his extraordinary offensive climate, both in ballpark and lineup, look for Castro to be a top option at the keystone position throughout 2017.
Drury has gone deep in four of his last seven games, and has seven extra-base hits over that span when you mix in his three doubles. That'll be good enough to earn on a spot on this list most weeks. So, what gives? He hit well in April -- a .318 average is nothing to scoff at -- but only one hit cleared the fence. He hit three round-trippers in May, but his average sunk to a still solid .273. Now he's batting .306 with the four homers in June alongside a strikeout rate that he's nearly cut by two-thirds to 9.8 percent from 26.1 percent.
His fly balls are up seven percent, so that's good. His pull rate is up by about 11 percent, so that's really good. And his hard-hit rate is up 23 percent, so that's just the bee's knees. No one should be selling to you that this is the new Drury or anything, but buying into this power surge as a legitimate showing of talent is valid.
Let's dig a bit deeper now. Solarte won over many people, including myself, with a hearty .286/.341/.467 slash line in just 109 games last season. The .180 ISO and louder contact all seemed above board and he appeared to be a sneaky 20-homer candidate for 2017. He would hit just three homers over the first two months of the season -- nearly 200 at-bats -- with an average that went from a positive in April (.283) to a negative in May (.217).
Since the calendar flipped to June, he's slugged three homers and hit .304 with a .196 ISO. The ISO roughly jiving with his 2016 numbers has me feeling comfortable with the pace not being an outlier, but let's be sure this is viable. His fly balls are actually down 11 percent here, but an 18 percent jump in his pull rate and a whopping 19 percent increase in hard-hit are more than tipping the scales in his favor. The grounders actually help explain his improved average while the other metrics point to the pop. He makes for a nice buy in deeper formats.
Betts is having a "down season" in that he's only hitting .279 alongside his 11 homers and 11 steals. He still has more walks (31) than strikeouts (25), and appears to be rebounding from another cold stretch that ended his May and skidded into June. From May 20 to June 8, the dynamic Bostonian hit just .192 with five XBHs in 82 plate appearances despite fly ball, pull and hard-hit rates all over 33.3 percent. He's since gone 13-for-30 with six doubles and two homers, though, so that's why you're finding him here. If anyone out there isn't a believer in his true value as a 25/25 bat who can definitely hit .300 the rest of the way, you go pry Betts from their hands.
Power Fallers
Andrus entered June just one homer shy of his career-high total set last season (of eight), but he has yet to scrap one over the wall this month. He's not doing terribly or anything, hitting .268 is fine, but he's hit just two extra-base hits and neither of them were homers, so here we are.
Now, Andrus really couldn't have been drafted by many for his power, but after two solid months it would've been fair to adjust expectations a bit. But this month he's given back on his steady 32 percent fly ball rate (now 25.9 percent) while his pull rate has dropped from 50 percent to 33.3 percent and his hard-hit rate has fallen through the floor to 18.5 percent from 31.3 percent. He's hitting pop ups at double his earlier rate and is generating "soft" contact over one-quarter of the time. It's just all-around ugly, and while I definitely think he's better than this, I'd be hoping there are owners in my leagues who believed in his first two months that I could ship him off to.
This one hurts, but the proof is in the pudding. Story had offered some hope by homering twice in his first week off of the DL in late May, but has hit .250 in June without going yard. The average would be fine if he were on his 2016 grind, but no round-trippers means no dice. We can safely assume that he won't slog through a 0.0 percent HR/FB rate for long, but let's go under the hood to see just how steep the climb will be.
First off, his hard-hit rate hasn't really changed at all. That's encouraging, but his pull rate is down nine percent and his fly-ball rate has dropped nearly 20 percent. He's hitting a ton of line-drives and grounders, though that just makes me wish his batting average was higher in the wake of this power outage. Now that reduced fly ball rate is still 37.9 percent and represents the most frequent outcome from a batted ball of his, but it's a big step down from a mark that usually sits above 50 percent. I'd say sit tight where possible, but this definitely screams "bench me" for now.
This feels a bit like a cop out because there's no way in hell that Cozart was going to keep up his pace from the first two months, so his power metrics slipping was inevitable. Still, one has to look at the numbers and see exactly what's up. There's a huge difference between a guy maintaining his usual rates and just seeing his luck drop, and a guy who is legitimately hitting worse.
Cozart is the latter. His hard-hit rate has dropped from 30 percent to 18.2 percent and his 46 percent fly ball rate has cut itself nearly in half, to 24 percent. While he's pulling the ball a bit more, that quality of contact dropping from hard to medium contact is dampening the potency of his hits. Mix in a 23 percent jump in grounders and one can see where the issue lies. I'm not expecting anything more out of him, but it was a hell of a ride.
We'll stop picking on shortstop and just stay with the Reds to wrap this up, as Duvall has hit just one homer in June after homering seven times each in April and May. The slugger is still hitting .300 on the month, but this is a real downturn in production here. Well, his pull and hard-hit rates are actually fairly similar to his past months, but his soft-contact rate has more than doubled since May and his fly-ball rate has fallen off of the table to 26.9 percent from 41.2 percent.
To put that in perspective, his infield fly ball rate, aka pop-up rate, is 28.6 percent for June. He's hit more pop-ups than legitimate fly balls. Yes, it's been only two weeks so hopefully he'll be able to snap out of this soon, but this is a trend worth monitoring considering he's shown himself to be capable of running a cold streak out over half of a season before.
More Risers and Fallers Article
REAL LIFE. REAL NEWS. REAL VOICES.
Help us tell more of the stories that matter from voices that too often remain unheard.
This post was published on the now-closed HuffPost Contributor platform. Contributors control their own work and posted freely to our site. If you need to flag this entry as abusive,
send us an email
.