Welcome back to this investigative piece where we examine players who have seen some notable changes in their power profiles -- for better or for worse -- in 2017.
As usual, you don't need me to tell you that Miguel Sano or Aaron Judge are strong or that Jarrod Dyson and Billy Hamilton are toward the bottom in average exit velocity. We're nearing 2017's halfway mark and many fantasy owners, yourself included, are likely reading to bust out the midseason report cards for their squads.
Identifying top power risers and fallers for each week can help you spot the best pickups before your competition. We'll do the hard work for you, looking at the underlying metrics that influence a hitter's power: fly-ball, pull, hard-hit rates and exit velocity.  Consider buying these week 12 power risers and selling these week 12 power fallers.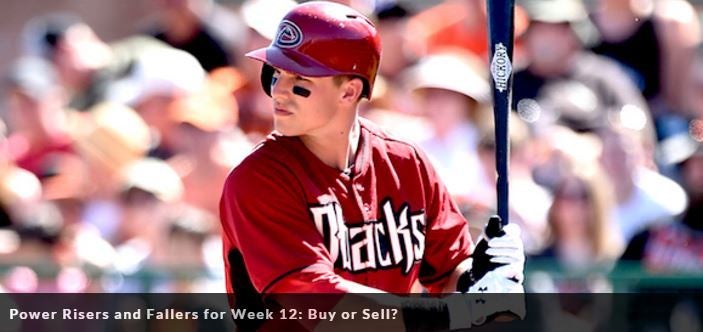 Power Risers
Mazara's last 12 games have seen him post an unimpressive .227 average with 12 strikeouts in just 50 plate appearances, so what are we really looking at here? Yeah, he's hit three homers over that 12-game span, but a homer every four games on its own isn't going to float many boats.
Well, you know the drill by now. He's hitting flies 45 percent of the time, pulling the ball over half of the time (51.5 percent) and sports a hefty 48.5 percent hard-hit rate when he puts the lumber on it. His hard-hit rate of 47.6 percent in June checks in at No. 16 overall, nestled between names such as Miguel Cabrera, Salvador Perez, last week's No. 1 riser Brandon Drury and...
Yup, that guy. Except he's seeing better overall results with four homers, 11 RBI and a .333 average over his last two weeks. Granted, he's walked just once over his last 46 PAs, but this isn't an OBP column -- take that Billy Beane nonsense to some other writer. The balanced stat line can be explained by the following:
Toronto's slugger is pulling the ball at a ridiculous 61.8 percent rate alongside a 55.9 percent hard-hit rate over these last 11 games, but is hitting grounders half of the time and only has a 32.4 percent fly ball rate. Now, an equally ridiculous 36.4 percent HR/FB rate is helping the flies be meaningful, but either the average or the power is going to give very soon no matter how many hard, pulled balls he's cranking out of there. That said, his track record is bankable so just enjoy the summer swoon here.
You think Kansas City is missing Morales? Entering June, the team's .143 ISO was the fourth-worst mark in the Majors. Their June .197 ISO checks in at No. 12, however, due largely to Mr. Cain. The 31-year-old had cleared the fence just twice over the first two months of the '17 season, and has since made eight donations to Souvenir City in just 19 games.
He hit zero homers across 97 June PAs last season, for the record. That'll happen when you pull the ball with a registered hard-hit 44 percent of the time and get air under it at a 38.9 percent clip -- which are just his stats from the last two weeks, so not including his first two dingers of the month. While it's true he's gone homerless over his last five games, the swing remained present for long enough where he's shown the capacity to embrace this era of "swing hard, swing up".
Remember when Bogaerts didn't homer until May 25, his 42nd game of the season? Sure, he was hitting .331 with seven steals and that's all well and good, but zero homers? C'mon, son. But we're all understanding folks and the past is in the past as Bogie has roped five doubles and three homers over the last two weeks thanks to a rejuvenated 46.5 percent hard-hit rate, 39.5 percent fly ball ate and 51.2 percent pull rate.
We've seen him overcompensate before, as he jacked 11 homers in the second half of 2016 but saw his average plummet from .329 to .253 in the process. Ideally, he won't do the same here but a .289 average on the month after hitting .351 in May has this writer monitoring the situation.
Power Fallers
One has to wonder if the carriage is turning into a pumpkin here, right? I mean, Oakland just hung up a nine-spot (in a loss, oof) and Alonso was the only A in the box score to not reach base or collect an RBI. That's when you need to take a good, hard look at the superstitious writing on the wall and see what it says.
So, here we are: Alonso is still hitting .304 with 11 runs scored across 17 games since June 4, but has just one homer with three RBI to go with it. Comparing his batted-ball rates from prior to this stretch should shed light on the situation, and we see that Alonso's fly ball rate is down 10 percent while his pull rate is basically the same. Okay, the fly-ball renaissance is a big part of his breakout but 44 percent compared to 54 percent is still good. But, then you see his 43.9 percent hard-hit rate has gone down under to 14.6 percent.
No, I didn't flip the "1" and the "4". It's nearly all turned into medium contact, which explains why his average is still holding up but the hits aren't translating to homers. Given how deep we are into this breakout and the slip in exit velocity not being too dramatic (i.e. soft contact), this is a "hold".
If Schebler ended the season with the 20 homers that he currently has then many would've been just fine with that. As it stands, the 26-year-old has that total even before June is up and stands among the league leaders in the category. Heck, the S.S. Slugger has even bashed two homers in his last three games so what are we talking about here?
Those three games can only do so much of the lifting when it comes to a two-week period where he had only gone yard once before the recent mini-surge. While his 40 percent pull rate is still healthy, his 28.6 percent hard-hit rate and 31.4 percent fly ball rate are simply lagging. This has caused him to lean on his 27.4 percent HR/FB rate, but that will start to fall off if the hard hits don't start coming in at a clip closer to his early 40 percent mark.
Unfortunately, most likely aren't going to pay close to the sticker price on his stats thus far and aren't blown away by name value either, but some might see 20 homers and simply pay the piper rather blindly.
Jones' power has largely disappointed after he kicked off June by hitting his fifth homer in just 10 games. In the three weeks since, the 31-year-old has left the yard twice with five RBI over 73 PAs -- but at least he's hitting .275 over that span. Still, the guy is no longer a threat to steal more than maybe five bases in a season so he really needs to maintain his power if he's to be a viable fantasy option in 2017.
Except he's hitting fly balls just a quarter of the time right now, and the same goes for registering a hard hit. Yeah, he's pulling the ball at a decent 37-percent clip but it's really that fly ball rate that is anchoring his HR rate to the ocean floor. He needs to finish June with a strong week if he's to be considered reliable when fantasy owners do a midseason rundown on their squads.
Woah, calm down. I'm not telling you to hit the panic button on Lamb -- the MLB's second-leading RBI bat and all-around smooth swinger -- but I am saying that he hasn't homered in nine games and has just two round-trippers over his last 22 contests. Of course, he sent seven baseballs to the shadow realm in a 10-game span prior to that, just in case you were starting to freak out.
His spot in a potent D-backs lineup is going to yield amazing results as long as he keeps hitting, and the past two weeks have still seen him deliver a .324 average despite hitting just one homer. He's also struck out only 10 times and drawn nine walks as he continues to improve in the plate discipline department. All I'm saying is that his fly ball rate has plummeted to 21.4 percent lately despite still holding hard-hit and pull rates around 40 percent.
It might be nothing, it might be something regarding how pitchers are attempting to attack one of baseball's hottest hitters. For what it's worth, I'm of the firm belief that his hand injury derailed his second half last season and it wasn't just some terrible slump, so I don't blame anyone for closing this and moving along with their lives. But also, Lamb is still hitting just .136 with two homers against lefties and that humidor is lurking. If you can get roughly 90-95 cents on the dollar then I'd likely take it.
*I was going to include Robinson Cano here and preach patience, but luckily the dude bashed two homers with six RBI on Thursday night and Bob's your uncle.
More Risers and Fallers
REAL LIFE. REAL NEWS. REAL VOICES.
Help us tell more of the stories that matter from voices that too often remain unheard.
This post was published on the now-closed HuffPost Contributor platform. Contributors control their own work and posted freely to our site. If you need to flag this entry as abusive,
send us an email
.