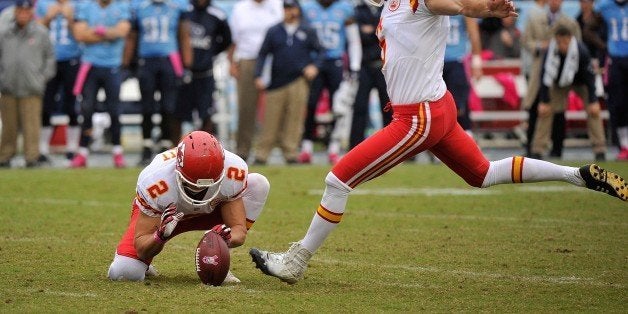 A lot of people preach that you should wait until the last round of your fantasy football draft to get a kicker. The conventional wisdom is that "kickers don't really matter"..."they are too unpredictable"...and "just get anyone from a pretty good offense, especially if they play in a dome or a warm weather city."
I couldn't disagree more. Kickers' fantasy points are predictable, all kickers are not the same, and they do matter.
Projecting points for a kicker is no different than projecting points for a quarterback, running back, or any other position. You look at the player's history, his teams' history, adjust for any changes that have occurred since last season, and make your best guess as to how many points he will produce.
Is there inconsistency? Sure there is. But again, that's no different than any other position. If you project Phil Dawson for 145 points and he only produces 133, you've gotten 12 fewer points than expected. If you project Drew Brees to throw 41 touchdown passes and he only throws 39, you've also lost 12 points.
If you are making good projections, you are accounting for the average of all likely outcomes. Therefore, it would be just as likely that Dawson or Brees would have gotten 12 points more than expected as it was likely they would under produce by 12 points.
Projections are specific. They place an exact value on the kicker's expected performance. To simply say everyone from a pretty good offense who kicks in a good climate are all basically the same is not true. When you make an intelligent projection for all of these kickers, there will be definite differences in their expected value.
Pundits often write that in any given season historically the difference between the #1 kicker and the #12 kicker is about 32 points. They say that since this is only about 2 points per game, it's negligible.
I don't think this is negligible. I want those two points a week! The whole idea of a draft is to maximize your value! Get as many points as you can every week of the season. I'm not saying you should take your kicker particularly early, but there's absolutely no reason to wait until the last round -- or even the next to last round.
People will say "I want to get someone with possible upside" rather than a kicker. But when it gets to the later rounds of a draft, the elite back-ups who have a lot of upside are already gone. What you can get at that point is probably a running back or wide receiver who might become a starter if their team suffers a couple of injuries. But that takes two injuries, and even then, many of these guys only become part of a running-back committee, or maybe receivers who aren't any better than the first three or four that you drafted. The heck with that, I'd rather have the extra two points (or even one point) per week from my kicker.
In the National Fantasy Football Championship (NFFC) league I play in, there are always a handful of games each year decided by two points or less. What's more, one of the ways to qualify for the playoffs is based on total points for weeks 1-13. I want those extra 26 points from my kicker.
In my NFFC drafts, the vast majority of teams select only one kicker. I don't think this is smart. Kickers don't get hurt as often as other players, but they do get hurt. And unless your league allows you to pick up a free agent right up until kickoff on Sunday, you run the risk of an injury late in the week leaving you without a kicker. I don't want to risk getting a zero rather than my typical 9-10 kicking points.
So I will always grab a second kicker in the last round or two of my draft. Because other owners don't all agree with my projected values for each kicker, and because some owners still haven't even taken their first kicker yet, I'll typically get a player who I think is about the 5th-8th best kicker as my second choice. This means the gap between my two kickers is probably about one point (or even less) per week. Therefore, if my best kicker has a very tough match-up, or a bad-weather week, I have a better option to go with. So if you've got no back-up kicker, get to your waiver wire and grab one now!
REAL LIFE. REAL NEWS. REAL VOICES.
Help us tell more of the stories that matter from voices that too often remain unheard.