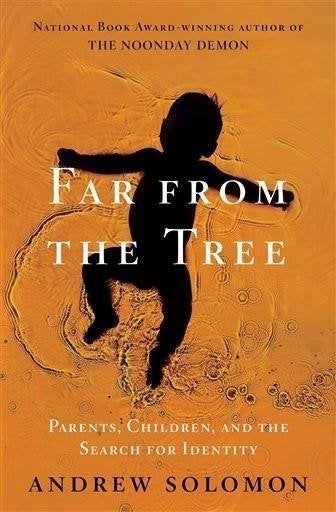 What is it about?
This is a nonfiction book about parenthood and human difference. Should we accept our children for who they are, or should we help them become their best selves? How do we transcend our prejudices to support those who are responsible to us until they become adults?
Why are we talking about it?
Andrew Solomon is an erudite and thoughtful writer. From the first moment we heard of this book, we thought it had National Book Award/Pulitzer Nominee written all over it. Quotes on the dust jacket from President Clinton and Malcolm Gladwell only reinforce the fact that this is a significant work about parenthood, society and nature vs nurture, combined with the author's personal story of becoming a parent.
Who wrote it?
Andrew Solomon's previous book, The Noonday Demon: An Atlas of Depression, won the National Book Award for Nonfiction in 2001, and was nominated for the Pulitzer in 2002. As if this book weren't enough, he is also currently working on a PhD in psychology at Cambridge University. He's an activist for LGBT rights and mental health, and he and his husband have three children.
Who will read it?
Anybody who is interested in a careful study of parenting, human difference, and approachable anthropology. Also, people who like to read the biggest nonfiction books of the year.
What do the reviewers say?
Washington Post: "It's exhaustive and occasionally exhausting, but more often inspirational."
The New Yorker: "Solomon is in many ways the perfect writer for the subject—nuanced, thorough, humane, and a gifted stylist.. Far from the Tree is a careful, subtle, and surprising book, but in its weakest moments, when the pieces don't quite line up, Solomon defaults to something that resembles cheerleading: these are brave people, he suggests, and we ought to be impressed by them."
Impress your friends:
The new field of epigenetics focuses on trying to understand how nurture can impact nature. It includes a theory stating that we can alter our inherited genetic code through our behavior as children and young adults, and thereby impact the likely fates of our children and grandchildren. Read more here.
Opening lines:
There is no such thing as reproduction. When two people decide to have a baby, they engage in an act of production, and the widespread use of the word reproduction for this activity, with the implication that two people are but braiding themselves together, is at best a euphemism to comfort prospective parents before they get in over their heads.
Typical passage:
What few adults can do, even fewer children can do. In the grand scheme, however, genius is only marginally more astonishing than development itself. Small children go from nonverbal to verbal in two years, and to literate in five more. They can master several languages at the same time. They learn how the shapes of letters relate to both sound and meaning. They grasp the abstract idea of numbers and the means by which numbers characterize everything around us. They ace all this while they are learning to walk, chew, perhaps throw a ball, perhaps develop a sense of humor. Parents of prodigies are intimidated and awestruck at what their children can do – but so, fittingly, are parents of children who are not prodigies. Remembering that is the surest way to remain sane when parenting a child whose skills dramatically differ from or radically exceed one's own.

Related
Popular in the Community