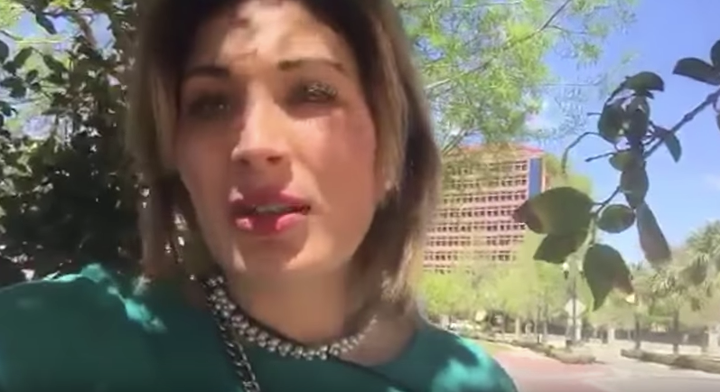 ORLANDO, Fla. — A far-right provocateur on Thursday was escorted from the federal courthouse where the Pulse nightclub shooter's widow, Noor Salman, awaits a jury's verdict on charges of aiding the mass shooting.
Laura Loomer's media credentials were revoked the previous day after she harassed the defendant's family outside the courthouse with questions about Muslims, jihad and Easter. She returned on Thursday and was removed by a U.S. marshal.
Salman, the 31-year-old widow of Pulse gunman Omar Mateen, is charged with aiding and abetting the attack and obstructing justice for allegedly lying to the FBI. She has pleaded not guilty, and maintains she was in the dark about her husband's plans. Her lawyers say she was another of his victims, not his co-conspirator. The jury is currently deliberating.
After closing arguments on Wednesday, Salman's family stood outside the federal courthouse to address the media. A reporter asked what Salman will do if she is found not guilty.
"She will return to California to be with her son," replied Susan Clary, the family spokesperson. Referring to Salman's son, the spokesperson added: "He was asking if she was going to be home to color Easter eggs. I'm not sure whether that's quite possible ― we can be hopeful about that."
"You said her son wants to color Easter eggs ― but isn't Noor Salman Muslim? Why is she celebrating Easter?" Loomer asked.
"We believe in all religions," Salman's cousin, Susan Adieh, said.
Loomer continued pushing. "Do most Muslims color Easter eggs?" she asked.
"I'm a Muslim and my kids, they color Easter eggs," Adieh replied.
As the family walked across the street and into the parking lot, Loomer followed, recording with her phone. She repeatedly asked them if jihad means an act of Islamic terrorism. Clary, the family spokesperson, said they weren't making any more comments.
"She stuck her phone in their faces," Clary said of Loomer.
An email from the court later in the day said a reporter had lost their media credentials and was banned from the courthouse after engaging "in highly inappropriate behavior with the Defendant's family members outside the courthouse."
Loomer, who previously worked for conservative activist James O'Keefe's Project Veritas, is best known for interrupting a New York production of Shakespeare's "Julius Caesar" last year that featured a President Donald Trump-like character who was assassinated. Loomer has a documented history of preaching anti-Muslim hate speech. Just last year, Loomer, who calls herself a "proud Islamophobe," photographed random hijab-wearing women in New York and tweeted that Muslims were "out in full force"
She did not immediately respond to a request for comment.
In tweets about the trial, Loomer called Salman an "ISIS widow" and a "Real Housewife of ISIS."
There is zero evidence that Salman was radicalized, a fact not disputed by prosecutors. Investigators who scoured through her internet history, phone and social media accounts found nothing to suggest she shared her husband's extremist views.
Clary said Salman's family was shaken by Loomer's provocation, and canceled a planned interview with the BBC Thursday morning.
"There's enough pressure already to have a loved one charged in federal court," Clary said. "On top of that, many people in this community think that because Noor was married to a terrorist that she is a terrorist, and they've spent the last month in Orlando trying to show people that she had nothing to do with it."
Many of Salman's supporters worry that her prosecution is rooted in "gendered Islamophobia and patriarchy." On the last day of trial testimony, more than 80 domestic violence and civil rights groups released a statement, asking for the charges to be dropped.
"She is being prosecuted under the guise of guilt by association as a Muslim woman married to a Muslim man who committed mass violence," they wrote.
If convicted, Salman faces up to life in prison.
Rowaida Abdelaziz contributed reporting.
Popular in the Community