Italy's President Sergio Mattarella approved the country's far-right and anti-establishment parties' nominee for prime minister on Wednesday, putting the nation on track to have one of the most populist and radical administrations in all of Europe.
The far-right Lega and anti-establishment Five Star parties chose law professor Giuseppe Conte as their consensus pick for Italy's next prime minister, despite his lack of governing experience. Mattarella giving Conte a mandate to form Italy's next government clears one of the final hurdles for the two parties before they can begin to run the country.
Both Lega and Five Star hold anti-migrant, anti-European Union views and look to bring the country closer to Russia through lifting economic sanctions against the Kremlin. The new populist government sets Italy up for a clash with the EU and brings more uncertainty for the country's already fractured politics.
The two non-traditional parties decided to band together after Italy's election in March left no outright winner and resulted in months of negotiations to form a governing coalition. Italians rejected the country's once-powerful establishment parties in the vote, leaving Lega and Five Star to fill the void.
"The traditional Italian party system disappeared many elections ago," said Sheri Berman, a professor of politics at Barnard College. "What you're seeing now is the detritus of that ― which is a mess."
A Lega and Five Star coalition was widely seen as a worst case scenario for the EU after Italy's vote, as both parties hold a longstanding opposition to the bloc. HuffPost Italia obtained an early draft of the coalition's governing contract in which the two parties hoped to renegotiate EU treaties and identify ways they could potentially opt out of the euro.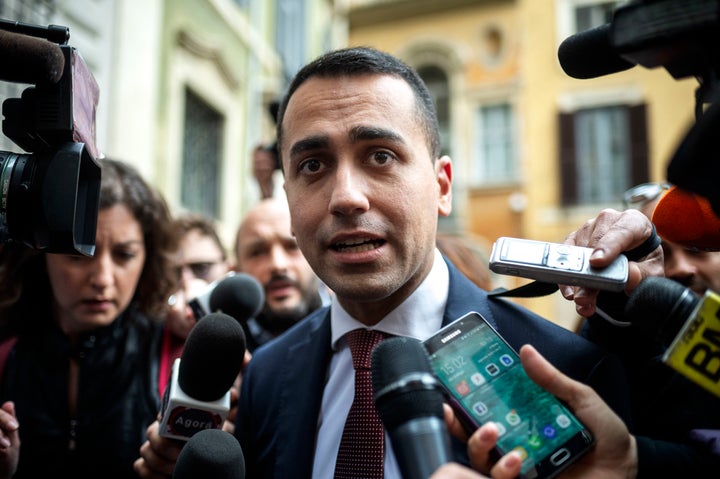 The documents showed Five Star and Lega also wanted to reduce Italy's commitment to NATO, end compulsory vaccinations and ask for the European Central Bank to cancel nearly $300 billion in debt.
The parties amended the contract and watered down their stance toward the European Union in subsequent drafts, but the leaked contract was enough to cause Italy's stock market to plunge and bring speculation that Italy could cause a crisis in the eurozone.
"Even if the more extreme promises or aspirations of leaving the euro don't materialize, having this kind of government in a major European country is going to inject instability," Berman said.
Although the parties have moderated their opposition to the EU in recent years, critics are concerned that the new government's radical social and economic policies will turn Italy into the latest "sick man of Europe."
Five Star and Lega have vowed sweeping changes to Italy's economy, the third-largest in the eurozone. The two parties promised to restore higher pension levels, cut taxes and bolster the welfare system ― despite the fact that Italy has the highest debt ratio out of anywhere in Europe except for Greece.
During the campaign, Lega leader Matteo Salvini also said he would deport 150,000 migrants within a year, and he accused immigrants of bringing crime and disease into Italy. Over 600,000 migrants entered Italy in the last four years, sparking a divisive debate over immigration and a swell of support for the far-right.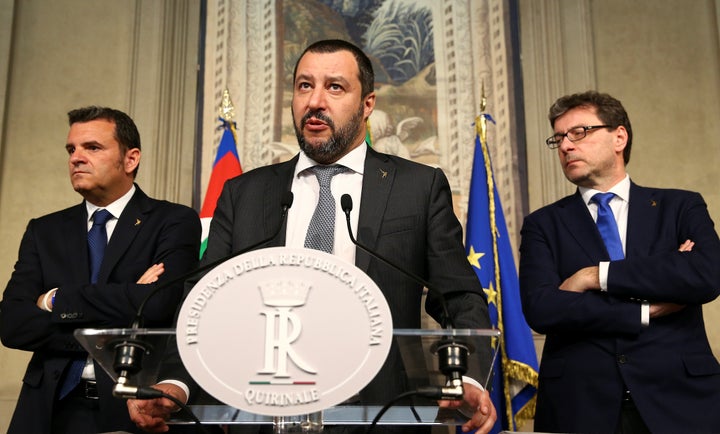 To break the deadlock that followed Italy's election, Salvini decided to abandon his party's alliance with longtime Italian power broker Silvio Berlusconi's center-right party. Instead, he aligned with the populist, ideologically amorphous Five Star.
Five Star, less than a decade old was the party that won the highest percentage of Italy's vote. The party is led by 31-year-old Luigi Di Maio, a university dropout who was living at home until five years ago. He took over leadership in 2017, offering voters a fresh face and vowing to fight government corruption.
Although Five Star gained more votes in the election, Di Maio and Salvini agreed that neither would be Italy's next prime minister. Instead, the parties chose law professor Conte as a consensus candidate. Conte, a 54-year-old who specializes in administrative law was until now not anywhere close to a household name.
Within hours of Conte's nomination, media and lawmakers began to scrutinize his academic credentials. Although he claimed to have studied at New York University, the institution told The New York Times that they had no record of him either as a student or a faculty member.
But Salvini and Di Maio stood by Conte, and President Mattarella backed the nomination on Wednesday.
Several other far-right and populist parties have joined coalition governments in Europe in recent years, including Austria last December. But unlike in Italy, most have been tethered to establishment parties that have limited their ability to carry out their more extreme policies.
HuffPost Italia contributed reporting to this article.
Popular in the Community