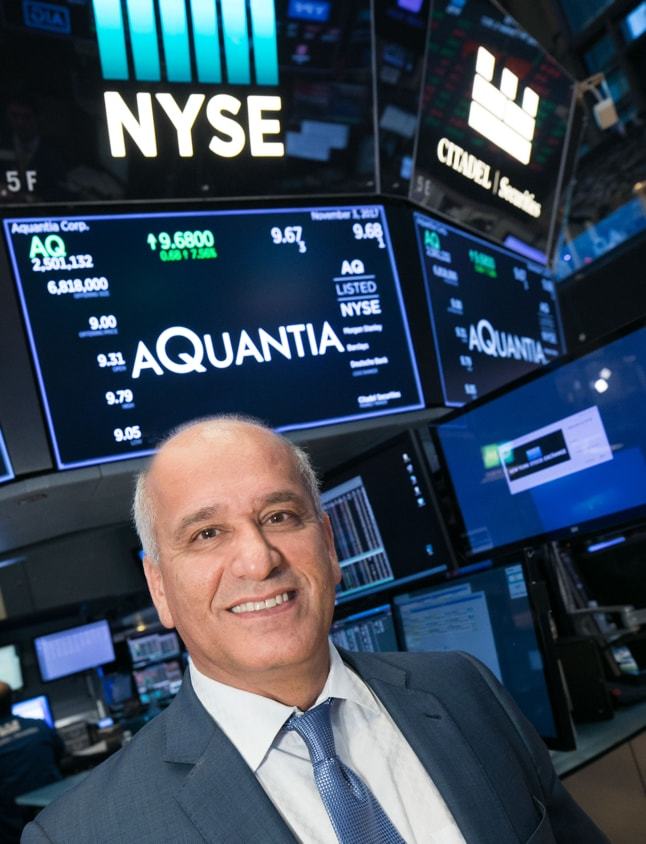 With the goal of harnessing the untapped potential of Iranian-Americans, and to build the capacity of the Iranian diaspora in effecting positive change in the U.S. and around the world, the Iranian Americans' Contributions Project (IACP) has launched a series of interviews that explore the personal and professional backgrounds of prominent Iranian-Americans who have made seminal contributions to their fields of endeavor. We examine lives and journeys that have led to significant achievements in the worlds of science, technology, finance, medicine, law, the arts and numerous other endeavors. Our latest interviewee is Faraj Aalaei.
Mr. Faraj Aalaei, a 36-year veteran of the communications industry is the Chairman and CEO of Aquantia Corp. He has raised funds in excess of $350 million for his companies from private and public investors, and executed several M&A deals. He recently joined a rare group of entrepreneurs who have taken two companies public as the CEO.
Mr. Aalaei had years of entrepreneurship and investment experience and an IPO when he joined Aquantia as the President, CEO and a member of the board of directors in January 2009. Prior to joining Aquantia, he co-founded and took public, Centillium Communications, a semiconductor solutions company developing DSL technology used in delivering Internet access to billions of people around the world. He served as the CEO of Centillium until he merged the company with Transwitch corporation where he served as a board member. Prior to co-founding Centillium, Mr. Aalaei held various management and design engineering positions at Fujitsu, M/A Comm and a 9 year career at AT&T bell Laboratories where he was at the forefront of innovations like the fiber optic communications, and today's cable modems.
Mr. Aalaei is a Founding Member and General Partner at Monjeri Investment and Candou Ventures where he has investments in multiple start-ups in the communications, semiconductor, Biotech, Software, and e-commerce industries.
Mr. Aalaei received a Doctorate in Engineering and a B.S. in Electrical Engineering Technology from Wentworth Institute of Technology, an M.S. in Electrical Engineering from the University of Massachusetts and an M.B.A. from the University of New Hampshire. He holds 3 U.S. patents.
As philanthropists, Mr. Aalaei and his wife Susan Akbarpour are leveraging their know-how and network to lessen inequality and to improve education inefficiencies around the world, serving as board members and supporters for multiple non-profit organizations. They are passionate about equality and well-being for children everywhere. Mr. Aalaei co-founded the Iranian American Political Action Committee (IAPAC) and serves on the board of Iranian American Contribution project (IACP0 and Iranian Scholarship Foundation (ISF).
Tell our readers where you grew up and walk us through your background. How did your family and surroundings influence you in your formative years?
I grew up in Andimeshk, a small town in the province of Khuzestan in a family and culture which was originally from Lorestan. The Lors are one of the oldest tribes of Iranians known for their patriotism and honesty. The pillars of our culture are about respect for one another, selflessness, and bravery. I still believe these timeless values are important, no matter where you live or what you do for a living. My father was the first generation of city dwellers from a farming family. He hiked 2 hours in each direction every school day for six years until he finished elementary school and then moved to the city to go to high school. Those who know Lorestan, will understand that the harsh winters are not exactly conducive to long walks. My father's roots as a farm boy to becoming the man responsible for the operation of one of the eight divisions of the national railroad is truly remarkable, and has always been my standard for self-assessment. No problem seemed so great compared to what he willingly accepted as business as usual. When I arrived in America to study at age 17, and the Iranian revolution started 3 days later, I felt powerless, as though I were stranded on an island with no escape in sight. However, failure was not an option and thanks to my father's example, perseverance was engrained into me and I never once considering giving up.
What has been your personal key to success? Who and what were the biggest inspirations for your career?
There is no single item that defines anyone's success. First of all, I want to acknowledge lady luck who seems to have taken a liking to me. Without her, who knows where I would be. Having said that, I also believe perseverance and openness are key factors. By openness, I mean the ability to allow thoughts and ideas to flow in and playing the devil's advocate role in their support rather than in opposition to these ideas. Another way to describe it, is flexibility. But once you allow that idea in and you start to move towards the objective, you cannot waiver.
What problem is Aquantia solving? How is the company different from others in the same sector?
We are in the business of removing bandwidth bottlenecks in the network. Consumer use of internet and content generation has created a tsunami of data that travels though the "cloud". As billions of devices are fired up each day, the data traffic generated by them needs to be carried around the globe on communication systems. Our technology enables these systems to carry this data at speeds we only dreamed about just a decade ago.
We are different from many other semiconductor peers in that our expertise is in a multi-faceted set of know-how that can help us create connectivity solutions that literally changes how you build a network.
Aquantia has broken three barriers to achieve success in performance, power consumption and port density. Could you elaborate on this?
Without getting too technical, we have a very unique approach to building communication systems by using patented mixed mode signal processing techniques we invented at Aquantia. We combine this novel approach with building our own signal processing blocks that have the ability to perform 10 Tera Ops per second. Over the years we have accumulated over 114 patents to cover the uniqueness of our approach and innovations. You really need an all out attack in technological sense to achieve the type of performance we are offering our customers.
Aquantia received numerous awards last year including, GSA's Most Respected Private Company Award, EETimes & EDN Company of the Year Award and Cisco's New Emerging Technology Supplier Award in 2013. What differentiates Aquantia from the other nominees?
I believe what sets us apart from many is the combination of a strong vision, an innovation culture and execution engine all wrapped up into one company. Our industry is 60 years old but changes dramatically every 18 months. To succeed you must be real to capitalize on discontinuities that come along and know that you are competing with the best of the best.
As the CEO of Aquantia, who leads the company in vision and strategy, what do you have planned for the future of your company?
We are a high-speed communications company so we look for trends that require the massive movement of data in a reliable and networked manner. I believe the advent of self-driving cars will present a tremendous opportunity to show case our talent and innovative spirit. For cars to be truly self-driving, a number of sensors (like high resolution cameras, radar or Ledar) must be placed around the body of the car capturing every detail of the environment the car is driving through. The brain in the car will need to collect all of this data and make sense out of it in order to guide the car in one direction or other. There are a very limited number of teams in the world that have the expertise to build systems that can actually deliver that data from sensors to the processors for decision making. Aquantia is a recognized leader in this space and we believe this is a massive opportunity for us. In short, my goal is to enable car manufacturers to build cars that can drive themselves so that I never have to teach my teenager how to drive.
What was the biggest hurdle to overcome? What have been some of your failures, and what have you learned from them?
Since Aquantia is my second startup company to go public, I thought I had all the answers and that this one was going to be easy. But you learn that they are all different with their own set of challenges. Sticking to your principles is the best way to face challenges in startups. That's because by definition you are trying to change the face of an industry or at least a segment of it and you know you are going up against powerful companies with money and relationships. At Aquantia we raised about 200M dollars to fund our development through 7 rounds of financing. At each stage, you literally come face to face with a disaster that could mean you have to shut down the company or fire sale its assets if you can't close that round of financing. Over the years, I have learned that there is nothing more important that a core team with complementary set of skills who like to work together.
How do you see the future of Ethernet?
Ethernet is everywhere. It has been around for 50 years or so and it will go on for decades more. I feel privileged to have had the opportunity to impact and be a part of a brief segment of its history.
What are some of today's most interesting ideas in enterprise technology and infrastructure?
I believe mobility and the need for information security are important more than ever before. Both must be delivered without sacrificing convenience and speed. Network engineers that dedicate themselves to solving this puzzle will do well
As someone who is a business entrepreneur in the high technology sector, and since you also been active in social entrepreneurship and community engagement, can you tell us how the two types of entrepreneurship are similar and how they are different?
I do believe that the similarities are in that you must convince your investors the idea is sound and sustainable and that there is a benefit to the constituents. If you don't deliver the results (doing tangible good in social entrepreneurship), money will stop coming in.
The difference between the two is that both the giver (investor) and the doer/organizer (entrepreneurs) want nothing for themselves. It's all for the benefit of the third parties (the recipient).
Can you share your thoughts on your Iranian-American identity? What does it mean to be an Iranian-American to you?
Let me first cover the American part of it. Where else in the world, could a 17-year-old get off the plane all by himself, not able to speak a simple sentence in English and then go on to get education and build two successful companies and live a dream life? The answer is nowhere but America!
Now, the Iranian part of it. How many nations have sent horde of young students to America who have gone on to have as significant impact and contribution as our community has had in such a short time despite all odds? The answer is nowhere.
The Iranian American identity is one of education, service, and leadership. It is truly magnificent to be able to hold onto your beautiful 5,000-year-old culture, and still adapt to your new homeland seamlessly and enrich it.
REAL LIFE. REAL NEWS. REAL VOICES.
Help us tell more of the stories that matter from voices that too often remain unheard.
This post was published on the now-closed HuffPost Contributor platform. Contributors control their own work and posted freely to our site. If you need to flag this entry as abusive,
send us an email
.