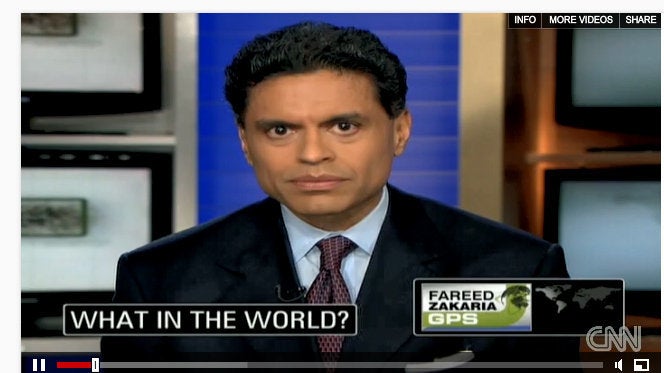 Fareed Zakaria criticized the Afghanistan war in unusually harsh terms on his CNN program Sunday, saying that "the whole enterprise in Afghanistan feels disproportionate, a very expensive solution to what is turning out to be a small but real problem."
"If Al Qaeda is down to 100 men there at the most," Zakaria asked, "why are we fighting a major war?"
Zakaria noted that the war is costing the U.S. a fortune in both blood and treasure. "Last month alone there were more than 100 NATO troops killed in Afghanistan.," the CNN host said. "That's more than one allied death for each living Al Qaeda member in the country in just one month.
"The latest estimates are that the war in Afghanistan will cost more than $100 billion in 2010 alone. That's a billion dollars for every member of Al Qaeda thought to be living in Afghanistan in one year."
To critics who suggest that we need to continue fighting the war against the Taliban because they are allied with Al Qaeda, Zakaria countered that "this would be like fighting Italy in World War II after Hitler's regime had collapsed and Berlin was in flames just because Italy had been allied with Germany."
"Why are we investing so much time, energy, and effort when Al Qaeda is so weak?" Zakaria concluded. "Is there a more cost-effective way to keep Al Qaeda on the ropes than fight a major land and air war in Afghanistan? I hope someone in Washington is thinking about this and not simply saying we're going to stay the course because, well, we must stay the course."
Popular in the Community