CNN and Time Magazine's Fareed Zakaria moderated a panel on LGBT rights sponsored by The Huffington Post and Microsoft to kick off the second day of the 2014 Davos Annual Meeting.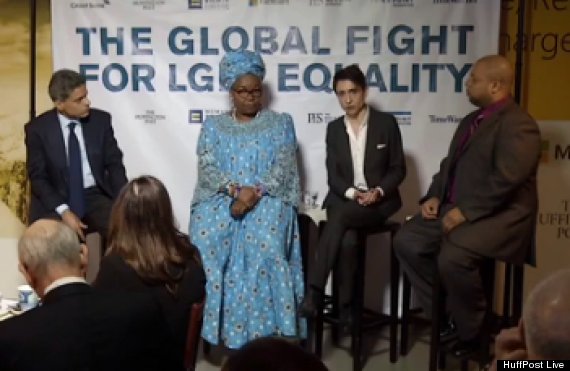 Fareed Zakaria speaks with Alice Nkom, a lawyer and LGBT activist from Cameroon; journalist Masha Gessen; and J-FLAG Executive Director Dane Lewis. (Photo: HuffPost Live)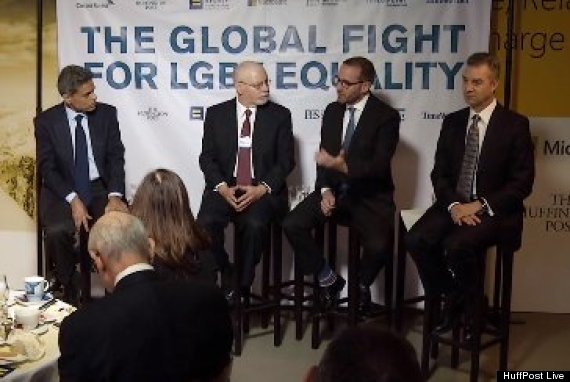 Fareed Zakaria speaks with panel members Elliott Management Corporation founder Paul Singer, Human Rights Campaign President Chad Griffin and Third Point founder Dan Loeb. (Photo: HuffPost Live)
"The whole purpose of this morning is to give you a sense of what's going on around the world with this issue," Zakaria said at the start of the panel.
"We still have a huge struggle," Lewis said.
Navi Pillay, United Nations High Commissioner for Human Rights, noted that the panel came at a relevant time, after several anti-gay moves have made headlines around the world. Nigerian President Goodluck Jonathan, who is attending Davos, signed an anti-gay bill into law earlier this month, and India's Supreme Court recently upheld a law that criminalizes homosexual acts.
Sens. Claire McCaskill (D-Mo.) and Patrick Leahy (D-Vt.) were present at the Thursday morning panel. Leahy, chair of the Senate Judiciary Committee, said he wants the U.S. to reevaluate foreign aid to countries that restrict LGBT rights.
"I think that we have to explore our foreign policy with countries that have these horrible laws," he said. "As one who handles the foreign aid in our Senate, this is going to become increasingly on my radar of how we look at foreign aid in countries that violate human rights this way."
This post has been updated with more information on Leahy.
Watch a video of the panel above, and see updates from Davos below:
Calling all HuffPost superfans!
Sign up for membership to become a founding member and help shape HuffPost's next chapter