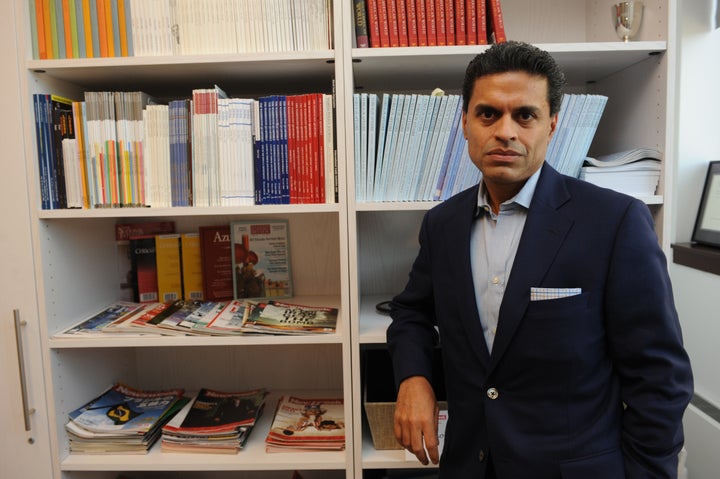 A more than two-year-old case against CNN's Fareed Zakaria for plagiarism is back in the spotlight after new allegations have surfaced against the host.
The allegations come from the same anonymous sources who called out BuzzFeed's Benny Johnson for plagiarism last month. Those accusations led to Johnson's eventual firing.
Zakaria was first accused of plagiarism in 2012 for lifting parts of Jill Lepore's New Yorker essay for a column in Time. He apologized and called the incident "a terrible mistake."
But now, the two anonymous Twitter users are saying that it was not just one incident of plagiarism. The pair highlighted 12 more instances that they allege point to plagiarism in Zakaria's pieces -- written before the 2012 scandal -- on their blog, Our Bad Media. The findings contradict statements given previously by Time, The Washington Post and CNN, which said that Zakaria made an "unintentional error" and that the plagiarism was an "isolated incident."
"These examples raise far more serious questions about the integrity of Zakaria's editors at CNN, TIME, and the Washington Post, all of whom claimed to have conducted similar reviews and found nothing," the duo wrote. "In the light of our findings, we have to call bullshit. It took less than an hour and a few Google searches for us at Our Bad Media to find an example of lifting in Zakaria's columns written before the 2012 plagiarism scandal."
Time's vice president of communications, Daniel Kile, told Talking Points Memo Tuesday that they do not take these claims lightly.
"While Fareed Zakaria is no longer employed by Time Inc., TIME takes these charges very seriously," he wrote. "In 2012, we conducted a review of Zakaria's work for TIME and were satisfied with the results of that investigation. We will be reviewing these new allegations carefully."
UPDATE: Aug. 20, 1:08 a.m. -- Fareed Zakaria countered the new plagiarism charges in an email to Politico, arguing that all the instances Our Bad Media cites are "facts, not someone else's writing or opinions or expressions":
My usual procedure with a piece of data that I encounter is to check it out, going as close to the original source as is possible... In many of these cases, there was a link in my column to the source. This was not always possible, however, because Time magazine, for example, did not always allow for links. My columns are often data-heavy, so I try to use common sense, putting a source into the text when it was necessary.
Zakaria also noted, "In many of the columns cited by the bloggers, I found the data they refer to in a primary source not the secondary one that they highlight." Read his full response here.
If I'm not mistaken, the newest allegations feature only one WP column, and when I looked at that I thought it was so far from a case of plagiarism that it made me question the entire enterprise. Take a look. Fareed uses some budgetary information that is also cited in a Center for American Progress report. There's no lifting of language, and I'm sure I could find the same data in a dozen other reports. I honestly think it is reckless even to suggest this is plagiarism.
Popular in the Community