Whether a start-up or an established company, all businesses struggle with the best ways to create a productive and fulfilling environment for their employees. How does a business instill the right culture that gets results?
FareHarbor, which provides software that simplifies online bookings for U.S. and international tour and activity companies, has done just that. In fact, Entrepreneur magazine ranked it #4 for mid-sized company culture, basing its award on the following criteria: collaboration, innovation, mission and value alignment, agility, communication, support, wellness, work environment, responsibility and performance focus.
Anna Shen spoke to FareHarbor CEO Lawrence Hester about what it took to build a culture with loyal and happy employees, in a company that was just launched three years ago. A testament to success over the past few years: the business has grown from one account to 1,500, and now has 90 full-time employees, spanning four offices around the country. The company is headquartered in Honolulu.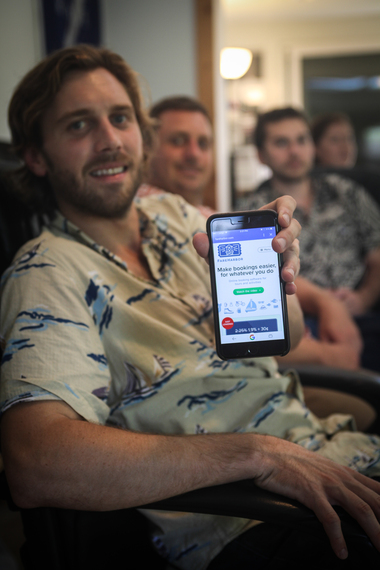 Q. What exactly is the culture of FareHarbor?
A. Our motto is DWIFT, which stands for "Do Whatever It F-----G Takes." From the beginning, that was the mindset. We began with the idea that we could do everything, which meant, we fired up the coffee, we did the invoicing, we had 24/7 support and would drop anything to help our clients out. We would always go above and beyond to help our clients and that has always been the mentality and we are holding on to that today.
We emphasize that everyone can do everything around here, even taking out the trash. This shows that it doesn't matter what your title is. Even now, as we are getting fairly big, we are still willing to take out the garbage. It is important to show that on a Saturday night that if we need something to get done, for example, if a client is launching our product, all the management team is out there helping. Nobody says, "I'm not going to help because I am the head of this team." We are all expected to be there.
Q. How are you keeping that culture alive as you grow?
A. We treat new employees like family. But the biggest thing we do is share stories among employees. We do a lot of storytelling about how it was when it was just the beginning, with five of us. We tell them that we would "fake it till you make it."
Also, when you see us, we are no frills, and we always put the client first. We've held on to the fact that it is a top-down effort. For example, when we had a large client going live (with the software), it was midnight on the east coast when we started. Every single employee was there typing in reservations, no matter what level they were in the company. Nobody was excluded. Nobody is too good to help, no matter how large or small, no matter what level they are in the company. Nobody has grown too big for their britches.
Q. When you built your company, did you look to others as role models?
I've seen books on culture and how to create it, but I never made it past the first chapter. Our process has been organic. None of us have ever been in that situation, managing 90 people. We are still learning and that makes it exciting.
Q. What are a few things you have done to help create a culture that employees love?
A. Anyone can propose an idea, and in fact, next month, we are pairing people in different positions and asking them to give suggestions how they can better work together. This idea was proposed by someone who is a 22-year-old who has only been at the company for a few months. Everybody is approachable in the company.
As for tools, we use HipChat not Slack. This tool helps make everyone more approachable and everybody is interacting with people all at one time. Everyone in the same lounge; it is an open playing field.
Q. What will happen as the company grows?
A. Obviously, there will be importance to hierarchy, and a flat organizational chart won't work. We will need a mini-funnel for the company. But the culture won't disappear; employees will keep helping people get better at what they do. For example, when we grew and I was no longer talking to clients, that was a scary jump. But our people will always help.
Popular in the Community