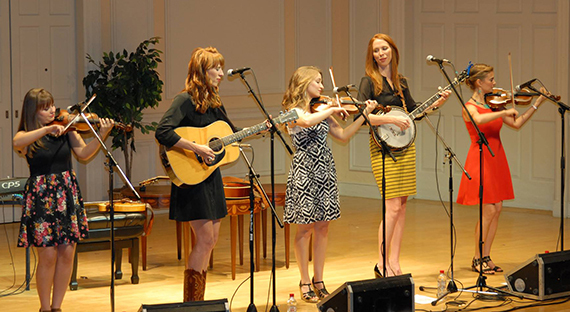 The Quebe Sisters Band, 2014: Hulda Quebe, Penny Lea Clark, Sophia Quebe, Katy Lou Clark, Grace Quebe. Photo by Stephen D. Winick
Lots of discs have appeared in my box lately on which great women musicians take on tunes and songs stemming from the old-time tree. I thought I'd share my thoughts on some of those here.
I'll start with Laurie Lewis and Kathy Kallick, who have sung and played together since they founded the California bluegrass band The Good Ol' Persons back in the 1970s. They learned the craft of bluegrass from the acknowledged masters of the northern California scene, Vern Williams and Ray Park. Williams and Park's careers presaged Lewis and Kallick's important ways: both duos teamed up for a while to make some great music, then went their separate ways, reuniting only occasionally.
In the case of Kallick and Lewis, each fronts her own bluegrass band playing a mix of good old bluegrass numbers and self-penned songs, and they don't often record together. So it's a joy to hear them pay tribute to their late mentors on Laurie & Kathy Sing the Songs of Vern & Ray.
The disc's material reflects the eclectic repertoire of Vern & Ray's band, finding the sweet spot among traditional folk music, early country classics, and more modern compositions, with everything from Foster's "Oh! Susanna" and "My Old Kentucky Home" to the Carter Family's "Cowboy Jack" and "My Clinch Mountain Home," and from folk tunes "Black-Eyed Susie" and "Flying Cloud" to Luther Riley's "Bluegrass Style" and Ray Park's "Thinkin' of Home." Themes of home and love, wandering and worrying, and God and prayer come up again and again, presenting the American experience crystallized in country music. Several songs stand out: Park's "To Hell With the Land" is a riff on environmental degradation, all the more chilling for being forty years old, and his "Happy I'll Be" is a simple gospel song that might just make you feel better.
"Down Among the Budded Roses" is an unusual love song known to Charlie Poole and Woody Guthrie, and given a plaintive reading by Lewis, and "Little Birdie" is a lively folksong that's a perennial favorite in bluegrass. Both frontwomen are in great form, providing what Kallick calls the "razor-sharp laser-beam voices" that give traditional bluegrass its bite, as well as chunky guitar and fantastic lonesome fiddle, while bandmates Tom Rozum and Patrick Sauber fill out the ladies' sparkling arrangements on banjo and mandolin. This is my favorite bluegrass album in years! Here they are doing "Little Birdie."
The Quebe Sisters have been building a reputation on impeccable fiddling, infectious Western Swing arrangements, and crisp swing vocals in the Andrews Sisters mold, melded into a seamless whole of string-based music that's equal parts jazz and folk. As Texas longbow fiddlers, the three young women won just about every championship available to them before deciding to challenge themselves further by becoming accomplished harmony singers. The result is a great roots-music success story. Their latest CD Every Which-a-Way presents old country songs like Hank Williams' "Cold Cold Heart," Western Swing standards like Cindy Walker's "Going Away Party," and Benny Williams and Joe Burke's "Yearning" (both recorded in the old days by Bob Wills), as well as Moon Mullican's title track.
There are also several traditional pieces, and a modern waltz written by bluegrass and klezmer star Andy Statman. The three fiddlers and singers nail their close harmonies, while their backing guitarist chops away at chords a lot more interesting than your standard pop or country fare. Although a lot of their music is of a younger vintage than the songs played by Kallick and Lewis, they're so successful in evoking an era that you're more likely to be transported to a different time -- in this case, a dance in the 1940s, complete with clever rhymes, lovelorn lyrics, and propulsively bouncy rhythms. If there's a good defense of the term Americana, it's the existence of groups like the Quebes, playing music that couldn't have happened anywhere but here. Here they are performing the title song:
Betse Ellis, fiddler, singer, and longtime member of The Wilders, blends the fiddle-based old-time music and songs of her Ozark background with country, rock, and even punk music on her solo album High Moon Order, a CD I picked up back in February at the Folk Alliance conference. The disc is about equally divided between an electric band (guitars, bass, and drums) made up of some of Kansas City's best alternative rock musicians, and an acoustic group (guitar, banjo, and stand-up bass) made up of folks she met touring with The Wilders. (Both bands include her fiddle and voice, of course.)
It's also about evenly divided between older folk material and original compositions, with some covers like "Straight to Hell" by The Clash thrown in. Ellis does a great job on fiddle tunes such as "Dry and Dusty" and "Queen of the Earth and Child of the Skies," and puts in sensitive and heartfelt renditions of "Twilight is Stealing" and "When Sorrows Encompass Me Round." Two of her original songs stand out for me too: "Golden Road," which captures the simple feeling of a Carter Family classic, and "The Collector," which name-checks A.P. Carter and folklorist W.K. McNeil, both prominent collectors. ("The Collector" is a thoughtful and thought-provoking song, but I can't help thinking she missed an opportunity to rhyme "Ozark fiddle" with "Lesley Riddle!") As a whole, the album impresses with its range of taste and versatility of execution: the lush pop production of "The Traveler," the raw punk feeling of "The Complainer," and the brisk but laid-back old-time groove of "Long Time to Get There" aren't likely to be found on the same person's ipod, let alone the same person's album. Ellis, obviously an exception, pulls it off not just in style, but in more than one style! Here's a fiddle tune from the album:
Finally, I'll mention the new solo album by Washington, D.C.'s own Martha Burns, simply titled Old-Time Songs. Burns is known for impeccable research into the background of her songs, as well as for simple tasteful guitar and singing, and all those are on display on this disc. The seventeen songs she picked are an eclectic mix, not all of them what you'd think of as "old-time." For example, there's a World War I Army song by Irving Berlin, and a clever ditty about disease that traces back to a comic operetta. But there are also old traditional ballads, including "Bangum and the Boar," which ultimately traces back to a medieval romance, and American disaster ballads, such as "Wreck of the Six-Wheeler." There are spirituals, mostly sung in shape-note style harmonies with guests John del Re and Kelly Macklin. There are also a good number of cowboy songs, including "The Night Guard," "Git Along, Little Dogies," and one of my favorites, Romaine Lowdermilk's "The Big Corral," which features nice harmonies by Bruce Molsky. One of the most unusual pieces, "Hop, Old Rabbit," blends the British sea chantey "Poor Old Horse" with African American stories of Brer Rabbit for a fascinating animal tale that Burns got from Horton Barker.
I'd particularly recommend this album for encouraging us to think about the songs and their relationship not only to folklore, but to wider social forces. The booklet of notes is thoughtful and filled with musings on the songs and their meanings. Burns ends the album with "The Cowboy," a version of Alan McCandless's "The Cowboy's Soliloquy." In her notes, she mentions the biblical references in the song, but doesn't mention my favorite connection, these lines from Shakespeare's As You Like It:
And this our life, exempt from public haunt,
Finds tongues in trees, books in the running brooks,
Sermons in stones, and good in everything
In "The Cowboy," this becomes:
My books are the brooks, my sermons the stones
My parson's a wolf on a pulpit of bones
Nothing demonstrates better than this reference in the poem of an East Texas cowboy Burns's own observation that old-time music thrives on a "mix of folk and cosmopolitan influences." For its own mix of such influences, this album is highly recommended.
Popular in the Community