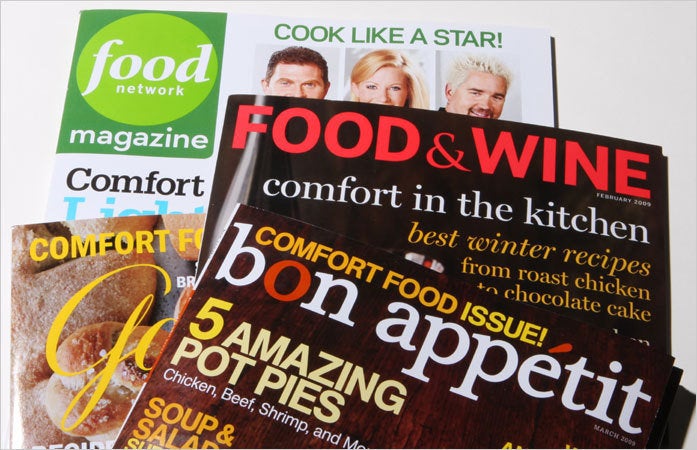 If I had the culinary skills (or the time), I would make a meal in honor of Gourmet: duck confit as the main dish, homemade raspberry sorbet for dessert, and a glass--or two--of tawny port.
This may seem like a skeleton of a menu, but in my memories, each item was the subject of an editorial meeting or a tasting in the venerable test kitchen during my eight weeks as the magazine's summer intern.
At the time, the summer of 2005, I was a twenty-year-old Pollyanna. The internship was my first taste of the magazine world--and of the chaotic, pulse-raising splendor that is New York City. And, largely because of my experience at Gourmet, I fell in love with both.
Much will be written about Gourmet's legacy, its biblical status among foodies, and the elegant spreads between its covers. But a magazine is only as good as the editors, writers, designers, and production team that make up its staff. During my internship, my strongest impressions were not of the intricate recipes I had the opportunity to sample--though they were reason enough to show up in the morning--but of the people.
On my first day, I remember my nervousness as I stepped into the elevator of 4 Times Square--along with about five stiletto-wearing, impossibly skinny Conde Nasties. But on the fifth floor, I breathed a huge sigh of relief when I met the "Gourmet family." Everyone immediately welcomed me--even Ruth Reichl herself, who stopped by my desk to ask the name of my dorm at the University of Michigan, her alma mater. Another editor gave me her home phone number, because she felt that I should "have someone to call in New York in case I got sick."
Over the next two months, I received an incredible introduction to magazines. Members of each department--including copy, research, photo, and art--took time away from their frenetic schedules to meet with me one-on-one and explain their work. They invited me to production and brainstorming meetings, to the photo studio, and, on a few occasions, to cheese parties--the tradition when someone left the publication.
For the first time, I gained a sense of the editorial process--from the ideas stage to the final product readers buy on the stands. I saw the long hours and relentless cycle of deadlines--but I also felt the team's energy and passion for their work.
As an aspiring writer, it was a moment of confirmation: This was what I wanted to do and where I belonged. By end of the summer, I told my parents that I was packing my bags and heading to New York the minute I graduated.
More than four years later, I'm mourning the loss of Gourmet, but also, the end of the magazine era my Gourmet experience represents. In the new world order, there is little time for senior editors to mentor junior staff--let alone editorial interns. With staff and budget cuts, magazine editors have more responsibilities (and pressure) than ever before--often taking on another editor's job in addition to their own when the masthead shrinks. The industry has always been deadline-driven and goal-oriented, but now, there's a heightened focus on the bottom line--which doesn't leave much room for "teaching" meetings or farewell get-togethers.
Still, after the test kitchen is cleared and the boxes are packed, I hope the Gourmet staff will take time to celebrate "magazine nirvana"--as one editor described the publication and its gifted, dedicated team while I was there.
And I hope they'll have a cheese party.

Related
Popular in the Community