For a too brief time in my life, I got to spend time with Peter Pan. Not just any Peter Pan, either. Disney's Peter Pan, arguably the best known iteration of the classic fairy tale. We'll circle back to this presently.
Let's talk about modern movies. Stick with me here. You've probably seen more than a few behind-the-scenes featurettes showing actors in skin-tight lycra suits with what appear to be ping-pong balls glued all over their bodies. The most famous of these oddly-dressed actors is probably Andy Serkis who, in addition to traditional roles, is Hollywood's premiere "motion capture artist." The little ping-pong balls all over Serkis' lycra suit in those making-of videos are recorded and tracked by computers and the digital information about Serkis' movements are applied to computer-generated animated characters such as Gollum from The Lord of the Rings, King Kong or Cornelius from the Planet of the Apes reboots.
Motion capture is standard operating procedure in big-budget filmmaking today, not to mention nearly every video game released today. While the digital technology is often hit-or-miss, the animation achieved by digitally capturing actual human movements is about as "real" as it gets for big special effects movies.
To whittle it down to its simplest explanation, motion capture is high tech puppetry.
When I first met my wife, she'd go on and on about her adopted Uncle Roland who happened to have moved to Hawaii around the same time she had. Until she told me about what Roland had accomplished during his long life, I had no idea how profound an impact he had in the world of entertainment, not to mention the people whom he considered family.
Roland Dupree, an only child, was born, Roland Furtado on September 20, 1925 to father, Antone Furtado of Portuguese descent, and Mother Theresa Dupuis, of French Canadian descent in Fall River, Massachusetts, by a midwife. Roland's first language was actually French, but he learned English and became an all-American talent and the family bread-winner at a very young age. After taking dance classes in his small town, and starting to stand out in local performances and venues, his family picked up and moved to Hollywood. There he quickly became a part of the "studio system" and was given contracts (and a new stage name, to sound like his mother's maiden name) with Universal Studios and MGM.
Roland appeared in 26 live action films, most famously with A-listers like Shirley Temple in Miss Annie Rooney and Jimmy Stewart in Frank Capra's You Can't Take It With You. He also appeared in films with legends Donald O'Connor, Ann Miller, Dorothy Lamour, Bing Crosby and many others, and he built a reputation as a professional with rare talent, particularly in tap dance. Roland was known by industry colleagues as a "dancer's dancer," with delicate, lightning fast, and rich-sounding taps which were on many occasions used as "stunt taps" in film audio for higher profile actors and dancers with less impressive tap technique.
Always innovating in style, and dance education and choreography, Roland became a teacher and choreographer for many other dancers themselves known for dance, including Juliette Prowse, ice skater and dancer Peggy Fleming, and '80s dance-craze Flashdance dance double, Marine Jahan. Roland's passion for teaching and choreography led him to develop a technique-driven national dance convention, Dupree Dance Expo (Now "Dupree Dance"), and brought him to a long and fruitful career of choreography and direction for television, stage, and screen. Some of his favorite choreography projects included the Rosemary Clooney Show, and staging his own trio for his Vegas stage show, The Dupree Trio.
Rewinding back to the early 1950s, however, Roland's unrivaled dancing chops caught the eye of a filmmaker named Walt Disney.
It turns out my wife's Uncle Roland was one of Hollywood's very first motion capture artists. In 1952, he was hired by Disney to perform all the movements for Peter Pan in the animated motion picture of the same name. (Actor Bobby Driscoll performed Peter Pan's voice, and it's been said that Peter Pan's animated face was based on Driscoll's, but I only see Roland's face.)
Before computer technology was available, motion capture was known as "rotoscoping." The process was developed by Disney and his imagineers who wanted to more realistically mimic human motion in cartoon animation. The process involved filming actual actors performing on a mostly empty sound stage. Once the film was developed and scenes were assembled, the footage was handed off to animators who would trace over each frame to create the animated cartoon version of the actor. Prior to rotoscoping, animated characters were rubbery and lacked the appearance of having bones and specific joints. With human actors as direct reference, Disney captured all of that in a way that was revolutionary for the industry, first applying it to the classic film Snow White.
As someone who's spent a considerable number of years in the animation business, learning about this part of Roland's career was mind-blowing to me. I had personally used rotoscoping on several projects, years before knowing Roland, and, of course, I remember falling in love with the theatrical re-release of Peter Pan when I was a kid back in the 1970s. I'll never forget my wife first showing me one of the few remaining photographs of the film shoot, with Roland in the classic Pan costume, performing with the woman who played Wendy.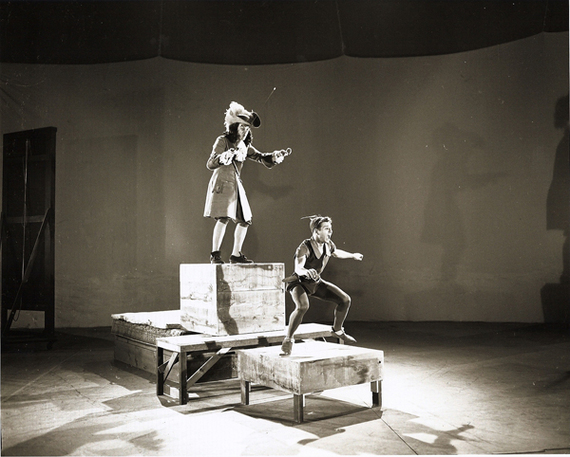 Knowing this about Roland's career, I had an instant connection with him when we finally met for the first time at his home in Kona, on the Big Island of Hawaii. I had a million questions for him about filming Peter Pan, of course (Disney himself, Roland told me, was aloof), but beyond that, I thoroughly admired the fact that Roland was one of the few child actors in Hollywood who never crashed and burned after flirting with a little bit of success. Hearing about his other career accomplishments outside of Peter Pan, it was obvious that Roland had a savvy for business and a tenacity for success that's so often lacking among celebrities, especially ones that started out as children. All told, Roland worked successfully in the business he loved deep into his 80s.
On a personal level, some of you might've read in The Daily Banter's MEMBERS ONLY section about all of my various housing problems in Hawaii (see my multi-part series "Living in Hawaii with Dogs"). Throughout all of it, Roland was a mensch. Not only did he take the time to hear us complain endlessly about this landlord or that Craig's List nightmare, but he was so incredibly generous financially as we exhausted our resources in one move after another (we never asked, but he always offered). One thing was always certain, Roland invariably made me laugh out loud with his dry wit and laid-back charm, even when I nearly had a nervous breakdown trying hilariously and unsuccessfully to hook up a new widescreen television in his house and to subsequently connect the television to Netflix, as well as to his antiquated home theater unit.
This man who I loved and admired so much -- the great Peter Pan -- died this past Sunday, June 21, of natural causes, and I never got to say goodbye. When he moved back to New Mexico late last year, I dropped him off at the airport for his final flight (not pixie dust this time), and that was the last time we embraced. Driving home from the Kona airport, I choked up a little in the car as I passed his street, but I had no idea that it was the last time I'd get to bear-hug this legendary, beautiful man.
Roland Dupree wasn't a household name. But "legendary" fits. As a performer, a teacher and as a real life success story, he deserves to be remembered and honored among Hollywood's greatest not only because of what he accomplished, but how he accomplished it -- with style, grace, tenacity and a colossal sense of humor. And now, whenever I see a big Summer blockbuster movie, loaded with motion capture animation, I'm always going to think of Roland. Always. But more than that, I'm going to remember the last five years of my life with ceaseless warmth, love and sentimentality, in great part because I got to spend time with Peter Pan.
Calling all HuffPost superfans!
Sign up for membership to become a founding member and help shape HuffPost's next chapter