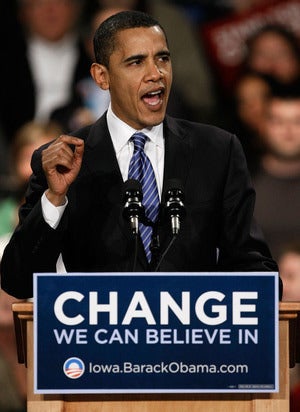 President Barrack Obama made history as the first African American President of the United States. President Obama was elected on November 4, 2008 and was sworn in as our 44th president on Jan 20, 2009. During 2008, as Barrack campaigned for President and was closer and closer to taking the torch, so many Americans, including, Black Americans were in disbelief. America has a history of racism, therefore, many Americans were in awe that he was winning the popular vote. Amongst his opponents , Barrack Obama was the wittiest, smooth talking, well informed and brilliant candidate of the 2008 election.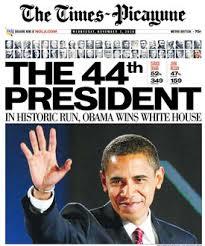 He proficiently and easily defeated his opponents one after the next. I remember Nov 4, 2008 as if it was yesterday. I had just moved from my hometown, Los Angeles, CA to Washington D.C. , just in time for Barrack's victory. In fact, I moved to Washington D.C. on Oct 28, 2008, only days before. I proudly voted for Barrack in the primaries. I remember the evening President Barrack Obama graciously won. I remember hearing the loud voices screaming with excitement. I remember my friend and I going to celebrate Barrack Obama's victory with the large crowd of Washingtonians and Washington D.C. residents, as they proudly blocked the Intersection of U ST , chanting "Obama"!! "Yes We Can"!! and "Congratulations"!!. People gathered on the busy street hugging one another, singing , dancing and partying. I remember White people coming up to my friend and I, along with other Black Americans, greeting us, shaking our hands, hugging us and saying "Congratulations". It was as if America had moved forward and all of his supporters believed our differences would no longer be an obstacle in life. It was as if people finally believed the late Martin Luther King's speech of joining hands as one nation. I remember seeing President Barrack Obama and his family graced the stage in their hometown, Chicago, the night he won.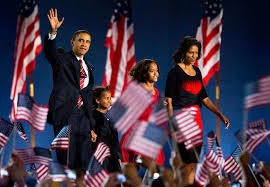 As tears rolled down my cheeks, I remember feeling so proud for my Black men! I knew in my heart many relationships would blossom around this time. Boy, was it a night to remember. Barrack Obama made history.
Less than two months later , Inauguration occurred on the cold day of Jan 20, 2009. My friend and I camped outside the nations capitol the evening of Jan 19, 2009, so that we would be guaranteed a good standing space near the stage Barrack Obama would be sworn in at. We were actually able to see the stage with binoculars. We were standing on 1st and Constitution Ave, right where the beginning of the inauguration parade would begin. In fact, I saw Barrack and Sasha in the parade. It was 20 degrees that day, too cold to snow. It was freezing but the experience of seeing the president and the overly populated Washington D.C. during that time, in support of our 1st Black President was well worth it. Experiencing Washington D.C. and the White house change right before my eyes was flabbergasting and exciting. I remember the day President Barrack Obama was sworn in. It was one of my proudest moments, seeing a Black man that represented not only myself, but my race, and most of all, Black men. It is a day and era in my life I will never forget.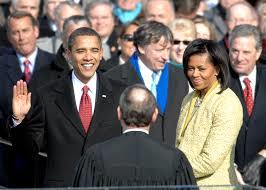 I was only 25 when President Barrack Obama was elected and it was actually my first time voting. I wasn't old enough to vote in past Presidential elections, therefore, this voting experience was special and also sentimental. I voted for President Barrack Obama in 2008 and 2012. Barracks campaign touched the hearts of many Americans. Many people like myself voted for the first time. For example, I had a friend who was a Jamaican citizen, and although he was a resident of CA for over 30 years, he saw no point of becoming a U.S. citizen until Barrack ran for President. He actually became a U.S. citizen so that he could vote. As an Americorps member during this time, one of my colleagues volunteered with the Barrack Obama administration , going from door to door encouraging people to vote. I also knew of a sorority sister of mine who volunteered to call strangers home, encouraging them to vote.
President Barrack Obama's victory was far bigger than him. He was an image for change, encouragement, victory resilience, forwardness and success! Barrack Obama stands on the shoulders of many greats that came before him, from slaves, civil rights activists and hardworking Black Americans. Whether he knows it or not, his victory meant more to Black America than he will ever know.
Dear President Barrack Obama: I just want to say thank you. Thank you for holding your head up high when facing racism and disrespect. Thank you for knowing that you are a king and conducting yourself as such. Thank You for representing an entire race, with brilliance, class, wit and grace. Despite all the crazy, racist and hurtful things some people said about you, you still persevered. Thank you to the beautiful spirit of Michelle Obama, our first lady. You truly represented Black women well. Thank you for not giving any energy to some of the ignorant lies some people fabricated about you. Thank You to the Obama sisters.
You are still the 44th president until the 45th president is sworn in within the next few hours. And you will always be my President! You will go down in history as the most powerful man in the world and upon finishing your term today, you will continue to carry the torch!
Farrell President Barrack Obama 1/20/16 6:17AM PST
Calling all HuffPost superfans!
Sign up for membership to become a founding member and help shape HuffPost's next chapter
This post was published on the now-closed HuffPost Contributor platform. Contributors control their own work and posted freely to our site. If you need to flag this entry as abusive,
send us an email
.