On Wednesday night a rather grand affair took place at Carlton Hobbs' gallery. The always amusing Englishman hosted a bedazzling group of people in his home/gallery to celebrate the new exhibit, "Inspired By Antiquity, Classical Influences I 18th and 19th Century Furniture and Decorative Objects."
Hobbs' home was built in 1929 for Virginia Fair Vanderbilt and is one of the last grand private homes in the city. Every room is a jewel and even more so from the perfectly placed antiques that fill them.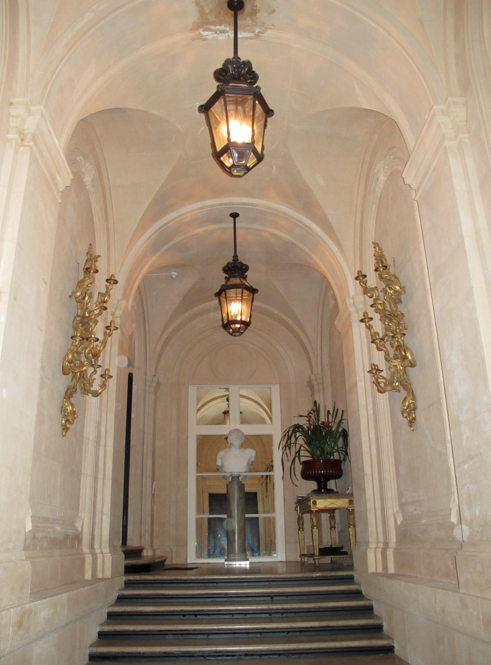 Carlton's vestibule in the old Vanderbilt mansion
I have been to Carlton's for many an event but this one was special to me. My great friend Philip Hewat-Jaboor was releasing his Thomas Hope collection to the world. It is the single largest collection of Hope pieces to come onto the market since Christie's sold the contents of Hope's grand home, Deepdene in 1917. Philip's new home simply doesn't work with these treasures so he is generously offering them up instead of greedily keeping them in storage as I would.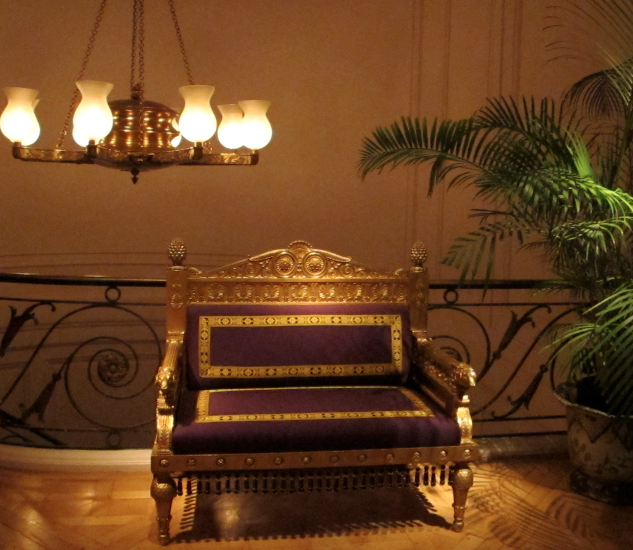 A Hope settee ready for guests
Who is Thomas Hope you may ask? He was a 19th-century Dutch banker, author and art collector whose family moved to England in 1794. He was also the first to pen a book on decoration and furniture. In short he was the first Interior Decorator! Oh and his brother bought that Diamond you may have heard of.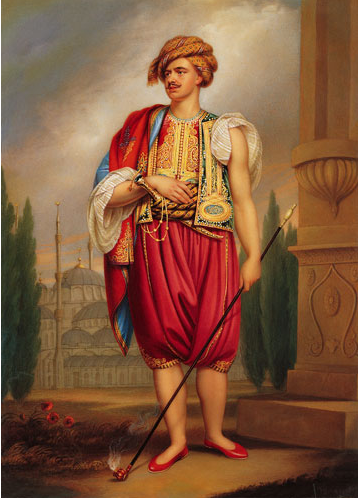 Thomas Hope in Oriental Dress
And Philip? He is a great collector of antiques, an art consultant and one of the grandest people I know. His English accent is almost incomprehensible at times it is so posh, which makes it very difficult to know if he has just outwitted you with a sweeping comment. He does this often and with great aplomb. Philip has hosted some of the best parties I've ever attended in his former home in Ennismore Gardens, London where his Hope collection was installed for people to actually use. As he tells me, "I think that whatever you possess should be used (albeit with care). That was what is was made for after all."
What inspired him to collect Hope with such gusto? "I have always been very interested in the period just before and after 1800 with the collector William Beckford and his contemporary Thomas Hope. His own furniture is very rare but inspired the Regency period and I have always looked closely at it." He continues:
I suppose the opportunity to start collecting was my discovery of an ormolu-mounted Chinese sang de boeuf vase at an auction sale in New York, catalogued only as a table lamp. After its acquisition that led me to look more deeply into his collection and I had the fortune to find and acquire a small number of pieces from his collection.
It was odd to see these pieces I so often relate to Philip in a new setting with signs on them. I asked his partner of many years, milliner Rod Keenan, what he most remembered about the furniture. "Well I never sat on that gold and purple settee because I was always afraid I would spill champagne on it, then I realized that the wide arms provided ample room for a champagne flute and it became my new favorite spot at parties!" Buyers take note.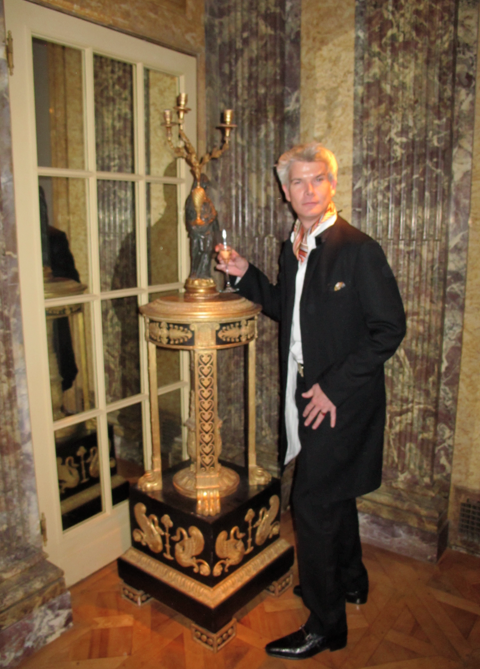 Rod Keenan finding new places to set his champagne
I spoke to Carlton (Carly to friends) the next morning and he was beaming with pleasure. "We had about 250 guests and many of them were our very best clients! A high percentage of museums attended as did some of the best interior designers." Had he ever seen the Hope pieces in situ at Philip's? "I did years ago and I admired them like mad. I am a huge Hope fan not just on the aesthetic level but also on a technical level. He micromanaged his craftsman resulting in some of the best made pieces." Any favorites? "I would die for any of them but the Egyptian Room wall lights are incredibly exciting. When I first saw them they gave me a thrill."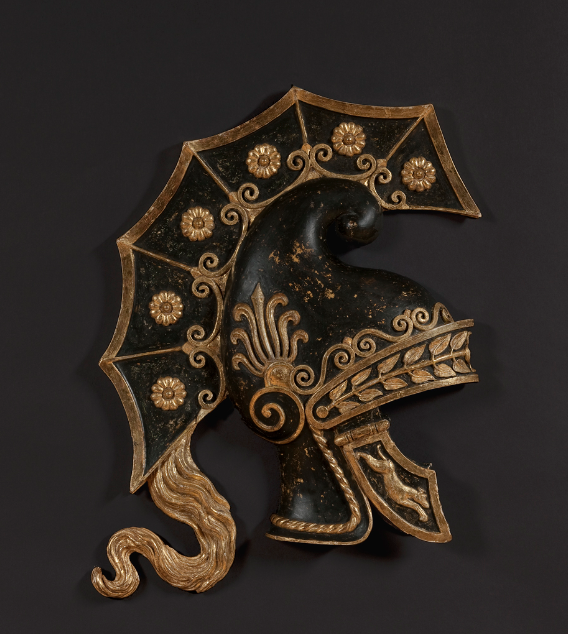 One of a pair of Phrygian helmet appliques
Since Saint Valentine's Day is approaching and we have found some precious pieces for lovers. How about the pair of appliqués in the form of Phrygian helmets for those warring romantics? Or the Duchess Street pair of bronzed and gilded pine stands? You could be just like Hope and place bowls of fish upon them to gaze at with your lover...
The exhibit will be open until February 18th.
Weekdays 10:00-5:00pm
and by appointment on weekends.
60 East 93rd Street
New York, NY