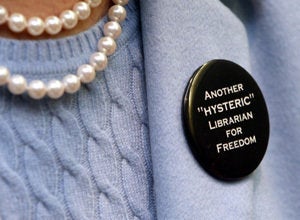 A few years ago, Judith Krug, Director of the ALA's Office for Intellectual Freedom and resident of Evanston, IL, invited me to lunch to discuss an idea she had. Over iced tea and fancy salads, she explained that she found the erosion of reader privacy in the digital age to be worrisome. That afternoon we hatched a plan to address information privacy.
Over a period of a few months we conjured a national strategy. We landed funding. And we embarked. That's how it worked with Judith Krug. Ever vigilant about protecting Americans' Constitutional rights, Krug liked to snuff out First Amendment powder kegs before they exploded in people's faces.
Judith was a study in paradoxes: elegant and gritty; eloquent and saucy; fierce and friendly; vehement and compassionate. Knowing her in the years we worked together at ALA, I watched her navigate the icy political waters that carried in Karl Rove's stealth agenda to get ultra-conservatives appointed as Library Trustees and build their resumes for public office. I watched her train high-powered volunteer lawyers to defend librarians in book banning cases. I watched as she built Banned Books Week into one of the most successful public awareness programs in American history.
On Saturday, she succumbed to cancer of the stomach after an arduous battle. She was 69. A devoted mother and a beloved colleague, she will be sorely missed. Especially by all the librarians in America who came to rely on her protection from book banning and unauthorized searches of patron reading records.
Even in her last months, she was critiquing white papers on information privacy and commenting on strategy. In that way, she died with her boots on--just as she would have wanted it. It was a life well lived, full of purpose and progress toward a greater good.
Calling all HuffPost superfans!
Sign up for membership to become a founding member and help shape HuffPost's next chapter