After five seasons, The Syfy Network's Warehouse 13, one of TV's most inventive science fiction series -- a smart, entertaining mix of drama, humor, the supernatural and time travel -- will air its final episode this Monday night, May 19. And I am thrilled to report it's going out on a high note.
Warehouse 13, Season 5 Trailer
A ratings hit right out of the box, Warehouse 13 followed U.S. secret service agents Myka Bering (Joanne Kelly) and Peter Lattimer (Eddie McClintock) as they uncover history's greatest enchanted artifacts ranging from Julia Child's apron to Rodin's sculpting tools to Lewis Carroll's Looking Glass housed in a mysterious warehouse in the barren expanse of South Dakota's plains.
Courtesy of Syfy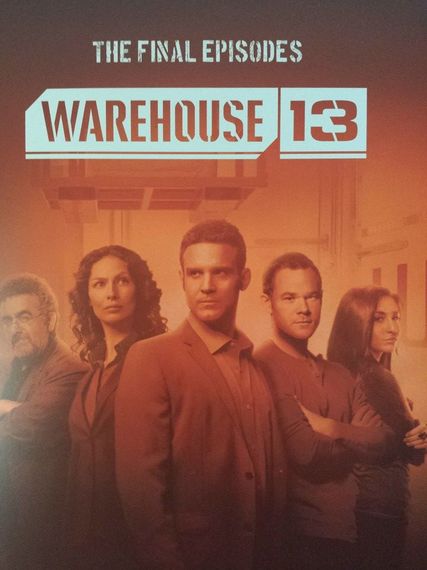 Warehouse 13's wonderful cast also included Allison Scagliotti (as Claudia Donovan), Aaron Ashmore (as Steve Jinks), C.C.H. Pounder (as Mrs. Irene Federic), Genelle Williams (as Leena), and Saul Rubinek (as Artie Nielsen) who showrunner Jack Kenny confesses is most like him.
I was fortunate enough to chat about the series with Mr. Kenny, who makes a fabulous blink-and-you-missed-him cameo in the series finale. For more Jack Kenny magic beyond the small screen, check out his directing of the one act sci fi play, Forwarding Address, at Los Angeles' Sci-Fest through the month of May.
Xaque Gruber: Where did the "13" come from?
Jack Kenny: At first they called it Warehouse 13 just because 13 is a freaky sci fi number, but then I developed this backstory and thought what if it's because it's the thirteenth in the history of the warehouse. I thought 'what if the warehouse started with Alexander the Great who was collecting weird artifacts on his campaigns.' I figured that over time, the Warehouse moved to the strongest empires in the world because it was protected better. So I stayed up all night looking up "empires" on my best friend, Wikipedia, and developed it. Anyway, I feel like a creator of the show even though I am not.
XG: So you're a big history buff?
JK: I love history! I remember in the first season we were looking for a big finale, and it was suggested that H.G. Wells should be one of our characters. I said 'that's cool - I love H.G. Wells, but what if H.G. Wells was really a woman and hid behind her brother Charles as a front because no one would accept a woman writing sci fi in the 1880s, and that's how that developed. And that's when we realized we could twist history a little bit and have fun with it.
XG: One thing that I felt set your show apart from many other sci fi series was its ever present sense of humor.
JK: We kept humor alive through the whole run of Warehouse 13, and that's one of the reasons people loved those characters because the characters could laugh at themselves when necessary, and we were blessed with really good actors who could play the gamut.
XG: Science fiction has been on a hot streak the past several years in film and TV -
JK: I associate the recent sci fi boom with the way musicals became popular during the Depression. We just got out of a very deep recession and people like to fantasize when they don't have any money. I think the Middle Class is still getting smashed in this country so people need the fantasy element, which you can get for free on television. And you go to any of the Cons, Comic-Con being the king of them, and they are packed to the gills.
Jack Kenny (fourth from the right) and all the Sci-Fest directors (photo by Rob Hollocks)
XG: Where can people check out your work at Sci-Fest?
JK: I am directing Forwarding Address, which is the opening play of Sci Fest's Evening A program at L.A.' Acme Theatre. Sci-Fest is a festival of sci fi plays and runs through June 1, but my play will run again from May 20 - May 25. Come see it and say Hi! It's a great curtain raiser about two couples celebrating New Year's Eve until a mysterious messenger arrives. It gets a lot of nice laughs, and has a wonderful cast. And coincidentally was written by J.P. Nickel who wrote the Warehouse 13 finale. I was an actor, and I love the theatre, and bringing a theatre space to life.
Writer/Producer/Director Jack Kenny (photo courtesy of Mr. Kenny)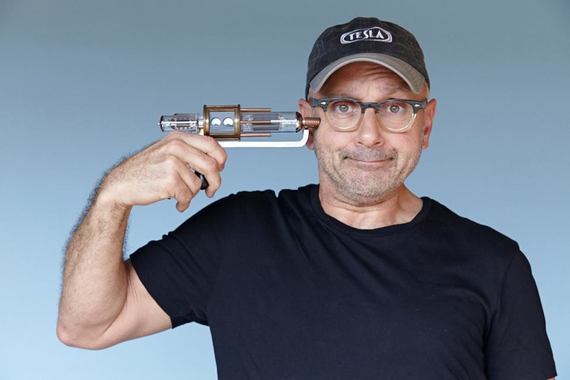 XG: So with Warehouse 13, and now Sci-Fest, under your belt, people might start thinking of you as a major Sci-fi fanboy -- are you?
JK: My opening line to the Syfy Network was 'I am not a sci fi aficionado, I don't collect comic books, I didn't watch Battlestar Galactica because frankly the name scares me.' But I saw Warehouse 13 as a crossover show - this is a show I would watch. Because yes, there's sci fi gack in it, but this is about family, life, relationships, and humor - it's not all about sci fi gack, and when it becomes about the anti gravitational pull, that's when I can't listen anymore. We knew we needed lots of sci fi candy so we hired those kind of writers too, but I wanted to see what happened to these characters. Wasn't the Kirk/Spock relationship fascinating to watch? Wasn't the Luke/Leia relationship great? Every great drama comes down to family, and watching characters interact. What was the relationship between Michael J Fox and Christopher Lloyd in Back To The Future if it wasn't father/son? Warehouse 13 is a show about family and that's what makes it last.
Warehouse 13 on Syfy Network. Mondays 9pm/8c. Sci-Fest info at www.sci-fest.com