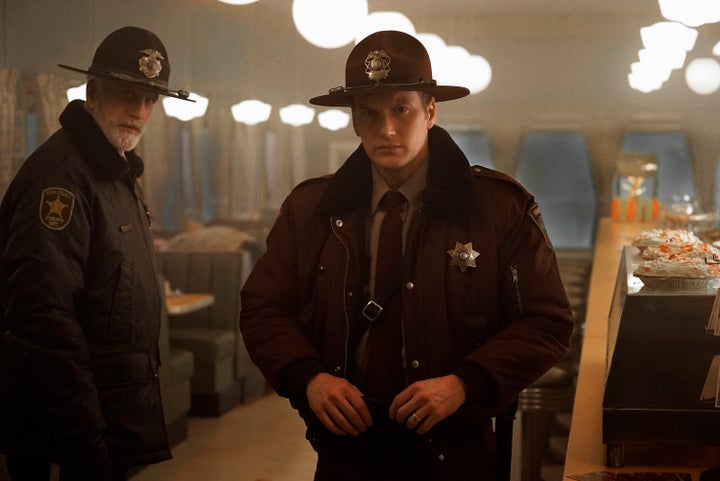 The first season of "Fargo" was widely acclaimed and award-winning, but at a press event for Season 2, some cast members had an admission to make (which is only appropriate for a show about crime).
Kirsten Dunst, Ted Danson and Jeffrey Donovan were among the Season 2 "Fargo" actors who said they hadn't watched the TV adaptation until they were approached about playing a role in the second season of the drama, which returns Oct. 12 on FX.
The original Coen brothers film is "a little sacred" to Donovan, he said at a Friday Television Critics Association panel on the show. "And I did not know who [executive producer] Noah [Hawley] was. All I heard was the acclaim about it. But then I finally sat down and watched it and, like everyone, I was blown away."
Dunst and Danson also committed after they watched Season 1 and read a couple of scripts. Danson said his kids told him he was "an idiot" for not having seen it, but once he watched last year's episodes, he was in. 
To play his parka-wearing character, cop Hank Larsson, Danson didn't have to do a lot of physical preparation.
"I grew a beard," Danson said. "That was literally it. For so much of my career, I've been so coiffed with hairspray and this and that. I didn't spend one second in the hair chair" on the Canadian "Fargo" set.
Hawley revealed a few more tidbits about the 1979-set second season, in which Patrick Wilson plays a Vietnam veteran and state trooper who gets caught up in a murder investigation with links to a turf war among crime bosses in the Midwest.
Hawley said he didn't want to imitate the structure of the first season, in which Billy Bob Thornton's Lorne Malvo menaced various hapless Minnesotans. This season, the evil comes from multiple directions (hence the large cast, which also includes Jean Smart, Jesse Plemons, Nick Offerman and -- this is true -- Bruce Campbell as Ronald Reagan). 
Season 2 "is a much bigger story, kind of an American epic," Hawley said. "You have this small-town couple who finds themselves caught in this war between the Kansas City mafia and the Gerhardt family and … they're both crime syndicates where violence is a real factor. … We're setting up this dynamic where there are a lot of bad people sort of on a collision course and the idea is, who will emerge?"
Stepping into the role of a Midwesterner was easy for Dunst, whose family still owns a farm in Cambridge, Minnesota.
"Half of my background are those people," Dunst said. "My grandma, who is not with us anymore, she lived with us forever -- she was born and bred in Minnesota. So it's kind of within my wheelhouse already. It was very familiar to me to step into that accent and that Lutheran [way] -- keep your chin up and smile even though all this other stuff is happening, keep up a good face."
Jean Smart also said she had no trouble with the distinctive "Fargo" accent. "I actually grew up in a Scandinavian community in Seattle," said Smart, who plays the formidable matriarch of the Gerhardt family. "I fit right in. I'm not Scandinavian, but I look like I am. I didn't know I was tall until I moved to New York. But the accent is not dissimilar … Everybody I grew up with said, 'Uff da.'"
Wilson's character, Lou Solverson, is a younger version of the retired cop played by Keith Carradine in Season 1.
"He's just a good guy," Hawley said of Solverson. "There is a decency to the man and the character, where he's not going to brag, and he is not going to complain, and he's always going to make the best of the scenario. We've saddled him with a wife who has cancer and a 6-year-old daughter, and this experience in Vietnam. But you'll never hear him complain about it."
When "Fargo" returns , it will run for 10 episodes, and Hawley noted that the 1979 time frame heavily influenced the look and the themes of this year's edition of the show.
The '70s were a time "post-Watergate, post-Vietnam," in which "the American narrative becomes so complicated. The conspiracy did go all the way to the top, and nobody knew if we could get out of this mess. Then along came Reagan, and he said, 'It's not that complicated. We are Americans,' and the country changed dramatically from the '70s to the '80s," Hawley said. "We don't have a particular point of view about, 'Is that a good change?' It's not a political idea, it's just the reality of what happened to the country. So I thought it was interesting to have that element of the time period be part" of the second season, which, he added, also touches on "the death of the family business and the rise of corporate America."
Speaking of Reagan, Campbell, who plays him, didn't have any scenes with Donovan, his former "Burn Notice" castmate. But Hawley said Campbell, who heads up the fall Starz show "Ash vs. Evil Dead," was a natural in the presidential role. 
 "Bruce obviously did a lot of work with the Coens early on and grew up in Michigan, basically across the border from Reagan," Hawley said. "When I spoke to Bruce, we had a long conversation about it and the accent and the mannerisms and I think he did an amazing job."
PHOTO GALLERY
FX's "Fargo"
For a constant stream of entertainment news and discussion, follow HuffPost Entertainment on Viber.
Calling all HuffPost superfans!
Sign up for membership to become a founding member and help shape HuffPost's next chapter