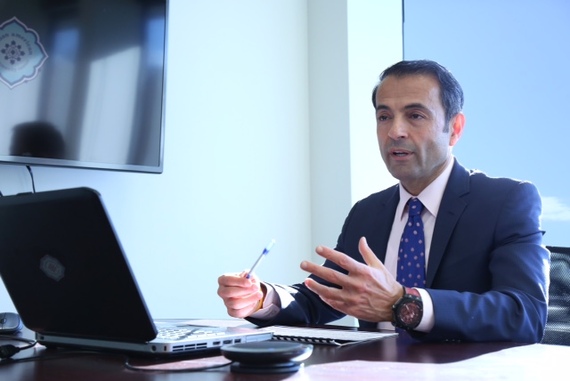 With the goal of harnessing the untapped potential of Iranian-Americans, and to build the capacity of the Iranian diaspora in effecting positive change in the U.S. and around the world, the West Asia Council has launched a series of interviews that explore the personal and professional backgrounds of prominent Iranian-Americans who have made seminal contributions to their fields of endeavour. We examine lives and journeys that have led to significant achievements in the worlds of science, technology, finance, medicine, law, the arts and numerous other endeavors. Our interviewee today is Farhang (Fred) Aryan.
Farhang (Fred) Aryan is an executive in the logistics industry with close to three decades of experience in building one of the largest delivery firms serving the U.S. East Coast and has a passion for community service . He joined the logistics industry in the late 1980s, and was instrumental in the significant expansion of his firm over the succeeding decades. Mr. Aryan is also an executive board member of the Iranian-American Community Center (IACC). IACC is a registered, non-profit organization with the goal of creating an Iranian-American community center in the Washington, D.C. metropolitan area to unite the community under one umbrella. Mr. Aryan earned a bachelor's degree in electrical engineering at the University of Maryland in College Park. He is an avid runner and has completed four marathons.
Where did you grow up and go to school?
I grew up in Tehran and finished grade ten at Hadaf School before moving to the U.S. in 1979, at the age of 16.
Where did you go to college and how did you like it?
I enrolled at the University of Maryland at College Park in electrical engineering and graduated with my bachelor's degree in 1985. I consider myself a joiner and a team player, so in 1983 I helped create the Iranian Students' Association on campus and became its first president. This led to the first student-led Nowruz celebration on that campus, and the organization became a source of support and advice for newcomers from Iran - of whom there were quite a few in the 1980s. The association continues its work to this day.
Did you end up working as an electrical engineer?
Only for a brief period. In the mid-1980s, I was hired by MCI as a consultant. There I made connections that drew me into the logistics and delivery industry.
What was the growth path of the company?
When I first joined the newly-founded company, it had 10 employees. In the next dozen years, the company experienced tremendous growth and reached 250 employees by the year 2000, and over 1000 employees by the year 2012. For me, it has been a pleasure as an executive and principal of the company to watch its precipitous growth over this period.
What have been the main reasons for the company's success?
We were one of the first shipping companies in the region with an IT department. By the time the new company was established in the year 2000, we were ready to make the most of the E-commerce revolution, which was the big break for our company. By taking advantage of E-commerce revolution we expanded to become a Regional Carrier. Regional Carriers offer flexible solutions that enable shippers to achieve benefits like faster times in transit, weekend and same-day delivery, and enhanced visibility of delivery metrics that improve customer knowledge of the whereabouts of their freight and their overall experience.
What was your main contribution to the company's growth and success?
I have been in the logistics field for 27 years, and that's over half my life. I would say my most important contribution to our business success has been sticking with our team and watching us grow all this time. Beyond that, I consider myself a team player and team builder, and as such I think I helped instill a sense of purpose and a culture of service and camaraderie at the company, to ensure it works as a unit. I felt privileged to promote not just hard work, but also being sympathetic to the personal and professional lives of co-workers and creating a caring workplace focused on keeping one's commitments.
You are an executive board member and acting CEO of the Iranian-American Community Center. What are the main goals of the organization?
The IACC is a charitable and tax-exempt organization whose mission is to empower the sizeable Iranian-American community of the Washington, D.C. region, a.k.a. the Beltway Area, especially in Northern Virginia and Maryland, by establishing the first physical "home" for the community. As such, we have held a series of events and fundraisers over the past five years to raise awareness about the ways in which other communities - Korean, Turkish, Jewish, etc.--have managed to establish community centers that serve as a gathering place for cultural and social programming. One of IACC's main areas of focus will be offering educational programming focused on language, literature, and history or what might be called "cultural awareness." These are issues that transcend politics and help bring people together.
The Washington, D.C. area is second only to Southern California in terms of the number of Iranian-Americans it has. It is a community that reaches over one hundred thousand people in this region, and it is time for it to have a place it can call "home." I am honored to be in the company of truly distinguished board members who founded the organization in 2010. Given my experience in organizational development, the board felt that I might be able to assist in promoting the organization.
Have you succeeded in securing a space for the Iranian-American Community Center?
Yes. Through the generosity of the community, in late 2015, we have leased 3,000 square feet of space in the Tysons Corner area of Northern Virginia, which represents the first "home" for our community in the area. I hope this will be the beginning of our training to complete yet another "marathon:" purchasing a building that can become a permanent home that can serve as a glue to bind the various generations of our community together.
The launch of the new community center is a watershed moment for our organization and our community. It has taken much time, effort, and dedication to reach this point, and the process was not without its challenges. However, our group's resolve is strong and our vision is clear, so I think in many ways this project embodies all of the strengths of our organization: united, hardworking, and community- focused.
What are the challenges of fund raising from the Iranian-American community?
It is estimated that there are well over one million Iranian-Americans in the United States. We are a highly educated and successful segment of the American society, and often quite generous. However, our community is new to systematic giving and having a "philanthropic portfolio." The establishment of our Center will have the impact of better acquainting our community with the world of philanthropy and community development in the Beltway area and beyond. While it is important to compete in prospering and "doing well," I think it is equally important to give back and to be "doing good." I am hoping that we can instill a healthy sense of competition in our community not just on who has been the most successful economically, but also on who has given the most and done the most good.
What are you expecting from the Iranian-American Community Center in the future?
We hope that our Center becomes a gathering place for our community so that people can meet each other and find various kinds of support and encouragement, while sharing and strengthening the Iranian-American community in the D.C. metropolitan area and across the U.S.
What is the most enjoyable part of launching the Iranian-American Community Center?
I would say it's the strengthening of our cultural bonds with our children and youth. The IACC helps in making their cultural connections to their Iranian heritage more tangible and in reducing feeling of isolation or disconnectedness from this rich heritage. It is a way of connecting with people in Iran, a culture and country that children growing up in the U.S. may not know well, but that is very important to their parents. It's part of what makes them understand who they are and where they are coming from. That can happen through learning about the language, culture, history, and music of their ancestral land, while strengthening their position as integral parts of the ever-dynamic and increasingly diverse American society. Civic engagement and philanthropy are key markers of American citizenship, and I think this type of community development will help people to more fully integrate into American society and institutions.
On October 25 of this year, you completed the Marine Corps Marathon in Virginia, in four and a half hours. When did you begin long distance running?
This was my fourth marathon. The first was Richmond in November 2012, and then New York City in 2013 and 2014, and this year's Marine Corps event.
I actually came rather late to running. In March 2012, I made a promise to my son that involved completing a marathon, even though I had never run long distances before. I trained for five months (which is the standard for marathon training) and completed the Richmond race in over four hours. I was 50 years old at the time. The training involved running an average of 50 miles per week for four to five months before the race.
How is running marathons similar to running a business and community work?
In business, you can't allow challenges to prevent you from following through with a plan. On the contrary, one must use hardships as a driving force to see a commitment through. At the same time, as a leader in a business, one needs to have a clear goal and a strong plan. The great thing about training for a marathon is that there is a clear goal of running 26.2 miles, and there is a proven training schedule. Yet despite how hard you train, you also need the confidence on the day of the race to make all the training work for you. In business and community work, too, one needs the right planning and tools, and the right attitude to succeed.
Popular in the Community