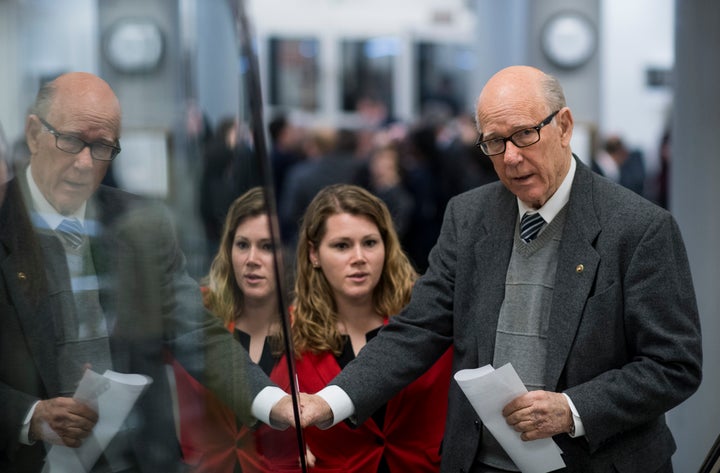 WASHINGTON ― With farmers reeling from a trade war and shriveling profits, lawmakers from rural areas were already feeling the pressure to deliver for the agricultural community ahead of next month's midterm elections.
But exacerbating that tension is another congressional failure ― a lapsed farm bill ― and some lawmakers are getting sick of waiting for a reauthorization.
The Republican chairmen and ranking Democrats on the House and Senate agriculture committees are all committed to getting a new farm bill through both chambers after the election. October marked the beginning of a new fiscal year and the expiration of the previous farm measure. But instead of passing stopgap legislation before the House left to campaign until Election Day, lawmakers left the fate of farmers up in the air ― and that was no accident.
Negotiators have avoided a short-term extension because they want to keep the pressure on for a full, five-year bill. Plus, Senate Agriculture Chairman Pat Roberts (R-Kan.) told HuffPost Tuesday, a short-term extension would provoke too much of a lobbying frenzy.
"Once you start talking about an extension, that sort of opens the door for everybody to come in and say, 'Well, wait a minute, we understand that in either bill, this particular concern hasn't been met,'" Roberts said.
"You just invite a lot of airdrops and parachuting in," he said, once again affirming the commitment of the so-called Big Four to doing a five-year bill.
But that commitment has left some rural members without any bill at all, as the current farm bill expired on Oct. 1. The most important provisions, like crop insurance and the Supplemental Nutrition Assistance Program (more commonly known as food stamps), have continued because they are funded and authorized in different laws. But other programs in the farm bill ― like the Conservation Reserve Program, which pays farmers to stop growing on environmentally sensitive land ― can't issue new grants until there is new legislation.
For rural members, the farm bill is a key measure for their constituents, and a key reason to keep re-electing them to Congress.
"There are a number of people who want there to be an extension of the farm bill," one GOP member told HuffPost. "We believe it will hurt us if we don't have an extension."
The member said the "the biggest holdup" for a farm bill extension is the chairman of the House Agriculture Committee, Rep. Mike Conaway (R-Texas). Conaway, this member claimed, has wanted to keep the fate of the farm bill "ambiguous so that he can use it for leverage to get a new farm bill."
The idea is that Conaway is forcefully advocating for a number of provisions in the House bill, and doesn't want to signal that he could accept less by taking an extension. In the words of this Republican member, who has been discussing the issue with other GOP colleagues, "a short-term extension reduces his leverage to get his bill across."
Conaway spokeswoman Rachel Millard said it's not unprecedented for Congress to avoid doing a short-term extension when the farm bill lapses. She noted that only two farm bills have required extensions since 1970, and that the 2008 farm bill didn't get an extension until several months after it expired.
Earlier this year, conservative House Republicans led by Reps. Mark Meadows (R-N.C.) and Jim Jordan (R-Ohio) said they favored a short-term extension of the 2014 farm bill if Republican leaders wouldn't stage an all-out political battle over food stamps. Found in the House hallways Wednesday afternoon, Meadows declined to comment on the farm bill standoff, and Jordan would only say that he thought Conaway had been "fighting hard" for the House bill, though he noted he didn't know why leadership had decided against doing an extension.
Instead of working out their differences in the original bills, House Speaker Paul Ryan (R-Wis.) and Senate Majority Leader Mitch McConnell (R-Ky.) opted for an easier path, passing a conservative bill in the House but not insisting on the same bill in the Senate. To get through the Senate without Democratic support would have required the same fast-track process Republicans used for their tax bill.
Negotiations have been difficult because of the distance between the House and Senate bills, particularly when it comes to SNAP provisions. Roberts specifically named the SNAP policy differences as an obstacle on Tuesday, saying that if you took away what the House had introduced, the Senate's SNAP provisions were still "pretty aggressive."
The Senate bill would make only modest changes to SNAP, while the House bill contains new "work requirements" that would shrink enrollment by denying benefits to more people who can't or don't want to document 20 hours of work activities per week. Current law already has such requirements, with exemptions for parents and areas with high unemployment. The House bill would weaken those exemptions.
The standoff between the House and Senate on those provisions hasn't moved much since lawmakers began working out their differences on the farm bill during the summer. While House conservatives keep pushing for stricter SNAP restrictions, senators have made it clear they wouldn't have the required 60 votes for the House's policies, meaning that if either side won't budge, lawmakers could end up with an extension anyway.
In the words of Roberts, "We already have work requirements."
This story has been updated with comment from Reps. Mark Meadows and Jim Jordan.
Popular in the Community