WASHINGTON ― The most conservative Republicans in the House of Representatives initially thought the newest farm bill would kick too few people off of food stamps, but now they're warming up to the legislation.
The proposal would shift a portion of food stamp spending from benefits to training with the goal of prodding more people into low-wage jobs. Before the bill had been formally introduced, Rep. Jim Jordan (R-Ohio), one of the founders of the hard-line House Freedom Caucus, didn't think it prodded hard enough, and that Republicans shouldn't even bother with it. Now he's changed his tune.
"I'm all for the welfare reform aspect of it," Jordan said Wednesday. "I think it's off to a good start."
Democrats oppose the food stamp legislation, which is part of a so-called farm bill that lawmakers want to pass by October. That means House Agriculture Committee Chairman Mike Conaway (R-Texas) may need 218 of the 236 Republicans in the House to support his bill ― and can't lose too many of the three-dozen or so House Freedom Caucus members.
Getting the bill through the House by no means guarantees it becomes law, since Democrats can still block anything they don't like from passing the Senate. But if the House can pass a more conservative version of its food stamp bill, doing so would give House Republicans a stronger negotiating position when the House and Senate farm bills are eventually merged.
The Supplemental Nutrition Assistance Program, or SNAP, helps more than 40 million Americans buy food every month, making it one of the most important safety net programs in the U.S.
The nonpartisan Congressional Budget Office has said the nutrition provisions of the House bill wouldn't reduce spending over 10 years, largely because $9 billion in savings from shrinking SNAP enrollment would be offset by $7 billion in spending on new training programs for remaining beneficiaries.
But fewer people might enroll in training to keep their benefits than the CBO expects, Freedom Caucus Chairman Mark Meadows (R-N.C.) told HuffPost this week.
"It doesn't save any money according to CBO, but in actuality there is a potential for savings," Meadows said. He pointed to significant drops in food stamp enrollment in several states that recently imposed stricter eligibility requirements on adults without dependents.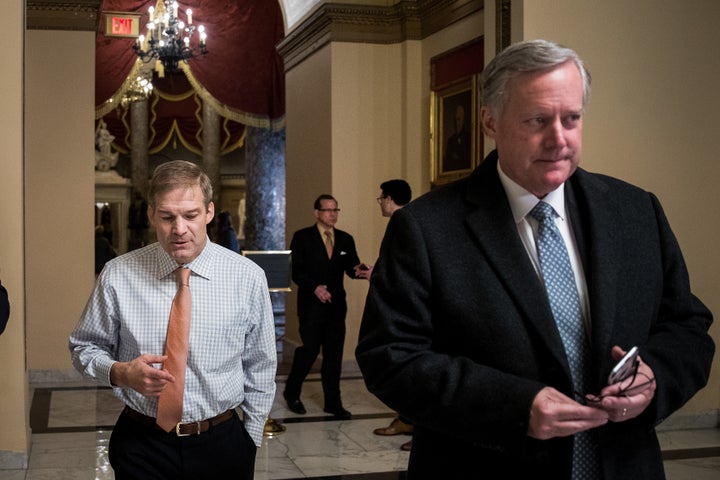 Wisconsin, for instance, imposed a three-month limit on benefits for able-bodied adults without dependents in 2015. It's one of only a few states that guarantees a slot in a training program like Conaway's bill would require states to do. People could keep their benefits if they worked 20 hours per week or enrolled in the program.
In the first year, Wisconsin referred about 79,000 childless adult recipients to training and only 20,000 enrolled, according to state data. The total number of beneficiaries fell by roughly 79,000 during that time, while around 9,000 training enrollees gained employment that showed up in state tax records.
Currently, states can only impose the limit on adults aged 18 to 49 who aren't working 20 hours per week and who don't have minor children. Conaway's bill would expand work requirements to people in their 50s and parents with children older than 6.
Conaway said he'd been trying to sway Meadows and that it's possible the CBO underestimated the impact of his proposal. Democrats who have seen the CBO's analysis on the bill's effect on enrollment, which has not been made public, say several million would have to enroll in training and that more than 1 million would lose benefits over 10 years.
"If people come off quickly, there will be additional savings," Conaway told HuffPost.
Conaway isn't exactly going out on a limb by presenting this possibility.
"We agree that there's a serious risk that the benefit cuts could be much larger than CBO projects," Stacy Dean, a nutrition policy expert with the liberal Center on Budget and Policy Priorities, said in email. "That's one of our most serious concerns."
Dean pointed to the hypothetical example of a cashier who has a stable part-time job but whose employer gives her fewer than 20 hours of work per week one month. The punishment for the first violation of the work requirement under the proposal would be no benefits for a year.
"Taking away her food assistance isn't going to help her get more hours from her employer," Dean said. "It's just going to make it harder for her to feed her kids. We worry that the estimate doesn't capture how many people, including workers, will lose SNAP simply as a result of the paperwork work requirements."
It's not a surprise that the Freedom Caucus is sounding less hostile to the farm bill, said Rep. Jim McGovern (D-Mass.), one of the top Democrats on the food stamp issue.
"Freedom Caucus is a lot of bark but no bite," he said. "At the end of the day, everybody rallies around whatever their leadership wants."