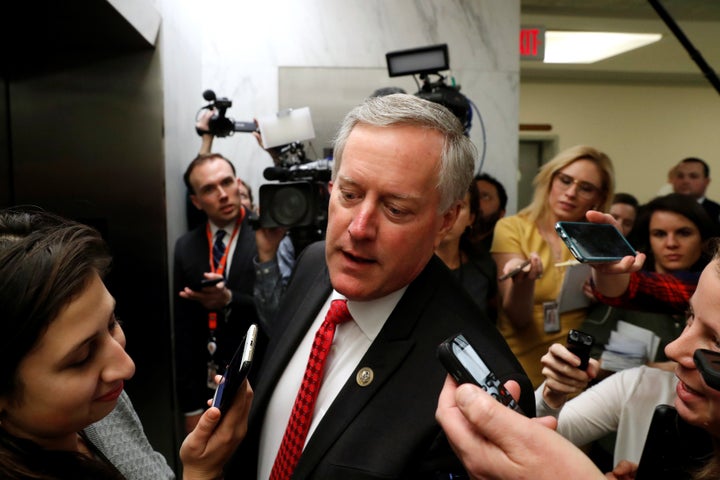 WASHINGTON ― The most conservative Republicans in Congress say they won't vote for food stamp cuts they support unless party leadership gives them what they want on immigration, potentially holding up the farm bill this week. 
"We don't have an agreement," House Freedom Caucus chairman Mark Meadows (R-N.C.) told reporters Thursday after coming out of a meeting with his conservative group.
Since Democrats seem almost unanimously against the farm bill, House Speaker Paul Ryan (R-Wis.) needs most Republicans to support it. And with roughly a dozen moderates already stating their opposition to the farm bill, the opposition of another dozen to two-dozen conservatives in the Freedom Caucus would almost certainly sink the farm bill.
With such significant opposition, House GOP leaders may decide to postpone a vote and send members home for the week, but House Majority Leader Kevin McCarthy said Thursday the House would move forward with a Friday vote.
Meadows wants Ryan's assurance of a vote on an immigration bill by Rep. Bob Goodlatte (R-Va.) that would strictly limit legal immigration and ramp up deportations. The Freedom Caucus is also now working with moderates on a sort of compromise bill that would stick to President Donald Trump's "four pillars" on an immigration bill: a wall, scaling back family migration, ending the visa lottery program and a fix for immigrants covered under the Deferred Action for Childhood Arrivals program.
"We think it's important we have a vote on Goodlatte and at this point, we were not able to convince any of our members to go from 'no' to 'yes' on the farm bill," Meadows said.
Moderate Republicans and Democrats are trying to force a vote on a separate immigration bill through a parliamentary maneuver known as a "discharge petition," which can bring legislation to the floor of the House against the wishes of party leaders. Moderates want protected legal status for Dreamers, undocumented immigrants who were brought to the United States as children.
Meadows said he believed Republicans could quickly reach a consensus on immigration that may even attract Democrats, but he and other conservatives in the Freedom Caucus want to use their leverage on the farm bill to make sure leaders work toward an immigration agreement before a discharge petition addressing DACA ripens by the end of June.
With farm subsidy programs expiring at the end of September, the Freedom Caucus believes the farm bill is the only must-pass piece of legislation they can use to extract concessions on immigration, which they believe is a related issue to the farm bill anyway. (Most of the spending in the farm bill goes to the Supplemental Nutrition Assistance Program, commonly known as food stamps, which serves 40 million Americans. Those benefits would not stop being issued even if authorization expires, though some farm programs would be affected.)
Meadows declined to name a specific number of Freedom Caucus members who remain opposed to the bill, but another Freedom Caucus member told HuffPost they had at least 18 members willing to hold up the farm bill.
Republicans had planned to vote on the farm bill Friday, but if it clearly lacks support that vote could be in doubt. Meadows said he's not in a hurry.
"We don't have an impending deadline for the farm bill," he said. "It doesn't expire until September."
Whatever the House passes would have to be merged with a separate farm bill from the Senate, which has not yet been released.
Former Agriculture Committee chairman Frank Lucas (R-Okla.), who saw his own farm bill hijacked on the House floor in 2013, said he thought linking the bill to immigration wouldn't be a good way to pass the legislation.
"I believe that is just a load too heavy for the farm bill to carry," Lucas said.
REAL LIFE. REAL NEWS. REAL VOICES.
Help us tell more of the stories that matter from voices that too often remain unheard.