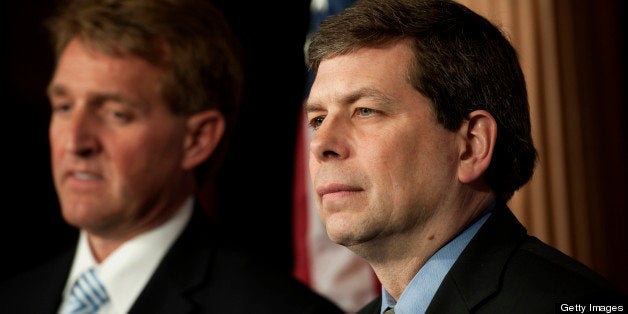 The nonprofit advocacy group's latest survey comes as Congress begins to debate farm legislation that will reform the agriculture safety net -- and potentially reduce transparency in the government's support system for farmers, sparing lawmakers headlines about government help they receive.
The House and Senate farm bill drafts eliminate most direct payments and instead boost subsidies for farmers to buy crop insurance policies that protect against losses from weather or price changes. Since the government divulges the names of people who get the payments but not the insurance subsidies, the Environmental Working Group's Scott Faber says the bills as they stand now would reduce government transparency.
"Although much ballyhooed, the end of direct payments really heralds the replacement of an inequitable and transparent safety net with a more inequitable and less transparent safety net," Faber said. "Crop insurance subsidies have no limits on who can receive them and the amount they can receive."
A bipartisan Senate amendment sponsored by Sens. Jeff Flake (R-Ariz.) and Mark Begich (D-Alaska) would make crop insurance subsidies as transparent as direct payments have been. (There is not yet a similar amendment on the House side.)
"It would allow public access to the specific distribution of billions in annual government payments to cover private industry administrative and operating expenses, and billions in premium subsidies to crop insurance policyholders," Flake said in a statement. "In a time of record debt and trillion dollar deficits, it is only right that the federal crop insurance program operate openly."
Senate Democrats and Republicans have not yet come to an agreement on which amendments will get votes on the Senate floor. This month both the House and Senate will consider farm legislation already approved by their respective agriculture committees.
The federal government spends about $5 billion a year on direct payments to farmers and $9 billion per year on crop insurance subsidies. Several lawmakers have sought to cut the subsidies in addition to direct payments, noting that record farm incomes suggest some of the spending is unnecessary. Those efforts have received more consideration than the transparency proposal.
Farm Bureau lobbyist Mary Kay Thatcher said the industry would oppose the transparency amendment since the government already releases broader information about how much it spends on the subsidies.
"We will oppose it primarily because the information is already available in aggregate and we don't think there's a need to break it out on a farmer-by-farmer basis," Thatcher said.
Rep. Stephen Fincher (R-Tenn.) and his wife, for example, received $70,574 in direct payments last year. Fincher's payments made headlines after he said during committee debate that lawmakers should cut food stamp spending because they shouldn't use "other people's money" to feed the hungry.
REAL LIFE. REAL NEWS. REAL VOICES.
Help us tell more of the stories that matter from voices that too often remain unheard.
BEFORE YOU GO
PHOTO GALLERY
Out-Of-Touch Politicians