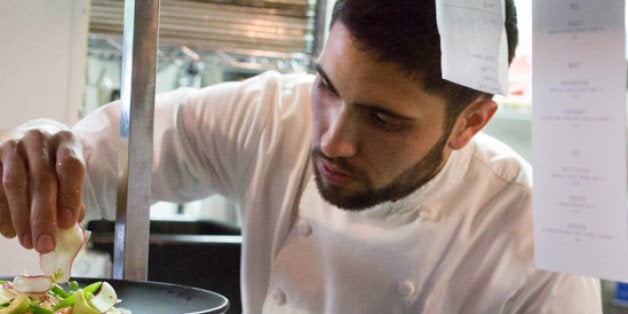 Co-authored with Lee Glenn
For 26-year-old chef Dante Cecchini, it has been a meteoric rise up San Francisco's culinary ladder... an ascent I had to investigate after tasting his work at Marlowe in San Francisco's South of Market neighborhood.
Nineteen and bored with college film studies, he dropped out of school to work for chef Elizabeth Falkner, owner of Citizen Cake in San Francisco. When Citizen Cake closed in 2011, Dante came to prep at Marlowe. He reminisces: "I started prepping and the more I did it, the more I realized how much I loved it. I like working with my hands."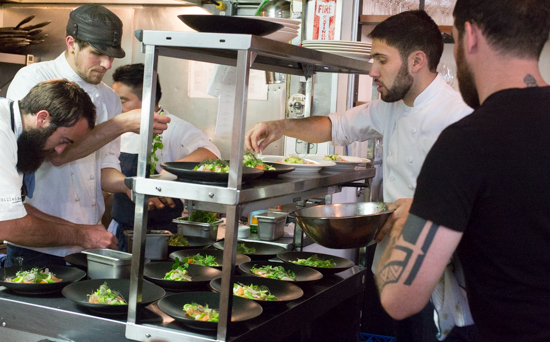 Whether by design or karma, Dante surrounded himself with brilliant culinary women. After four years at Marlowe, he progressed to Chef de Cuisine under the tutelage of Executive Chef Jennifer Puccio and owner Anna Weinberg, 2012 San Francisco Magazine "Restaurateur of the Year."
Jennifer was Dante's university. She worked alongside renowned chef, author and James Beard Award winner Anna Sortun of Oleana, Cambridge, Mass. In the Bay Area, she steeped herself in West Coast fare, working in famed kitchens such as Ubuntu in Napa. Three times, she earned the coveted three stars from San Francisco Chronicle Food Editor Michael Bauer for her work at Cortez, Marlowe and Park Tavern.
Anna's prolific culinary career goes back to iconic New York restaurants Danube and Barbuto, as well as to San Francisco fixtures Town Hall and Ame at the St. Regis. She was the owner of Stella in NYC, then South in SF, which she closed to open Marlowe. Since then she has opened two more SF restaurants, Park Tavern and Cavalier.
This tutelage combined with inherent talent, led to Dante recently being named by the San Francisco Chronicle's list of Rising Star Chefs for 2014.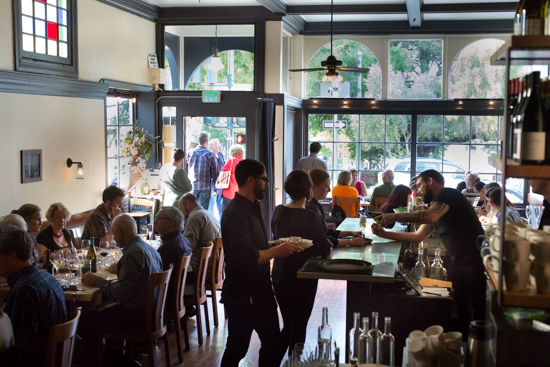 Dante's unique creativity is also manifested through his pop-up dinners organized on Wander, his website dedicated to what happens when "letting go" on road trips. To wander without agenda is the backbone of his creative impulse... and without agenda includes the menus for his pop-up dinners:
"I decide on the ingredients, but don't develop the recipes till the day of," he confides. "I'm inspired by seasonal ingredients and driven by classic execution."
This disarming simplicity keeps his mind clear, free from over-thinking:
"On my days off, I like working on old Volkswagens. Working with my hands is very natural, I like to cook, I like to eat... it's all fun."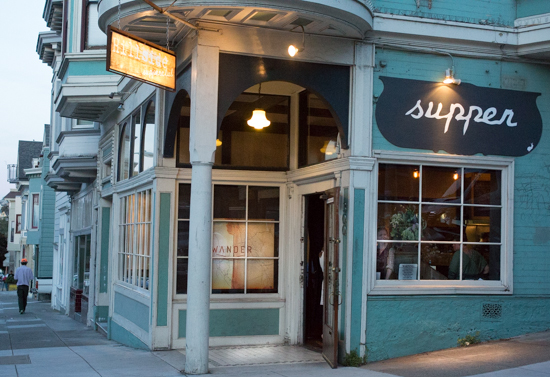 Friend and chef, Tony Ferrari of the Victorian row-house, Hillside Supper Club has graciously hosted Dante's two pop-ups to date. The spirit they share includes:
Experiment with fun ingredients from up to 80 percent sustainable sources
Explore unusual and unfamiliar local foods
Build community with simplicity and sustainability
Inspire with old world traditions and seasonality
Invited to the second Wander pop-up, I arrived early to photograph the prep, anxious to see how semi-spontaneous fine dining is created. Dante, Tony and team were multitasking: cooking, prepping, reorganizing the furniture and placing creatively simple tables settings of glass jars filled with exotic living greens. Preparations from front to back included tasting the wines, tasting each dish and helping graphic artist Jennifer Schnell hang the Wander poster in the front window. At each of the 32 settings, they lovingly placed Jennifer's hand stamped Wander menu.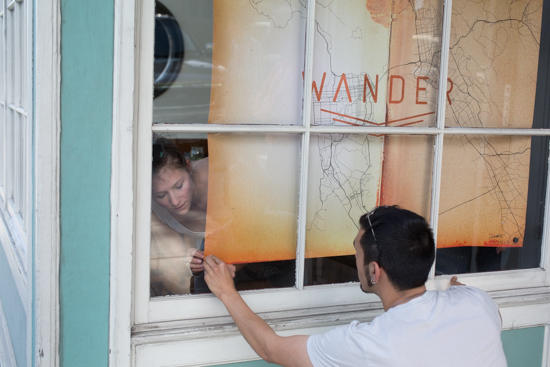 I photographed and tried to stay out of the way in the tiny kitchen. I shot through the first seating at 6:00, till the second seating at 8:30... when I got to enjoy the true taste of the event.
A teaser dish set the lighthearted tone of the evening. Sparking a wave of laughter, fresh halved cherries floating on a puff of creme fraiche and finished with mint, arrived whimsically balanced on bent spoons.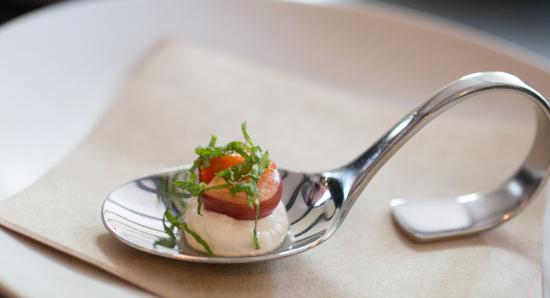 Cana de Oveja, a Spanish artisan organic sheep cheese, graced the shaved asparagus salad with mustard greens, aioli, prosciutto, porcini and basil, for the first course. Dante is particularly fond of this cheese:
"It was a pivotal point in my understanding what it takes to create a balanced dish."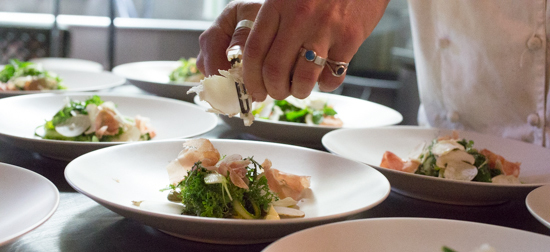 A single shaving melts on the tongue and it tastes of a spring. A little goes a long way.
The second course: Smoked Salmon on English Pea Puree, Radish, Cucumber, Celery Root, Bronze Fennel and Pea Tendrils... a plated masterpiece. Paper thin slices of orange salmon played off a wave of bright green puree, highlighted by baby spring flowers and red-rimmed translucent sheets of shaved radish... all against black china. The seasonal English peas are at their peak, yielding the highest concentration of sugar and nutrients and peak-of-harvest flavor.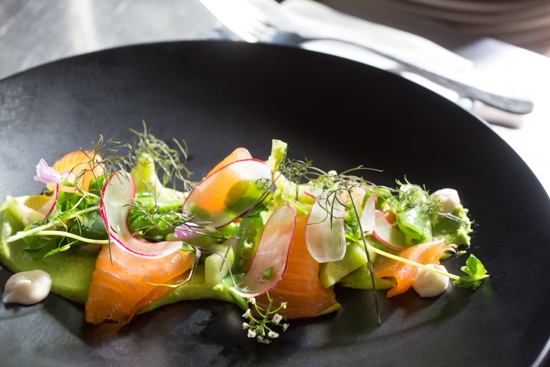 For the main course, Dante served Lamb Belly, Anson Mills Polenta, Cippolini, King Trumpet Ramps and Cress... adventurous. Even for foodies, lamb belly is an unusual cut, requiring extensive preparation to get right.
"I chose lamb belly because I've never had it before and was curious to see if it had layers like pork belly... it does! The beauty of the lamb belly is that it has layers of texture: tender meat, crispy fat from searing and gelatinous fat from braising."
On polenta: "It's all about technique. Real polenta takes close to 3 hours to make and Anson Mills is a great product. When it was done, I simply mounded it with butter and cream."
The polenta tamed the lamb's musky farminess, smoothing out the edges. Combined with the sweetness of the cippolini and ramps, the dish was a taste of the earth.
Yet another surprise for desert: Dante's interpretation of Rocky Road. Suspended on a ribbon of seared meringue, chocolate ice cream, a smattering of almond, popcorn, pumpkin seed and smoked sea salt was more of the heavens... like the Milky Way.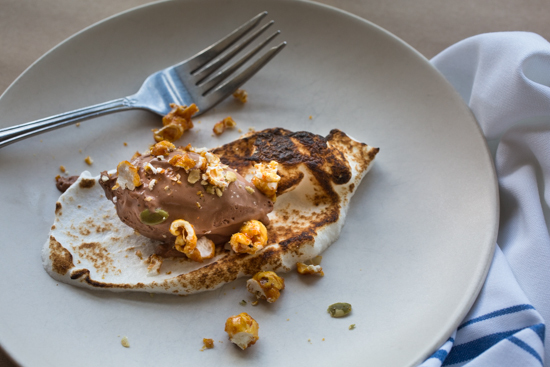 The evening brought guests together to wander a culinary road less traveled -- a road that left them feeling a part of both earth and heaven.
Another Dante pop-up at the end of summer hopes to surprise even more...n o doubt something wonderful will happen.
Photography by Julie Ann Fineman
Support HuffPost
A No-B.S. Guide To Life
Related
Popular in the Community