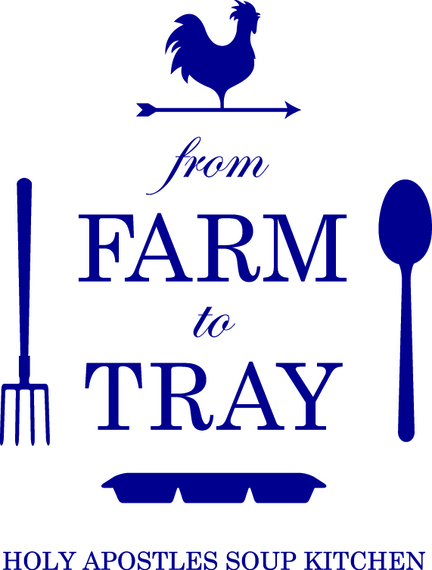 Holy Apostles Soup Kitchen is New York's largest soup kitchen and the second largest in the United States. In operation since 1982 (do the math), every weekday between 10:30 a.m. and 12:30 p.m., 1,000 nutritious, sustainable meals, are served, under the socially-conscious banner of "Farm-to-Tray." Mr. Ottley's mandate is to serve fresh fruit and vegetables every day and to source as many local products as possible. Even more remarkable is that over the last three years, he has been able to cut all processed food from the menus. According to Mr. Ottley, "for some of our guests, this is their only meal and it needs to be healthy and nutritious." If he can do it for his "extended family," then certainly we can begin to think about doing this in public school kitchens, and certainly at home.

The cooks, prep cooks, and dishwashers come from the Doe Fund as interns. They are cross-trained by Mr. Ottley, and also seem to love what they do. It's amazing that only two cooks (and 1 prep cook) can make all this food and even more remarkable that it can be done for less than $2 per meal. The numbers are staggering: More than 24,000 apples handed out per week, 100 dozen whole grain rolls served daily. City Harvest and Whole Foods are steady partners in securing fresh ingredients for them.

Mr. Ottley's menus sound like something you might get at Sweetgreen or another urban healthy food emporium: Whole-wheat pasta primavera, country-style tomato salad, roasted cauliflower, frijole salad, Columbian bean stew, seasonal fruit, yogurt from upstate New York.

Not only is the food an important part of this daily ritual for many but so is the social engagement of simply being there. New York Times journalist Anna Quindlen called the stunning sanctuary of this landmarked church, "the most majestic dining room in New York City." And its mission goes further to provide "wholeness" to those without. Its services include counseling, advocacy and referrals, writing classes and movie nights. I met a wonderful man, in his late '70s, who was excited about the novel he was writing. He has been a guest at Holy Apostle's for years and I will never forget his handshake or his well-fed smile.

On May 15, 2014, Holy Apostles will hold their much-anticipated fundraiser "From Farm to Tray" to benefit their valiant mission. And many of New York's best chefs will be there to lend their support and status. Included in the line-up are Executive Chef Colt Taylor from One if by Land, Two if by Sea; Ginger Pierce and Preston Madson, from Freemans & ISA, Frank Tujague from The Westin at Times Square, Laurence Edelman form the Left Bank, Max Convertini from Zio Ristorante, Raphael Abrahante, from Thalassa, and Yvan Lemoine from Bodega Negra at Dream Downtown. According to Sara Pandolfi, the creative force behind last year's event, "This new vehicle for fundraising is especially crucial because government funding covers only 8 percent of the soup kitchen's annual expenses." For more information: www.farmtotray.org. Tel: 212-924-0167.

Rozanne Gold is a four-time James Beard award-winning chef and author of Eat Fresh Food: Awesome Recipes for Teen Chefs, Healthy 1-2-3, and Radically Simple: Brilliant Flavors with Breathtaking Ease.

Rozanne can be found on Facebook at http://www.facebook.com/rozannegold.

REAL LIFE. REAL NEWS. REAL VOICES.

Help us tell more of the stories that matter from voices that too often remain unheard.