Occupying 90,000 square feet of a formerly abandoned suburban Chicago warehouse, FarmedHere is not only the first indoor vertical farm of its kind in the nation -- it's also the largest.
Celebrating its grand opening in Bedford Park, Ill., on Friday, FarmedHere utilizes a soil-free, aquaponic process to grow organic greens that are both tastier and more sustainable than traditional farming.
Here's how it works: Plants are grown in beds stacked as much as six high by using a mineral-rich water solution which is derived from tanks of hormone-free tilapia offering up nutrients to the plants in a controlled environment that ensures optimal growing.
(Peek inside the Chicago-area facility below.)
The facility hopes to produce an anticipated 1 million pounds of chemical-, herbicide- and pesticide-free leafy greens -- including basil, arugula, mints and other greens -- to the Chicago area once it hits full production. In addition, the facility says by 2014 it will be providing about 200 jobs to the community, many of them via a partnership with Windy City Harvest, a Chicago Botanic Garden-led urban agriculture training program targeted to underserved local youths.
At the helm of FarmedHere is CEO Jolanta Hardej, a former interior designer and mortgage broker who saw the potential in vertical farming for the Chicago area after the 2008 crash of the real estate market.
The Bedford Park facility is FarmedHere's third farm, joining a 10,000-square-foot facility in downstate Flanagan and a 4,000-square-foot one in Englewood. Whole Foods, which sells the company's greens in its Chicago stores, helped finance the new facility with a $100,000 loan, Crain's previously reported.
FarmedHere's products are also sold in Chicago-area Mariano's locations as well as Green Grocery, and Hardej told Crain's last year she was also in talks with Meijer and Trader Joe's.
Related
Before You Go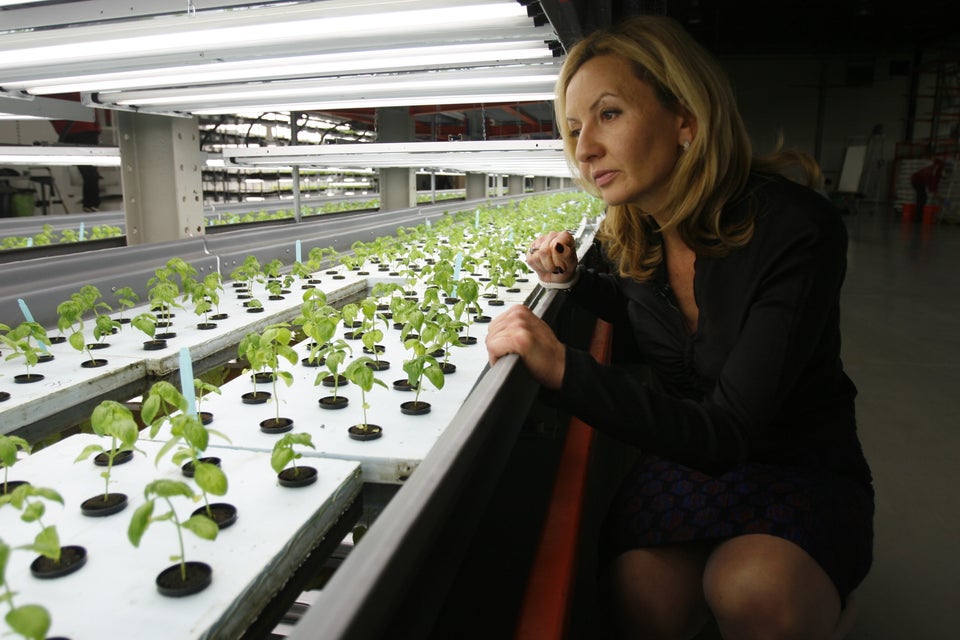 Nation's Largest Indoor Vertical Farm In Suburban Chicago
Popular in the Community