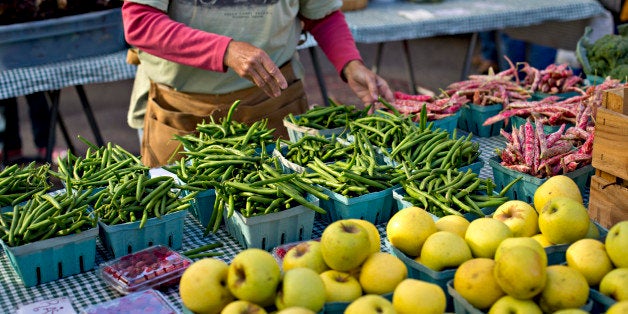 The U.S. wasted 35 million tons of food in 2012. But a single tax deduction could help bring some of those resources to struggling people who are desperate for something to eat.
Hunger awareness advocates are celebrating Wednesday's Earth Day by urging Congress to pass a bill that would enable small businesses, farmers and restaurants to donate usable excess food to nonprofits that serve people in need. The America Gives More act would allow these groups to write off their donations, a boon that would enable Feeding America alone to serve an additional 100 million meals a year.
Small businesses and farmers often have perfectly edible food -- misshapen apples or a bumper crop that produced more than they projected -- but can't afford the shipping and transportation costs to give them away. They'll opt instead for the affordable route, which is dumping it in a landfill.
"Think about restaurants, retailers and farmers," Carrie Calvert, Feeding America's director of tax and commodity policy, told The Huffington Post. "There's a lot of stuff that would be so easy for us to capture and donate."
Currently, C corporations, which are usually major companies, can take an enhanced tax deduction when they donate excess food. Small businesses and farmers, however, aren't included under that tax law. Instead, they rely on a temporary tax extender that has expired several times and compels advocates to fight for its renewal each time it expires.
The America Gives More act would offset this issue by creating a permanent deduction that would allow all companies, including small businesses, retailers, restaurants and farmers to take an enhanced tax deduction when donating excess nutritious food.
Companies donating food could also increase charitable deductions to 15 percent of their income when they donate food inventory. Typically, they can only write off 10 percent of its income for charitable donations.
A retired farmer from North Carolina, who still works his land as a personal passion, wanted to donate 200,000 apples to Feeding America recently. However, he wouldn't have been able to take a deduction and he would've been taxed at the state level because he was donating his entire crop, Calvert said.
While small companies and farmers still often donate what they can, they can't afford to scale up the process, because of the costs associated with buying proper packaging, training staff how to store the food and paying the additional wages, among other expenses.
"It's everywhere," Calvert said of the potential donations. "[It's] apple donations, it's excess cereal that might be sold as animal feed instead of getting donated to a nonprofit. It all adds up to a lot of additional food that we could have donated."
Find out more about the America Gives More act and how you can urge Congress to pass the legislation here.
To take action on pressing food aid issues, check out the Global Citizen's widget below.
Calling all HuffPost superfans!
Sign up for membership to become a founding member and help shape HuffPost's next chapter
BEFORE YOU GO
PHOTO GALLERY
The Hungriest States In America