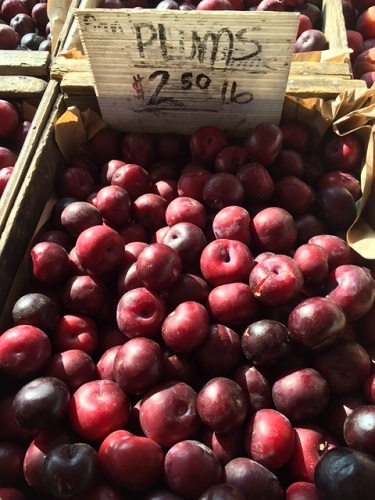 Thankfully, it's that time of year when your local farmers market is beginning to be filled to bursting with the most glorious produce imaginable, with baskets and bins and bowls offering a dizzying display of seasonal delights.
But all that abundance can be overwhelming, especially when encountered without a suitable strategy. So herewith a few timely tips from my many years of regularly trolling the Hollywood Farmers Market:
Start with a list. Jot down a few things that you know you will need this week; this might even be a recurring weekly list. Strawberries for breakfast, always; baby greens, Persian cucumbers, & cherry tomatoes for salads, check; carrots and celery for snacks, every time. And then there are categories - dinner vegetables, fruit for hand-eating, root vegetables - where you'll want to play it by ear, looking for the freshest and brightest to enhance your culinary efforts.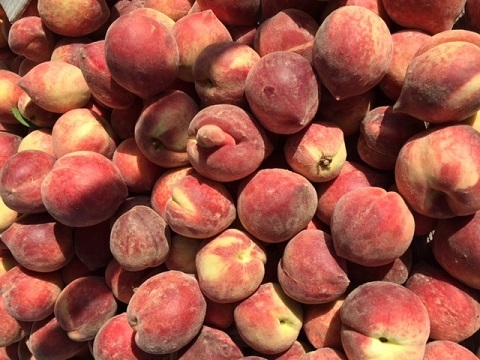 Once over, then buy. There's nothing worse than buying the first peaches you see, which look perfectly fine, and then ten stalls down discovering the most sublime, fragrant peaches ever grown; if you're like me, you then end up with way more peaches than you need, because you simply had to buy those later discoveries. Avoid the frustration and the expense with this simple rule: browse the entire market first for a quick overview, see what's available and awesome today, then start your buying.
Arrive hungry. I know, I know, you're never supposed to shop when you're hungry, but this is different. Sampling is vital, particularly when it comes to fruit. Those mountain-grown Pink Lady apples may look gnarly and spotted, but one chunk and they're revealed to be crisp, sweet-tart, and deliciously juicy; those rosy-blushed nectarines may look as perfect as an Impressionist painting, but a slice slipped between the lips exposes them as mealy, dry frauds. The eyes may deceive, but the taste buds never lie.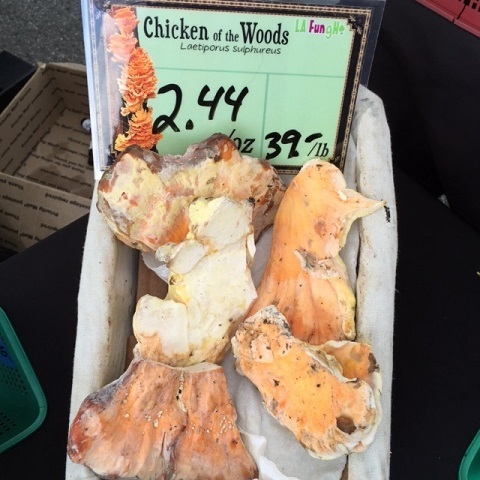 Seek inspiration. Get outside your comfort zone, surprise yourself and your family. Keep an eye out for the unusual, the rare, the singular crop that is available only for two weeks out of every year and never at your local supermarket. Baskets of mulberries, delicate and sweet fingers of juicy goodness, begging to be incorporated into a port sauce for a rack of lamb. Chicken of the Woods mushrooms, thick and meaty and orange, sliced and grilled to make a brilliant vegetarian substitute for meat. Plump and achingly sweet Medjool dates to be filled with orange-scented cream cheese and walnuts to provide a perfect light ending to a summer repast. Explore!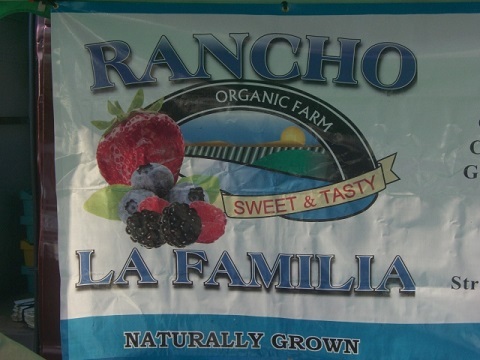 The farmer is your friend. I have found this to be the single most important guide - get to know your participating farmers. Chat with them about their favorite crops, grill them about their husbandry tactics, lavish praise upon them for the fruits of their labors. You'll often be talking with their hired workers as well, most of whom appreciate your interest and your loyalty. Over time, you'll learn who has the most reliable radishes, the plumpest plums, the crispest sweetest corn. And don't forget that many farmers practice organic methods, even if they can't afford the time and money to obtain certification; the only way to find out is to ask.
Oh, and one more thing (duh): always put the potatoes and beets and corn in the bottom of your bag, with the softer lettuces and stone fruits and such on the top, with delicate berries in their own separate sack. I learned that one the hard way, too many times!
And don't forget the non-produce offerings that many farmers markets provide these days - fresh local fish, breads & pastries, freshly-laid eggs, pastured chicken, and grass-fed beef & bison. All these and more support your local purveyors and contribute to a robust local economy.
Use these recipes to get you started...
Grilled White Corn, Avocado & Cherry Tomato Lettuce Cups
A brilliantly fresh luncheon dish utilizing the best of the season...
4 ears white corn, shucked & rinsed
1 tablespoon olive oil
1 large avocado
1 basket heirloom cherry tomatoes
Handful of chopped cilantro leaves to taste
1 small head bibb or boston lettuce, separated & rinsed
Dressing:
3 tablespoons fresh lemon juice (preferably Meyer lemon)
1 teaspoon microplaned lemon zest
1/2 tablespoon Dijon mustard
2 tablespoons robust extra virgin olive oil
1 teaspoon walnut oil
Make dressing:
In a small jar, combine lemon juice, zest, and mustard, shake thoroughly; add olive oil and walnut oil, shake until well blended.
Drizzle corn with the tablespoon of olive oil and grill over medium heat for eight minutes, turning twice. Let it cool, then cut off kernels.
Peel avocado and remove pit, cut into one-inch pieces. Cut cherry tomatoes into halves. In a large bowl combine corn, avocado, cherry tomatoes & cilantro; drizzle with ¼ cup of the dressing, add salt & pepper to taste, and toss very gently.
Place two lettuce leaves on each of four plates and drizzle with remaining dressing. Distribute corn mix among the leaves in small mounds and serve.
This Mediterranean-inspired treat is sublimely satisfying yet light as air...
2 cups peeled & pitted peaches, coarsely chopped
1 tablespoon lemon juice
1 tablespoon raw turbinado sugar
1/2 teaspoon Chinese Five Spice
1 1/4 cups skim milk ricotta
2 tablespoons 2% organic milk
2 tablespoons local honey (something robust!)
1/4 teaspoon vanilla extract
3 tablespoons toasted pine nuts
Toss peaches with lemon, sugar, and Five Spice.
In a medium bowl, combine ricotta, milk, honey, and vanilla, whisk briskly until smooth and creamy. Fold in 2 tablespoons of pine nuts.
Dividing among four narrow parfait glasses, start with peaches, then a layer of ricotta, then peaches, ricotta again, and sprinkle the remaining tablespoon of pine nuts on top.
Chill until ready to serve.
A version of this post appears in my "Kitchen Matters" column in Better Nutrition Magazine.