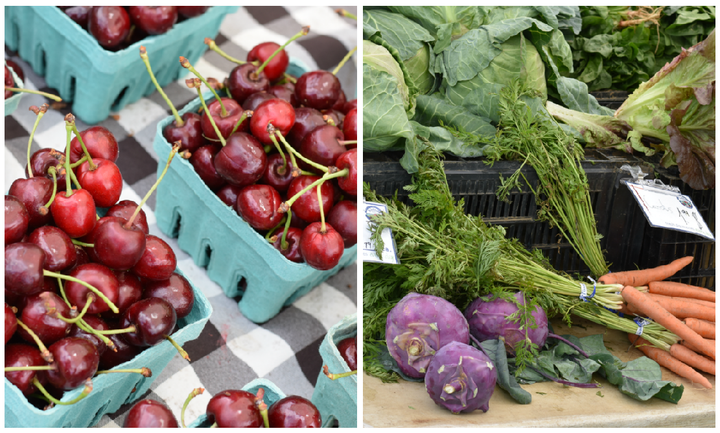 If you spend your weekends at the farmers market to stock up on local produce, you could be in for a surprise.
But you should never assume everything sold at a farmers market is local. That's because produce resellers ― vendors who purchase fruits and vegetables from a wholesaler to resell to consumers ― might be disguised as local farmers at your market. In other words, they could be selling you produce from sources located far outside your state (or country).
This practice was uncovered in 2016 by Tampa Bay Times food critic Laura Reiley, who traced the origins of produce at farmers markets in the Tampa, Florida, region. In one instance, a seller gave the name of a local farm that turned out to be abandoned ― but when Reiley visited the seller's home, she saw stacks of boxes with logos from other produce companies.
Produce resellers may or may not violate the rules of a farmers market, because those rules are set individually by the organizer.
For instance, at the Rutgers Gardens Farmers Market in East Brunswick, New Jersey, all farm products must be grown by the vendor within a 100-mile radius, though some exceptions are allowed.
"Farmers may supplement their product line with additional regional products that may not currently be available at the market with the permission of the Farmers Market Advisory Committee," Mary Ann Schrum, manager of programs and development at Rutgers Gardens, told HuffPost. "All products from another grower must be clearly labeled as such."
There also isn't a universal definition of "farmers markets" that restricts these marketplaces to farmers in the first place.
"Some states define it," Darlene Wolnik, senior adviser at the Farmers Market Coalition, told HuffPost. "That is a welcome action, as it reduces the possibility of fake farmers markets co-opting the name."
But these definitions vary. New Hampshire's definition of a farmers market limits participation to farmers selling produce "exclusively grown on their own farms," and excludes wholesalers.
Meanwhile, Montana's definition concerns the location of sales: a farm premises, a food stand owned and operated by a farmer, or an organized market authorized by a municipal or county authority. Some states, like New Jersey, don't legally define a farmers market.
In the end, verifying the origins of any given piece of produce is on the shopper. Brushing up on what can be grown in your state, and during which seasons, will help you spot possible resellers. A vendor offering grapefruit in Maine, or one selling "local" strawberries anywhere in September, should raise a red flag.
You can ask organizers how their vendors are screened, and ask for a copy of their market's rules. You can also ask sellers whether they grew the produce on their own farm, or ask for the location of their farm.
Sometimes, though, the produce speaks for itself: There's no faking the flavor of a just-picked tomato.