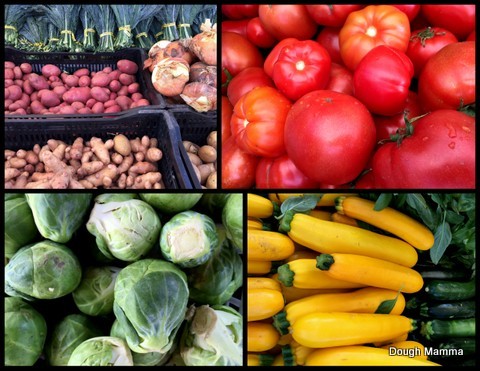 A week of travel has led to a little more "jiggle in my wiggle" than preferred. I am not sorry about this, after all this is why Wink control tops were invented. I'm a Scorpio, I love to indulge, so when I'm on vacation I tend to sample local food with abandonment. You only live once, or as those crazy kids say -- YOLO.
The indulgences began in Denver. My best friend of 24 years would love our family to relocate to Colorado -- and believe me, we wouldn't mind; it's breathtaking. How do you get a California chef to move to the Midwest? Her bestie takes her to some of the best up-and-coming restaurants Denver has to offer. Yep, I'm easy like that.
I would embarrass myself if I listed all of my hedonistic antics. It would be a confession worthy of at least 10 Hail Marys for pure gluttony alone. It was as though I had been starved and suddenly let loose in a buffet - I was ferocious, eager and any person who got between me and my food, well, that's what elbows are for. My eating escapades began in Denver with the women owned restaurant, Rioja and ended in Boulder at the Farmer's Market Parisian pastry booth. Carbonara pasta with prosciutto and fava beans, tempora nori wrapped tuna, cinnamon/pecan rolls and cheese danishes, were just a few of the many samplings. After a week of such decadence, it's time for this girl to get a little more veggie loving.
Roasted vegetables are actually a very satisfying meal all on their own. I know some of you may be saying "meh, I'd rather have a burger," but when seasonal vegetables are roasted just right, they can truly be satiating. The rainbow of colors and the aromatics from the herbs are absolutely poetic. You can actually feel your iFit watch swell with pride.
Aside from the vegetables you choose, you really only need some salt, pepper and olive oil. Fresh herbs are a bonus, but your veggies will still taste delicious dressed down. If you are missing meat, throw in some sausage or diced crispy bacon. If you want to add some dimension, sprinkle some sweet and tangy goat cheese. The colors in this dish are amazing and also make a great summer side dish for any BBQ or potluck gathering. I recommend shopping at your local Farmer's Market to purchase your best seasonal produce.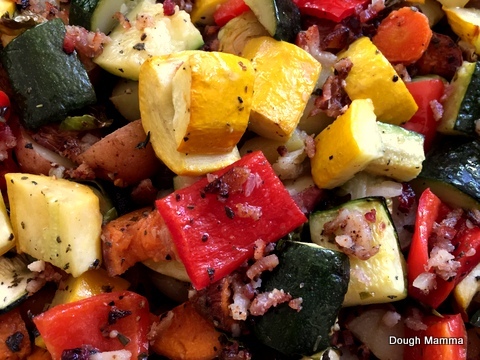 Title: Farmer's Market Summer Veggie Roast
Author: Dough Mamma
Prep time: 30 mins
Cook time: 45 mins
Total time: 1 hour 15 mins
Serves: 8
Notes: Below I recommend a bundle of Herbs de Provence. Typical herbs included in the North American version include: marjoram, rosemary, thyme and oregano. I listed some alternatives to olive oil. Each alternative listed will change the flavor of the dish. If you add bacon lard, your veggies will have a more umami flavor profile. If you use coconut oil, your dish will taste more Thai inspired. Check your veggies every so often. You want a medium golden brown caramelization. All veggies should be of relatively equal size (medium dice is recommended) so they cook evenly. I added two crispy strips of bacon, finely chopped.
Ingredients
1 medium sized yam
1 pound of small red potatoes (or fingerling) cut in half
1 pound of Brussels sprouts (ends and loose leafs removed)
1 large sweet onion
1 bundle of Herbs de Provence (you will need about ⅛-1/4 cup depending on potency)
1 pound of rainbow colored carrots
2 sweet red peppers
2 bounds of squash (green and yellow)
1 head of garlic (lightly oil, cut ⅛ off tops, wrap in foil)
¼ cup olive oil (or bacon lard, butter, coconut oil,ghee...)
*2 thick cut strips of bacon finely chopped - Optional
Instructions
Heat your oven to 425 F.
Line two rimmed baking sheets with tin foil.
Place the yams, red potatoes, Brussels sprouts, onions and carrots on one pan, use half the oil and toss. Season with salt and pepper. Cook for about 45 minutes or until medium golden caramelization is achieved. During the last 20 minutes toss in fresh herbs (about three Tbsp).
On the other pan, place the red peppers,squash and head of garlic, use the other half of oil and toss. Season with salt and pepper. Toss in about 3 Tbsp of fresh herbs. Cook for about 25-35minutes.
Combine all vegetables. Remove garlic, mash into a paste and evenly distribute over vegetables using hands. Taste and add more salt and pepper if needed. You can also add a pinch or two of cayenne to add some heat.