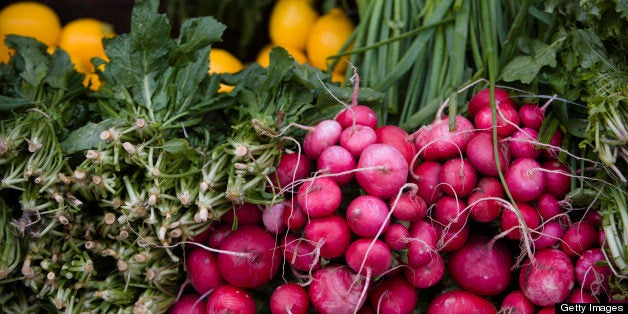 With the warm weather comes a plethora of farmer's markets that sprout up every spring. They can be an overwhelming experience, with so many stands and fresh produce to navigate. You may find yourself puzzled and going home empty-handed, or on the other hand, buying foods you're unsure how to use, leading to waste. So what's a shopper to do? Here are my tips for making your trip to the farmer's market cost-effective, successful, and fun.
If you do a little research ahead of time about what's in season, you can make a beeline for the produce you like. Check out this seasonal produce guide for what's in season where you are. Then, you can browse healthy recipes by ingredient and plan ahead for the meals and dishes your family loves! Farmer's markets aren't just for produce; local farms also sell fresh, homemade breads, dairy, poultry and livestock items. So while items will vary by location, here are some you may find at your local farmer's market and tips for healthy options:
Greens, such as spinach, kale, Swiss chard, collards, different lettuces
Bread is sold at farmer's markets because local wheat can be used; go for whole wheat whenever you can find it.
Beef/fish/poultry: Choose lean or grass-fed varieties.
Dairy: Go for low-fat yogurts and cheese, if available.
Fruit: Go for a variety, especially berries.
Get More Bang for Your Buck
Shopping at a farmer's market can help both your waistline and your wallet! Produce and prices vary from state to state, farm to farm, but it's not uncommon to find humongous bunches of Swiss chard, spinach, and multiple kinds of kale for a few bucks. Also, even though many farmers choose not to go through the tedious USDA organic certification process, they still grow their produce in an organic and sustainable manner. Many times they also sell their produce at lower prices than stores, which hike up prices on food just because they carry the organic label.
The farmer's market is a great place for exploration and trying new foods that you wouldn't necessarily eat or find at a grocery store. The produce is also fresher, picked as recently as the night before. For example, ramps, an onion and garlicky flavored green, are a very rare find in a supermarket, but farmers will have them piled up at stands for the short two to three weeks a year they are available. The more varieties and colors of fruits and veggies you choose, the different nutrients you'll get. As the summer months start approaching, dozens of flavorful heirloom tomatoes of all colors, shapes, and designs will fill tables. The Green Zebra, Black Russian, and Yellow Valencia are just as colorful as their names sound, and definitely worth the buy. There are also different herbs, such as chocolate mint, lime basil, lemon mint, apple thyme, and more that can be bought potted and kept at home. Chop off a sprig right before use and that's about as fresh as it'll ever get.
Don't Be Afraid to Ask Questions
No one knows their food better than the farmer or representative themselves, and for the most part, they're happy to talk about it. Go up to a stand that looks interesting or has a fruit or veggie that's new to you and ask about the best way to prepare it, what to eat it with, and even if they have any recipes on hand you can try. Happy shopping and healthy eating!
Popular in the Community