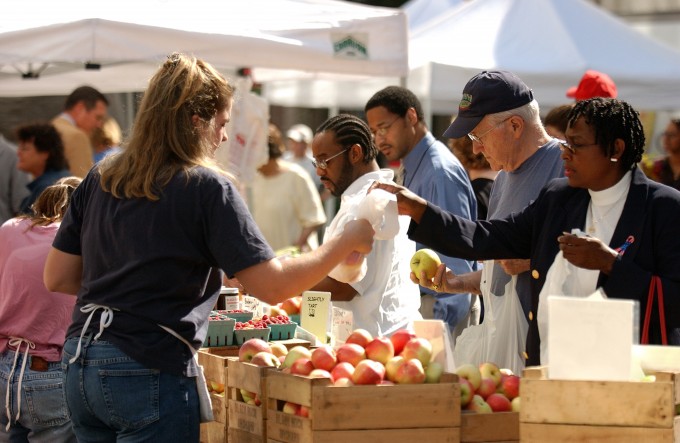 Living in Washington, D.C., I enjoyed dropping by the Dupont Circle Farmers' Market every Sunday. The market has a robust feel to it -- a sense of fullness, bounty and dynamism.
The producers proudly display their wares under banners describing their nearby locations and sustainable practices. The shoppers browse eagerly, asking questions and loading up their bags with fresh, local food.
All Markets Are Not Created Equal
I took the quality of this and other D.C. markets for granted, so I was surprised when I moved to a suburb and found the farmers' markets there a pale imitation of those I used to enjoy.
In many cases, it wasn't clear whether the sellers were from local farms, or even from farms at all. They could have been reselling produce from the local grocery. Inquiries tended to bring vague responses.
Searching online for the markets' rules helped little; there didn't seem to be any comprehensive guidelines imposed to ensure the quality of these markets.
What Is a Good Market Anyway?
In contrast, a visit to the website of FRESHFARM Markets, the nonprofit organization that runs most of D.C.'s farmers' markets, immediately turned up the rigorous, specific rules guiding their 11 markets in the Chesapeake Bay region.
FRESHFARM has established a strong framework for creating markets that contribute to the local food economy and provide opportunity to the region's small farmers.
"We know that our farmers' markets have made a difference to our farmers and producers," Bernadine Prince, co-founder and co-executive director of FRESHFARM, informed me. "Without the economic engine of FRESHFARM Markets [many of them] would not have continued farming."
And of course the markets also benefit eaters, who can shop with confidence that their dollars are supporting local farmers and a thriving regional foodshed.
Recipe for Market Success
I asked Bernadine and her co-founder and co-executive director Ann Harvey Yonkers about how they have made their markets so successful.
Producers Only
The most important element, they told me, is their producer-only rule, which states that growers and producers may sell at market only products they grow, raise, or produce themselves.
"This is the key to guaranteeing authenticity, quality and freshness, and to knowing the farmer who grows or raises your food," they wrote in an email.
Local Focus
They make sure the markets support the local food economy by restricting their farmers and producers to the Chesapeake Bay region, or within about 300 miles from their markets.
FRESHFARM conducts a farm visit before each new farmer is accepted as a vendor, which ensures transparency and accountability.
Good Management
"Keeping markets thriving takes lots of good management," Bernadine and Ann commented. FRESHFARM Markets open and close with a bell, and follow regular hours and seasons. FRESHFARM staff counts everything from customer numbers to farmers' sales figures.
A market master oversees every market. Every producer must have general and product liability insurance, and must submit information about their processing facilities.
Events and Service Ethos
FRESHFARM markets feature events such as chef demos, kid's activities and food drives. Farmers can donate fresh product to community food banks and emergency feeding programs.
To promote wider access to good food, the organization matches some of the federal food aid dollars (such as food stamps) that low-income customers spend there.
Market as the New Town Square
Ultimately, high quality markets like those run by FRESHFARM succeed because people get something from going there beyond a simple bag of produce.
"Farmers' markets are the new town squares in America, where people have many conversations and feel and act like citizens, neighbors, and friends," wrote Bernadine and Ann.
How to Start a Market
Establishing a sustainable market is a big -- but worthwhile -- undertaking. Start with the support of the community and an understanding of the city bureaucracy you'll need to navigate. If possible, secure financial support from a foundation or other funder.
Bernadine and Ann point out that there are many resources available. The Farmers Market Coalition maintains an online Resource Library listing best practices of farmers' markets across the country, including FRESHFARM's. Market Umbrella offers tools for evaluating the impact of farmers' markets. For example, their SEED survey helped FRESHFARM understand the impact of its markets on local communities.
Whether you decide to start your own market or just shop at one, it's important to realize that good markets are made, not born. Hard work goes into establishing and maintaining quality markets. And thank goodness intrepid souls like Bernadine and Ann are taking that on, as quality markets are key to the continuing viability of our local food landscapes.
This article originally appeared on Civil Eats. Photo: FRESHFARM Markets
Katherine Gustafson is an award-winning writer, journalist, and editor whose articles, essays, and stories have been published in numerous print and online media, including The Christian Science Monitor, Johns Hopkins Magazine, The Huffington Post, and Best Women's Travel Writing. Her first book, Change Comes to Dinner -- about good news in sustainable food -- was published in 2012. She lives with her husband and daughter in the Washington, DC, area.
Related