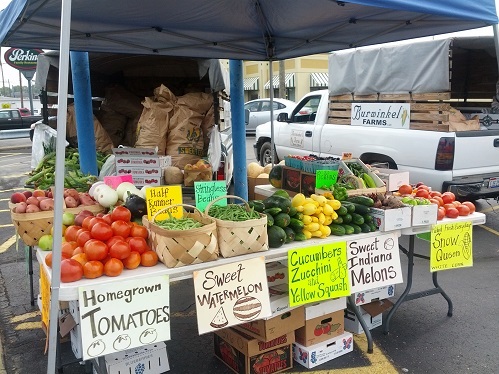 Summer is when we get to enjoy fresh and yummy fruits and vegetables. Just by taking a walk down the street you may see a farmer with their food stand all set up and ready for business.
It's corn, peaches, tomatoes, potatoes and so many other good foods. It's something we take for granted during these warm months.

But picture a summer when all that just disappears. There are no food stands with produce for sale. Imagine farms with no one working them and the equipment lying in shambles. It's a scene we would not expect in any civilized society.

But in Syria it's the tragic reality because of the Civil War which has destroyed every fabric of life. Farming, the root of that life, is a victim. You cannot grow food in a war zone.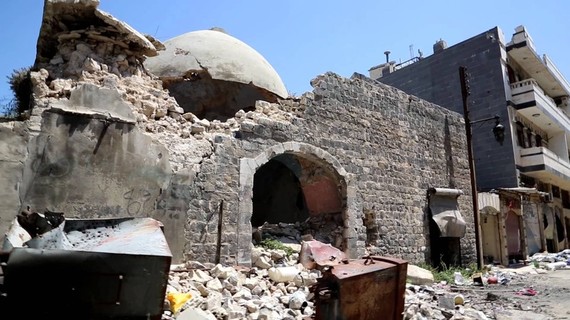 Cities and towns throughout Syria have been shelled during the four year Civil War. (World Food Programme photo)

The charity Save the Children has heard the tales of horror from farmers in Syria. Jamal, a father of eight, says "It was impossible to go to the field and check on my crops. Before the conflict, we harvested our olives and grapes, but for the past year, I swear to you not one farmer harvested a single olive. Not one human being. Whoever decided to visit his crops, knows he is going to die."

Roula, a Syrian mother who escaped one of the battles says,
"Before the siege we were doing well. We were farmers, so we had everything- bread, milk, meat, yoghurt. But during the siege nothing was available. The children were crying for food and water....the children cried when they slept with empty bellies. They went to sleep hungry and woke up hungry. It's the children who suffered the most."
In Idleb, one of Syria's governorates that is under siege, farmers are abandoning their fields. Every time that happens throughout the course of this war, it's another livelihood lost, a drop in food production and an increase in hunger.

The violence from Syria's Civil War has claimed many lives. The result of that violence has also created a hunger crisis afflicting millions of civilians. In fact, the UN World Food Programme (WFP) and its partners are running one of the largest relief operations in history. WFP is providing life-saving food to around 7 million Syrian war victims both inside the country and throughout the Middle East.

It is WFP that is urging the combatants in Syria to put down their guns and let farmers work their fields, grow crops and transport food. The weather for farming is actually good this year. In peacetime it would be a marvelous harvest for Syrians. There is no severe drought this year.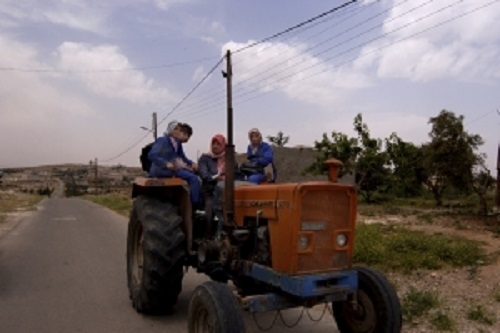 WFP is appealing for a humanitarian pause in Syria to allow farmers to harvest and move their produce around the country. Copyright: WFP/John Wreford
But war is the other enemy of farming and it continues despite the pleas of the peacemakers. WFP though is urging for a stop to the fighting. WFP director Ertharin Cousin pleads,

"Farmers need peace to harvest and to move their produce to markets. I am urging all sides to allow this to happen. Without a humanitarian pause by all sides, providing unhindered access to Syrian food and opening up corridors for transport, people will still go hungry despite a good harvest, and prices for food will remain high."
Just last month a ceasefire was negotiated in Al Waer, Syria which allowed WFP and other agencies to bring in food and other supplies. So ceasefires are at least possible.
At some point the sides will realize that war will not accomplish anything. They will realize that peace is the only path to take. To continue down this dread road of war is to plunge their country deeper and deeper into the dark ages. Hunger and malnutrition will gain strength if the fighting continues, and claim more lives. Malnutrition can stunt entire generations leaving a country with no future.

But a humanitarian pause in the fighting may just be the opening toward peace. Staffan de Mistura, the UN Special Envoy for Syria says, "I strongly welcome and support the appeal by WFP. The Syrian people have shown incredible resilience and determination in going through this terrible conflict; they should be given a chance to make sure their own crops can reach their own people safely during this critical period."
Let the farmers grow food. A successful harvest in Syria will help defeat the enemy of hunger.

It can also lead to something more. Let a pause in the fighting actually grow peace.
There cannot be a peace in Syria without food. A cessation in hostilities in favor of the harvest will begin to establish that one cornerstone to reinforce the peace.

Think of a Syria where there are no guns and no shelled out buildings. Think of one where people can grow food and have a working economy. Think of one where children can go to school.
It can happen someday. Just maybe a harvest, the source of life for any country, can be the start on that road to peace.
Popular in the Community