While the broader U.S. economy has been humming along, the farm economy is entering its fourth straight year of declining incomes and rising debt, thanks to low prices for crops like corn and wheat.
"We are on the cusp of another 1980s-style farm depression, where thousands of family farmers would lose their historical lands," said Joe Logan, 68, who farms 450 acres in northeast Ohio.
President Donald Trump has said hardly anything about agriculture policy, though he's made a lot of noise about trade deals like the North American Free Trade Agreement. That worries some farmers. While Trump complains that the U.S. as a whole imports much more than it exports, the farming sector has boasted a trade surplus for decades because people in other countries buy a lot of American crops.
"Talking about renegotiating NAFTA causes people some concern because from the agriculture perspective, NAFTA wasn't a bad agreement at all," said Joe Outlaw, a professor and agriculture expert at Texas A&M University. "What the president's said about redoing trade agreements has caught everyone's attention in agriculture."
So far, the Trump administration has taken only baby steps on trade policy. Though Trump said he'd ditch NAFTA at the beginning of his presidency, it was only this week that his administration started making moves, and experts said the administration's plans appear relatively modest.
But Trump's harsh rhetoric has already had consequences. Lawmakers in Mexico, for instance, have proposed importing corn from countries other than the U.S. If Mexico stopped buying U.S. corn, prices for that commodity could drop even further, because the unsold corn would exacerbate the oversupply problem that's already hurting prices.
"When we start bashing our trading partners and start threatening them," Logan said, "we know we have the potential to screw up a market that is already in pretty bad shape."
Logan and his brother raise corn, soybeans, wheat, hay and beef cattle. He said they lost money farming last year, and the outlook is not so good this year, either.
"If we're lucky, and we don't have serious machinery breakdowns or problems in the course of the year, we can plant crops and harvest them and just about pay our bills," Logan said.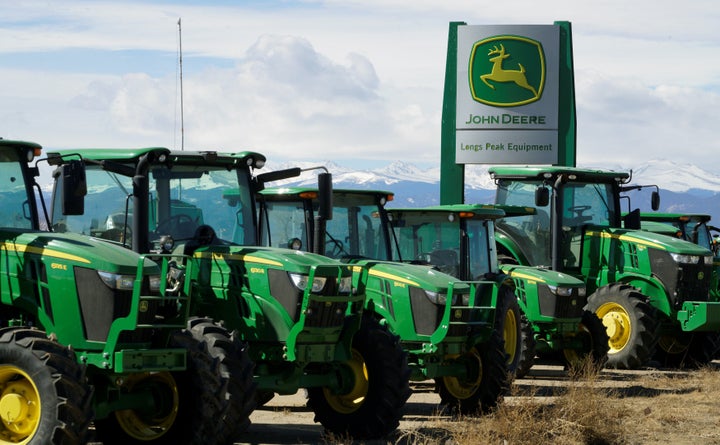 Farmers' woes affect other workers, too. John Deere, a big manufacturer of tractors and other agricultural machinery, laid off more than 2,000 workers last year. The company, which is publicly traded, said in its most recent annual disclosure to investors that it expected agricultural equipment sales in North America to fall 5 percent to 10 percent this year, citing "low commodity prices and weak farm incomes."
Tom Ralston, who represents John Deere workers as president of the local United Auto Workers union in Waterloo, Iowa, said he's optimistic that things will get better ― partly because some workers had recently been recalled to work.
"My hope is that we've plateaued out and the only to go from here is up," Ralston said. He cited the threat of trade policy and also domestic policy as reasons for concern, since tax changes, for instance, can play heavily into a farmer's decision to buy a tractor. "If we have bad economic policies come out of Washington, it could drastically affect us."
The federal government operates an array of programs designed to offset the risks of running a business sensitive to the vagaries of nature. Yet Trump, despite the support he's gotten from rural America, has seemed indifferent to the U.S. Department of Agriculture's farm safety net. He nominated his agriculture secretary last among other Cabinet positions, and he proposed cutting the department's budget by 21 percent.
The Republican chairman of the Agriculture Committee in the U.S. House of Representatives, which has been drafting changes to agriculture policy for next year, blasted the Trump budget. "I think it is very important to remember that net farm income is down 50 percent from where it stood just four years ago," Rep. Mike Conaway (R-Texas) said.
Anne Weir Schechinger said farmers' laments are overblown. Schechinger is a policy analyst with the Environmental Working Group, a nonprofit that generally argues agribusiness is overly subsidized by the government.
"Most farmers depend on off-farm income," Schechinger said, pointing to USDA data showing that despite declines in farm incomes, farm households are expected to earn more this year, thanks to money from other jobs, such as those held by farmers' spouses.
"We are on the cusp of another 1980s-style farm depression, where thousands of family farmers would lose their historical lands."
Experts tend to dispute the idea that the current agriculture downturn is as bad as the one in the 1980s ― a crisis partly triggered by U.S. farmers losing access to the Soviet Union's wheat market. But it's still pretty bad, said Brent Gloy, an agricultural economics professor at Purdue University. He said the USDA data on farm household incomes doesn't reflect reality for the subset of operations that grow the most food.
"If you look at the people who produce 90 percent of the farm products, they're feeling the stress of [low commodity prices] significantly," Gloy said. "They're much less likely to have off-farm jobs and off-farm income."
Gloy and Schechinger agree that while farm incomes are down and debt is rising, debt levels are still near historic lows, and farmland remains relatively valuable. Plus, the downturn that started in mid-2013 followed several years of strong growth that put money in farmers' pockets.
Barry Lynn, a senior fellow at the New America Foundation, said the real problem is that farmers lack economic power due to decades of corporate consolidation. With fewer and fewer companies dominating food distribution and retail, for instance, food growers have diminishing ability to set prices for the crops they grow.
"Most farmers are selling into markets that are really not markets at all, they're selling on a contract basis to corporations," Lynn said. "They [the corporations] really don't have any competition."
The New America Foundation, a liberal think tank, has reported in recent years that consolidation in the food industry has not only hurt farmers, but also agriculture workers and consumers, who've been left with fewer choices in the supermarket. The foundation faulted the Obama administration for doing nothing to stop increasing monopolization. Nobody expects the Trump administration to be any more aggressive on antitrust issues.
"The system now is designed to put all the pain on the little guy at every single level," Lynn said.
There has also been a lot of consolidation of farms themselves, as larger operations increasingly dominate agriculture production. Just 2.9 percent of U.S. farms accounted for 42 percent of all production in 2015, according to the USDA. The median size of farms has more than doubled since 1982, to 1,234 acres as of 2012.
Logan said he has no spouse and no other job, though he does serve as the president of the Ohio Farmers Union. He and his brother are the fifth generation of Logans to manage their farm in Kinsman, Ohio. Logan said his son and daughters have grown and moved to more urban settings. He's talked to them about returning to work on the farm someday, and they like the idea, sort of.
"They all understand you can't make any money or support a family doing that," he said. "I've told them that I'm going to try to hold onto the farm as long as I can. That's my objective right now. We'll see if we're successful or not."
Correction: An earlier version of this story misnamed Anne Weir Schechinger.
Popular in the Community