Last Wednesday evening, at the bequest of the marvelous Mary Willard, I attended the first fundraising event for the Farrah Fawcett Foundation "Stand Up to Cancer" organization in Beverly Hills. Mary is a talented writer and the wife of Emmy award winning actor, Fred Willard. She is also the President of the newly founded "Farrah's Angels," a group of dedicated and experienced people whose vision it was to organize and launch this premier gala which was chaired by Wallis Annenberg and Dr. Lawrence Piro. There was an overflow crowd at this sold out venue, and the 400+ attendees raised over $550,000.00.
In 2006 Farrah was diagnosed with anal cancer, which ultimately spread to her liver. Prior to her death in 2009, she shared her battle in the acclaimed documentary film Farrah's Story. She established the Farrah Fawcett Foundation (FFF) in 2007 to fund research, prevention, awareness, and assistance in fighting this dreaded disease. The FFF joined forces with "Stand Up to Cancer," (SU2C) and the two groups have been at the forefront of funding the war on cancer.
Farrah's legacy of joy, hope, and triumph was apparent at this FFF to benefit SU2C at The Wallis Annenberg Center for the Performing Arts in Beverly Hills. There was a cocktail reception, then an awards presentation in the theatre hosted by Access Hollywood's Billy Bush and honoring Jaclyn Smith, Lipstick Angels founder Renata Helfman (they provide spirit-lifting makeovers to cancer patients) , and Advaxis, Inc., an immunotherapy biotechnology company. All of this was followed by an outdoor Tex-Mex Fiesta provided by El Cholo Restaurants, under the stars and with the stars on a warm Beverly Hills night. And oh what a night it was!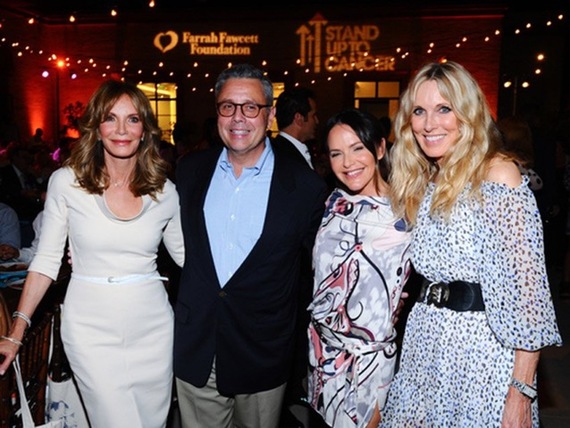 Honorees Jaclyn Smith, Advaxis' CEO Daniel J. O'Conner, Lipstick Angels Founder Renata Helfman, with FFF President Alana Stewart. (Photo by Vince Bucci)
It was wonderful visiting with lots of nice friends, including Leonard Maltin, Peter and Laurie Marshall, Ed Begley Jr. and Rachelle Carson, Doris Roberts and Jack Betts, JoAnne Worley, Monica Horan, Sarah Purcell, Ted and Mary Lange, Lee Bell and John Mulford, and, of course, Fred and Mary Willard. Other familiar faces included Ryan O'Neal, George Hamilton, Ashley Hamilton, Kimberly Stewart, Frances Fisher, Kate Flannery, Cheryl Tiegs, Nigel Lythgoe, Risa Binder, and many more.
Grammy winning singer and song-writer Lyle Lovett and his group of talented musicians provided an amazing outdoor show under the night sky with the busy Beverly Hills street scene behind them. They were simply magnificent and the evening was magical.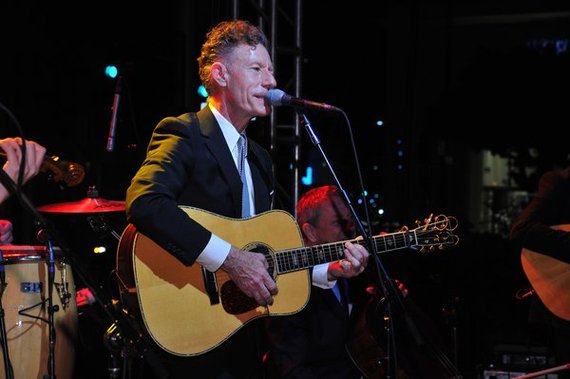 Lyle Lovett performed and kept his cool on a hot Beverly Hills night.
(Photo by Vince Bucci)
Popular in the Community