In May 2009, nearly 15 million people tuned in to watch Farrah's Story on NBC. Just a few weeks later, one of the world's most beautiful icons and loving hearts passed away. For all of her influence on popular culture, and the remarkable performances she left behind, perhaps Farrah Fawcett's greatest legacy was her raw, intimate, honest portrait of a woman fighting for her life -- against cancer. She did so with courage and determination; and with the wish that no man or woman would ever have to endure this kind of horror ever again.
Farrah's struggle and perseverance affected me deeply. As her close friend, I supported her through this devastating journey. On our first trip to Germany, she handed me her camera and asked me to film her meeting with the doctor so she could remember every detail. From that moment on, we filmed everything. She wanted to put a face to the reality of a disease, which in one way or another, affects one out of every two men, and one out of every three women.
For the NBC documentary, we saw Farrah visiting doctors, going through treatments, surgery and recovery. From a filmmaking standpoint, I knew this kind of openness was extremely rare for any subject, let alone a famous actress who is revered for her beauty. As her friend, I often found myself at odds and at several points turned the camera off. But Farrah insisted we keep rolling, even during a violent episode of vomiting, "This is what cancer is," she said.
There is a saying -- "Hard things are put in our way not to stop us but to call out our courage and strength." Throughout this time with Farrah, I was profoundly moved by her will to live, and her hope for a cure or treatment that could save or meaningfully extend her life. Farrah continues to be my personal inspiration four years after her death. I am heartened that many others have found similar inspiration in her story.
As president of the Farrah Fawcett Foundation, I am proud to join Stand Up To Cancer to fund a three-year, collaborative translational research team grant focused on human papillomavirus (HPV)-related cancers that will be used for a project directly benefitting patients -- perhaps work on a new therapy or better diagnostic tools.
Much has been done to increase public awareness that HPV is associated with cervical cancers. The public is less aware that the association of HPV to cancer extends to essentially all cervical cancers as well as 90 percent of anal cancers, and many vaginal, vulvar, and oropharyngeal ones... HPV-related cancers are of great concern to both men and women.
Turning to leading cancer researchers from respected and credible research institutions who will be selected for funding through a competitive process with an extraordinary level of rigorous review, the SU2C-Farrah Fawcett Foundation Human Papillomavirus (HPV) Translational Research Team Grant increases our chances for success in accelerating the pace at which developments in the lab can reach patients in the clinic. Not only is this collaborative effort at the very core of the Stand Up To Cancer mission, it is our organization's responsibility to the public who holds dear the memory of Farrah, and looks to us for guidance and the latest information and research.
We've all seen the media endlessly focus on the personal lives of celebrities. Most of it is gossip and tabloid fodder. Personal trials are the great equalizer that continues to draw public fascination. But every once in a while, a public figure taps into the shared humanity of life, and they make us wiser, kinder, and more understanding. And that was Farrah.
As her friend who misses her every day, I find comfort in knowing the end to her story hasn't been written yet. It rests in the hearts of all those fighting similar battles and their loved ones standing with them every step of the way. Together, we'll find a happy ending on a not too distant horizon, with a beautiful angel smiling down from the heavens.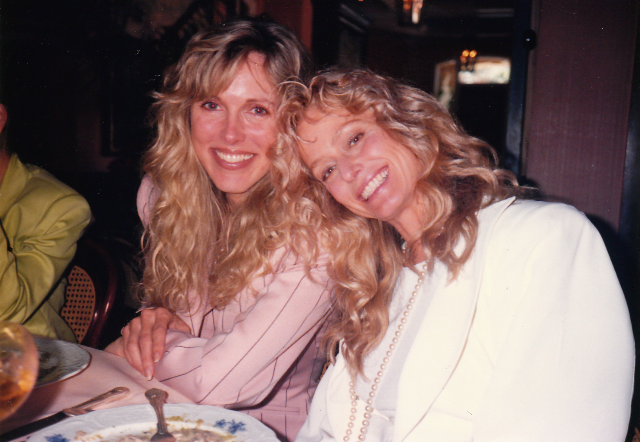 Please support the Farrah Fawcett Foundation and Stand Up To Cancer at visit www.standup2cancer.org and www.thefarrahfawcettfoundation.org.
Popular in the Community