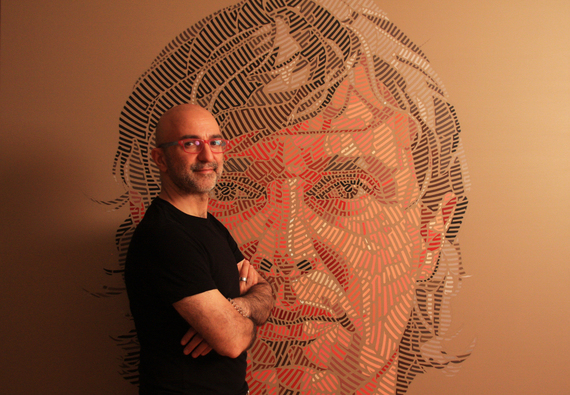 Study me as much as you like, you will not know me, for I differ in a hundred ways from what you see me to be. Put yourself behind my eyes and see me as I see myself, for I have chosen to dwell in a place you cannot see. -- Rumi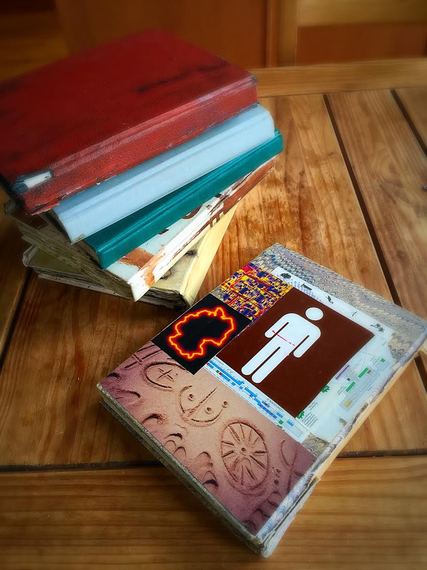 I met Persian artist Farsad Labbauf several years ago at an art show in New York. He charmed me right away. He exudes a kind of rare centeredness and humanity that is as light as air, but also very stable and contained, perhaps accounting for the compelling ability of his work to convey the transcendental nature of life. He is an artist on a mission to express what is there, but cannot be seen. His portraits are mostly of men, though I was lucky enough to be one of his few female subjects, presented larger than life on a 7.5 ft. canvas, strong and sturdy, resembling (at least in my own mind) a portrait of an Amazonian warrior from Rome. While the lines that define the space show a face, the spaces which separate the lines reveal the spirit. The very essence of the inner self that is more inescapable than the sum of its physical parts.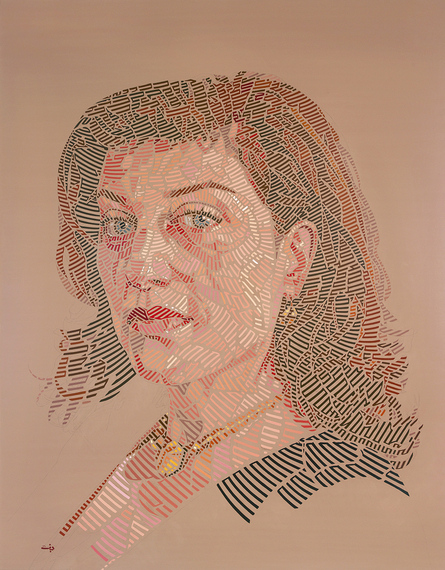 Mr. Labbauf: "The concentration of my work is on portraiture, but I wouldn't say I am exclusively a portrait artist, because all content is transient, as is this conversation. I use these lines to show a state of flux, just a moment in time that the sitter is there, in the past as well as the future. To represent the subject in a fixed state to me is like a denial of reality... Is the subject in dissolution or completion? That is the main reason, but also to use lines to separate color. In different areas of the portrait the subject is separated from the space. I was trying to find a way to integrate the foreground and the background."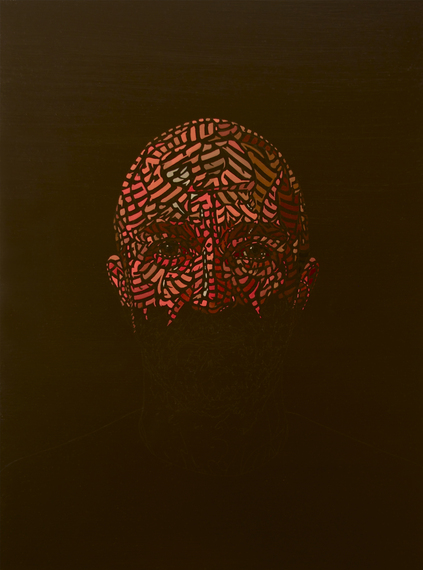 Mr. Labbauf spent fruitful years progressing to this point. He shared his prolific library of personal art-books, where he impressed his evolution as a young painter onto their pages. As I opened up each stiff, furrowed and painted page, it seemed as though I was looking at an ancient manuscript of color and shape, starting from one place but climbing towards uniqueness and his mature, present visual expression. Through breaking down and rebuilding images, creating collages and sewing photographs together, rearranging and defining, collapsing and inventing -- thus their idiosyncratic uniqueness emerged. I describe the image as broken pieces, a sort of accidental mosaic, but when Mr. Labbauf explains, it all comes together:
The way I see it is, the pieces come together to create unity. That transient quality is there to show the space behind the person. To show the entire contents are integrated with one another. The mosaic quality was an indirect point of arrival.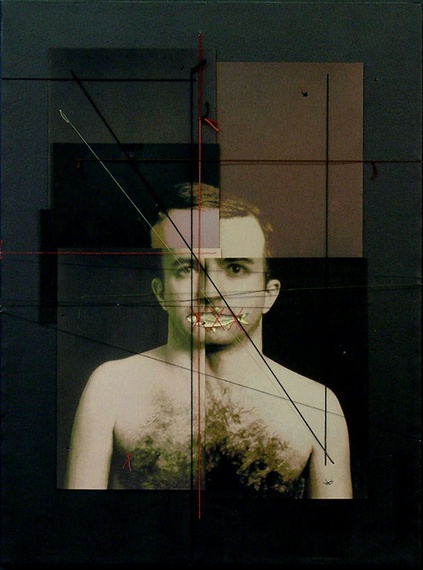 Paradoxically, Labbauf's integrative approach to the ephemerality of form raises the question: are these lines coming together or falling apart? Life and death are united as one, divided only by the structures which give it form.
Some of his solo exhibitions include: Esfahan Contemporary Art Museum in Iran, Aaran Gallery (Tehran), Amstel Gallery (Amsterdam) and Blank Space (New York).
His paintings have been featured in more than 60 group shows across the globe, including Saatchi Gallery London and Ex Aurum Museum Pescara, Italy, in addition to solo exhibitions in various cities in the US and abroad. Mr. Labbauf's work can be found in numerous private collections including: The Salsali Museum, Dubai, Saatchi Gallery in London, Carsten de Boer Art Collection in Holland and Museum of Contemporary Art Esfahan.
Mr. Labbauf's next show is in Edinburgh, UK and opens on February 7th 2015
"PERCEPTION"- Exhibition
Summerhall, Summerhall Place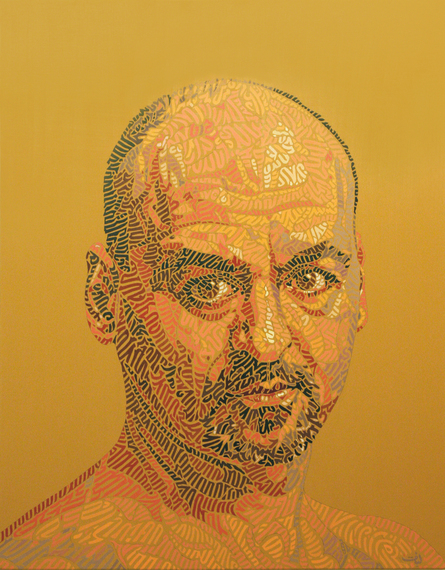 Related
Popular in the Community