But EGS-zs8-1, as the galaxy is known formally, has astronomers excited for another reason.
"The amazing thing is not the distance, but that we are looking back through 95 percent of all time and seeing this when it was a young galaxy ... and seeing it forming stars at a huge rate just 670 million years after the Big Bang," Dr. Garth Illingworth, professor of astronomy and astrophysics at the University of California, Santa Cruz and a co-author of a new study about the galaxy, told The Huffington Post in an email.
(Story continues below images.)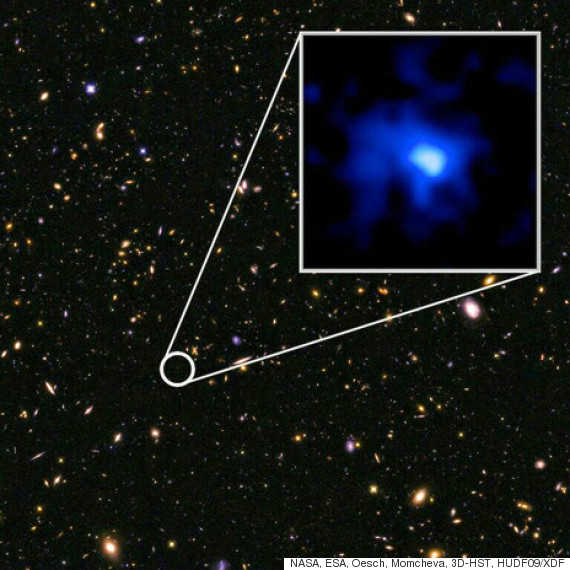 The galaxy EGS-zs8-1 as shown in a Hubble image of a field of galaxies.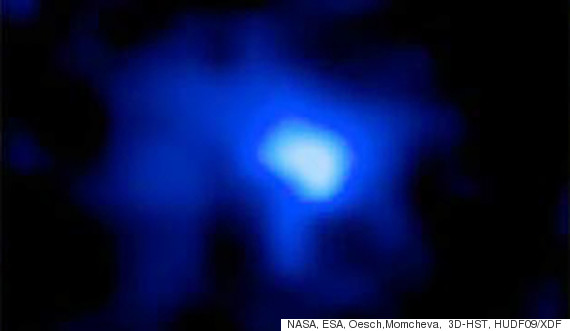 Close-up of EGS-zs8-1.
The telescopes' observations are of light that was emitted by EGS-zs8-1 when it was about 100 million years old -- very young in astronomical terms. At the time it was forming stars about 80 times faster than the one-star-per-year pace our Milky Way manages today.
"At this stage galaxies are like infants -- small, active, and growing fast," Illingworth said in the email.
The researchers hope to continue to study EGS-zs8-1 and other distant galaxies using NASA's James Webb Space Telescope, which is set to launch in 2018.
"The result of JWST's upcoming measurements will provide a much more complete picture of the formation of galaxies at the cosmic dawn," Illingworth said in a written statement.
Check out the "Talk Nerdy To Me" video below for an explanation about why gazing out into space is the same as looking back in time.
Calling all HuffPost superfans!
Sign up for membership to become a founding member and help shape HuffPost's next chapter
BEFORE YOU GO
PHOTO GALLERY
25 Gorgeous Images Captured By Hubble